Dan Rowe's Incredible Journey Through The Tourism and Travel Industry
Building on a Sand Foundation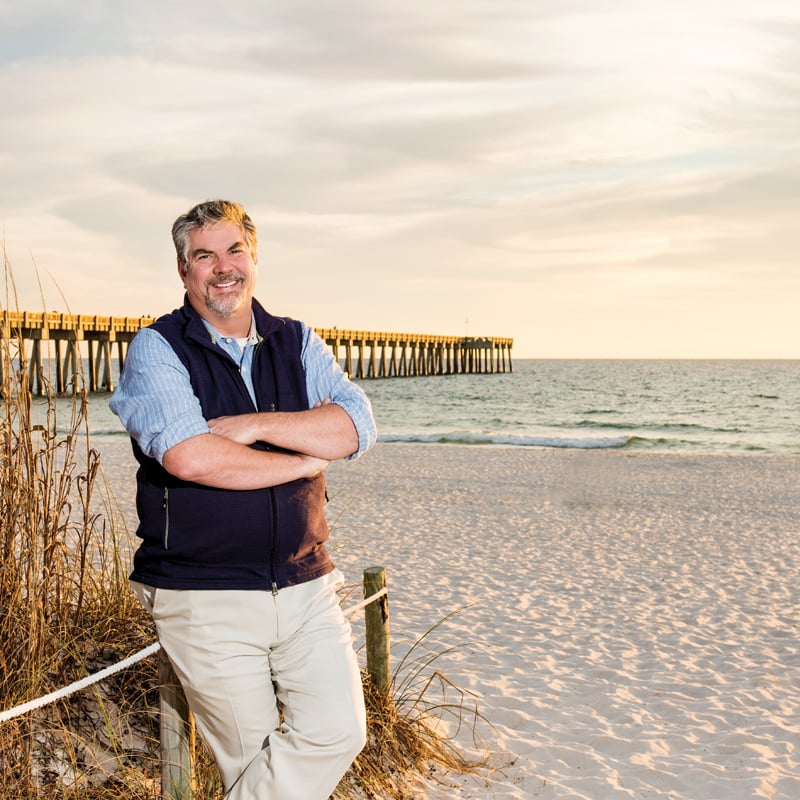 Dan Rowe, Panama City Beach
President and CEO, Panama City Beach Convention and Visitors Bureau
---
Dan Rowe is thoroughly comfortable making his living in the tourism and travel industry.
"It's in my blood," he says. "Really, I've been involved in it since birth, maybe before."
Rowe's father was a frequently transferred employee of the National Park Service. So it was that Rowe, born in Los Alamos, New Mexico, would live in some of the prettiest places in the country — Cape Cod, Massachusetts; Mammoth Cave, Kentucky; Harpers Ferry, Virginia; and Asheville, North Carolina — before enrolling at Colorado State University in Colorado Springs.
After graduating from Colorado State with a degree in outdoor recreation, Rowe went to work at Callaway Gardens in Pine Mountain, Georgia, first in the food and beverage division, then in marketing. After seven years there, he returned to the (big) mountains, having landed a job as the sales and marketing manager at the Aspen Institute, a retreat center known for attracting captains of industry and heads of corporations.
Then it was back to Georgia. Rowe worked for the Wyndham Peachtree Conference Center and the Brasstown Valley Resort before co-founding the Tourist Development Alliance of Georgia, an advocacy organization that lobbied public officials on behalf of the tourism industry. From there, it was not much of a leap to a job as deputy commissioner for tourism with the Georgia Department of Economic Development.
When the top spot at the department turned over, Rowe was "made available to the industry" by a new commissioner with a desire to assemble his own team.
Rowe would find Panama City Beach and the beach would find Rowe. Both were looking, Rowe for work and PCB for a new director of its Tourist Development Council. Rowe also serves as the president of the beach's Convention and Visitors Bureau. He has been in those jobs for seven years and has no itch to leave.
850: How has your job with the Convention and Visitors Bureau and Tourist Development Council differed from what you expected?
Rowe: I underappreciated the role the TDC plays in maintaining the physical beach. We hold all the beach renourishment contracts; we're responsible for beach grooming. But it makes sense that we take care of the local tourism industry's most important asset.
850: If Panama City Beach were to land a minor-league professional baseball team, as some hope, what should it be called?
Rowe: Pirates? No. Pelicans? No. I'm gonna go with the Panama City Beach Bums.
850: What is your favorite miniature-golf hole?
Rowe: Easy one. It's gotta be the monkey hole at Goofy Golf on Front Beach Road. It's iconic, isn't it?
850: Tonight's specials are redfish, red grouper and red snapper. Which do you choose?
Rowe: Make mine grouper.
850: Wine is to the Napa Valley as what is to Panama City Beach?
Rowe: Sand.
850: The Panama City Beach CVB has adopted as its motto "Real. Fun. Beach." What does "real" mean in that context?
Rowe: We're saying we're authentic. We're home still to a lot of family-owned businesses. We are the quintessential all-American beach town.
850: I'm told that you're a fly fisherman. What's your favorite fly pattern for speckled trout?
Rowe: Yes, I've always been a fly rodder; I grew up knee-deep in trout streams. I love a muddler minnow, but around here, crab patterns are really popular.
850: What is one special trout hole that you would tell me about if I agreed not to tell anyone else about it?
Rowe: If I knew of one, I'd tell you about it.
850: If you have one pet peeve about tourists, what is it?
Rowe: They need to slow down and connect with the beach and its beauty. Too many feel that they have to go full tilt for as long as they're here. They need to take a step back and breathe.
850: Maui Jim's, Ray Ban's or Costa's?
Rowe: I own all three, but I'll go with Maui Jim's.
850: Ten years from now, the most dramatic change to Panama City Beach will have been what?
Rowe: We will have established ourselves as a year-round destination characterized by sustained growth.