Crum's Mini-Mall changes with the times
Ronald Fred Crum survives by reading the tea leaves and going with the economic flow.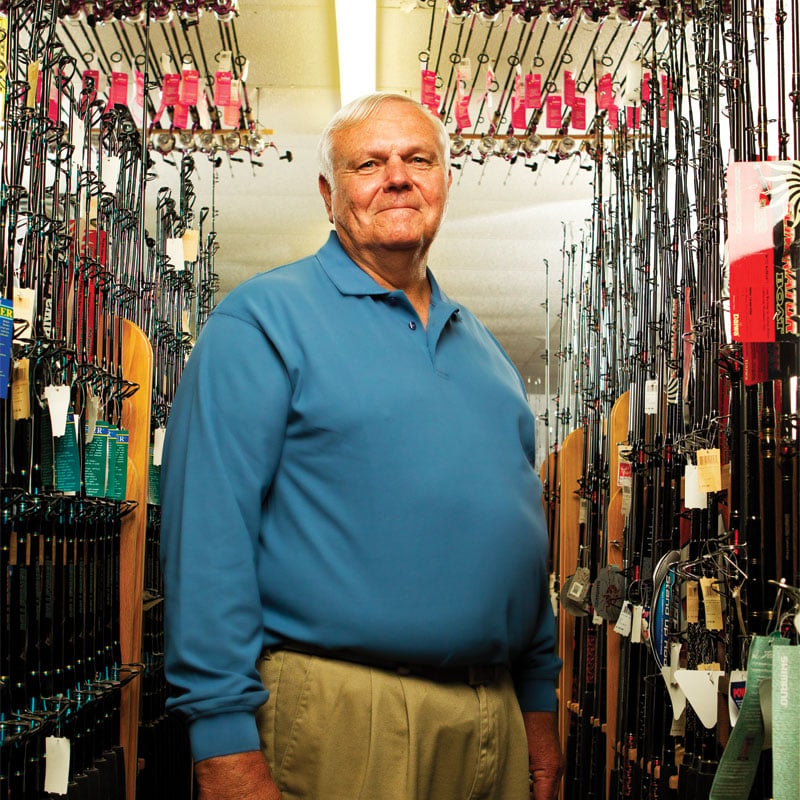 Ronald Fred Crum, a big man in his mid-60s, leads a reporter through a maze of fishing poles, souvenir racks and yard tools to get to his office at Crum's Mini-Mall on U.S. Highway 98 in Panacea. The office is the inner sanctum of Crum's business empire, but he'd prefer being on the deck of a shrimp boat bringing in bait to sell.
This large "mall," like the small town around it, has that lived-in, works-for-a-living look about it. Crum has tried his hand at many different businesses from this location, and has adapted his business model to fit whatever the market calls for.
"I market to the markets," he said. "The thing that business has to do today is keep a very strict set of records and be able to read those records, and when you read into it, it will tell you where your markets are, the trends and the changes. Your business will tell you where your markets are. That's the way I've stayed in business."
That's how he looks at it. He must be doing something right because he's managed to stay in business for 44 years — and counting. "My family built part of this business back 54 years ago, but I actually have run it myself for 44 years and been total proprietor of it," he said.
Over the years he has used the building as a tire store, automotive service center and a lumber supply company for the construction industry. Today, it's a good place to buy live and frozen bait, beer, ice, a rod and reel (choose from 3,000!), beach and sportswear, souvenirs, marine supplies, Yeti coolers, newspapers, drinks, snacks and even some home hardware supplies.
Back in the office things are a little bit more peaceful, and he can sit down and talk about how he's managed to stay in business for so long.
It's an uncanny feat considering how the economic tides have risen and fallen over the years.
Tourists driving through the small town on their way to Apalachicola may not realize it, but Panacea was a bustling seafood community when Crum took the reins of the company.
"You know, (Panacea) probably worked 1,500–2,000 people in the crab industry," he said. "Heavy fishing. The dominant part of the economy was seafood. But we still had tourism, too. Over the years, tourism and sport fishing have taken the majority of the economy."
But the local crab industry was the first to go, no thanks to foreign competition. Crum said that at one time, there were some 1,500 workers throughout the eight or 10 processing plants that were here. Those people were all part of his customer base, but times changed.
"What brought an end to the crab industry was Venezuela," he said. "The fishermen over there buy their fuel for pennies, and over here we're at three dollars and so you just can't compete. So the plants closed."
It hurt everybody, including Ronald Fred Crum, who once made a living keeping the seafood trucks rolling. The gas and diesel pumps are still there, but it's no longer a garage.
"Back 40 years ago, I had a very large tire store in the beginning. One of the first stores I had was a tire store, bait and tackle shop and service center," he said. "I worked two wreckers, four mechanics and because of the seafood industry you had heavy trucking. We had a lot of trucking and it was enough of the economy to service that portion."
Once the seafood plants closed, though, the trucks that needed tires stopped coming through. Rather than just fold up, he "marketed to the markets."
"The way I've stayed in business is, I try to look into the near future and then just take care of that market," he said. "So as the time evolved, seafood became less of a determining factor. And we went more into the community-oriented home hardware, building supplies and sporting stuff. Targeting the sports fishermen. We're still catering to the limited commercial industry, but a major portion of the business went to targeting tourism and sport fishing."
Up to about 2008 Crum and his family catered to the local building contractors by providing lumber supplies, but then the bottom fell out of the construction industry as the real estate bubble burst. That forced them to leave the industrial market, and "we just pulled our wings in."
Now, they scaled back things a bit to the point where they target the homeowner who needs a rake, a shovel, hammer and other bits of hardware.
"We've now evolved to just hardware," he said, but there's more to it than that. Far more. They also try to cater to the sportsman and tourist with fishing gear, T-shirts, Florida souvenirs and food.
"We're trying to cut the overhead. And that seems to work. It's profitable with a limited amount of overhead."
Overcoming Adversity
During the past 40 years Crum has come to expect man-made economic disasters, but living so close to the coast makes you vulnerable to natural ones as well. Crum shrugs it off.
"We've had to accept the effects of storms," he said. "There have been a lot of storms and hurricanes in 40 years, but it's a natural happening. We've learned how to handle that issue."
While natural phenomenon is something that can be dealt with through preparation, some disasters are unpredictable and can have far-reaching consequences. Naturally, the BP oil spill comes to mind.
"The biggest single upset we ever had that we were not trained for or had any experience with, was the BP disaster," he said.
Ironically, the oil spewing from the broken wellhead wasn't to blame for the downturn. Rather, panicky headlines spewing from the press caused the problem.
"It wasn't from the oil, it was (bad) publicity. It devastated us during the middle of our summer season. July of 2010 was the worst July we ever had. It was a ghost town," he said. "Now, BP oil didn't hurt us, but they put out oil booms a few weeks before (July) 4th. And once those booms were seen by the tourists, there was a total drop-off. That affects us business-wise, because we couldn't plan for it. We never experienced it before."
Crum said that from the sound of things, Panacea was going to be up to its neck in oil.
"But in reality, all we had was a downturn in business due to adverse press," he said. "Another issue that became very evident was the true value of the commercial seafood harvest to the economies of the (Gulf) states. That became very apparent. You have to very carefully protect the marine environment."
The Net Man Cometh
Crum definitely has ideas about saving the environment and making sure fish harvests are healthy and profitable. He generally supports the net limitation (the so-called "net ban") that was passed by Florida voters back in 1994. But he thinks the design of the net could be improved to reduce undesirable by-catch. In his opinion, the size of the net holes is wrong, and fishermen are basically spending most of their time catching fish they can't sell. He's taken the issue to court many times over the years and was back in court as recently as last summer, but so far no changes have been made. Still, he keeps at it.
"I want (fishermen) to go out there and leave no footprint and use 100 percent of their labor to make a living," he said. "I want the law to guide the fishermen to have zero by-catch. To do that, we use a mesh size that catches the marketable, harvestable fish and leaves the rest alive and unharmed."
In his view, the more mullet a fisherman can bring to market, the more money a fisherman can earn. Those are dollars that can be kept — and spent — locally.
"The way I keep my business strong is I fight for justice for the economy. The proper way that this economy is going to survive is to let the fisherman only take what he's going to take to market. He saves his labor and he saves the life of the future harvest," he said. "The coastline can remarket itself. In 1890 this town right here was a bustling sea town because of seafood and tourism. We need to go back to that. The way I keep my business here, I try to keep a customer base. Not only do I market to the market, I try to create a customer that has the money to buy that product."