Crist v. Scott: Battle of The Governors
Who will be best for growing Florida's economy and workforce?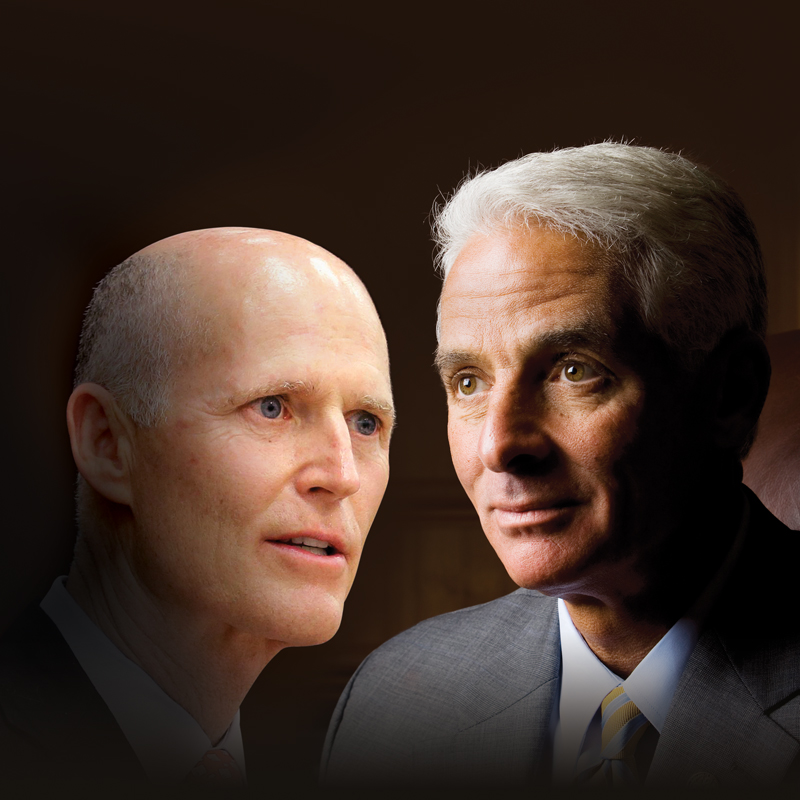 Florida voters will get the chance next month to decide between two governors to lead the state for the next four years — former Gov. Charlie Crist and incumbent Gov. Rick Scott.
Both have made jobs a major focus of their campaigns; they just have different ways to get to the same end of better paying employment — and more of it — for Floridians.
Scott, the Republican, talks more about tax breaks, cutting back on business regulations and a more aggressive outreach, especially from local officials, to lure in more businesses from across the nation and world.
Crist, the Democrat, is pushing for better education funding at all levels to create the work force that will attract more companies to the state. He also prefers tax incentives to encourage alternative energy and believes the state should embark on a concerted effort to boost Florida-based space programs.
Elected governor in 2006 as a Republican, Crist ran unsuccessfully for the U.S. Senate as an Independent in 2010. Now he is running for the state's highest office as a Democrat — a political transition that, if it works, will be a first in Florida. Scott was elected governor in 2010, narrowly beating back Democratic opponent Alex Sink by 61,550 votes, even after spending $75 million of his family money to win the job.
When Crist left the governor's office, the state was reeling from the housing bubble burst, the Great Recession and the BP oil spill disaster. The state had lost tens of thousands of jobs and billions were being cut from the state budget.
During Scott's term, the national and state economic picture has undergone a dramatic turnaround. Housing prices are on the rise, tourism is hitting record levels and thousands of jobs have come back. Scott claims credit for the jobs turnaround, although critics point out that a large percentage are low-paying service jobs.
As they wind down their campaigns for the state's highest office, both candidates are expected to keep harping on the best way for Florida to develop its economy. 850 spoke with Crist and Scott to get more specifics.
RICK SCOTT, republican​
850: What would you do in a second term to improve economic development in Northwest Florida and the state as a whole?
RS: I think about this job because of my upbringing. My parents struggled, and I remember when my dad's car got repossessed. A dream starts with a job. If you take the Tallahassee area by itself, the value of FSU is significant. When you look at other parts of the country and see the talent that comes out of these universities, it could be a big opportunity.
As universities focus more and more on where jobs are, which is happening as we moved the funding model to more of performance funding to what it costs for a degree and when you get a job how much money are you going to make, I think there will be much more focus moving forward on where the jobs are, which I think will be a big opportunity for Northwest Florida because of FSU and the state colleges.
I've lived in eight states so I've seen differences. You think about one big opportunity we have in the Northwest area — we should be able to get a lot more manufacturing jobs. Manufacturing jobs are in the rural areas, in general. By getting rid of the sales tax on manufacturing equipment, it allows us to be more competitive in manufacturing jobs.
We've invested nearly $700 million in our ports; it will total $1.1 billion during my eight years as governor. Between the ports and recruiting many factory companies, Northwest Florida has a gigantic opportunity to attract a lot of those jobs.
850: Where do schools and colleges fit in?
RS: Florida State University and the University of West Florida, along with the state colleges, have done a very good job focusing on where the job opportunities are. And what we're doing with our high schools is making the goal. When you're finished you're ready for a career or you're ready for college. With all those things together Northwest Florida will have significant opportunity moving forward.
850: What about state investment at the port of Port St. Joe?
RS: At the state level we turned around our economy — before I became governor the state lost 800,000 jobs, and now we've added over 600,000 jobs.
Now we have the opportunity to make strategic investments. We'll be investing in all of our ports as we see the opportunity to do things. All these ports, as they recruit businesses … we can recruit business. We think we can make investments. Same thing with our airports.
We invested $7 million with a facility upgrade for hanger space at the Crestview airport. We're going to invest in our airports, ports, highway system, bike trails. This year we are the No. 1 infrastructure state. When I came in, I told the Department of Transportation I want you to invest dollars where we can get jobs because if we create jobs we'll have more dollars. And it worked. We have the highest transportation budget three years in a row because we have such growth in our budget, so many people are moving here.
The strategic advantage that Florida clearly has over everybody else, in the U.S. at least, is that people want to come here as tourists. We've seen record tourism numbers all four years — that's why we've invested almost $700 million in our ports because of the strategic advantages. We are clearly the gateway to Latin America. We have the expansion of the Panama Canal. We've got all these opportunities and clearly Northwest Florida has a significant opportunity.
850: Most of the major announcements of new companies coming to Florida have come from Central and South Florida. How do you improve Northwest Florida's standing?
RS: The state can do a lot, but you've got to make sure you have good elected officials that will go out and recruit companies to either expand in or move to Florida. We've won over 400 competitve projects where we've gotten companies to expand or move to Florida.
In the Panhandle, Navy Federal expanded and added 1,500 new jobs. There is iSorona in Panama City and Bing in Tallahassee.
Part of my job is that I call on companies all the time and highlight our successes.
I've been in business all my life. It's my experience — whoever works hardest, who is it the most important to, who is willing to do whatever it takes for a company to be successful. What you're seeing around the state, the growth is tied to local officials who want economic development.
Do they want to make it a better place for business? Or are they making it a tougher place for business? There's a book out called "How Money Walks" that talks about how much annual income has moved to Florida over the last few years. It's directly tied to government policies. It's tied to regulation, tied to taxes, tied to attitude.
If you elect someone who attacks businesses, they won't come. You wouldn't go there. What I see around the state is places where the local elected officials like business, they promote business, they highlight business, they talk about business.
People want to be in Florida, but they are going to go where they're wanted the most. You've got to compete to win. Companies are solving customer needs, and customers are saying I want your quality, I want your service and I want the lowest price.
850: What role does the state play?
RS: I just want to keep looking at any fee, any regulation we can get rid of, that's what we'll do. We worked to get rid of 3,000 regulations. I want to get rid of more.
I believe in business people's opportunity to succeed if they are given that opportunity. We're winning in our state because we've made it an easier place for businesses to succeed.
Before I became governor, taxes were raised over $4 billion, regulation was increasing. There were no investments in things that really mattered. Tourism had stagnated because we hadn't increased our marketing.
We have the opportunity to be the No.1 place in the country and world for business, but it's going to take being aggressive at determining how businesses succeed. They'll be the ones to add jobs. And if we make smart decisions, strategic investments with taxpayer money, like investing in tourism and our ports and our infrastructure, then we'll have the money to have a great place to live and the money to build the safety nets we care about.
CHARLIE CRIST, democrat
850: How do you encourage economic development?
CC: Whenever a business is looking at coming to a community, one of the first things business leaders look to is the kind of schools their children will be educated in. Sadly, under Rick Scott, the first year alone he cut $1.3 billion in K-12 education, which affects Northwest Florida and the entire state. He cut $300 million to the universities in his second year in office. You can't do that and encourage businesses to either stay and grow or for new ones to relocate. It just demoralizes educators and teachers, and that results in fewer companies wanting to come to Florida.
To encourage economic development in the Sunshine State, including the Northwest, is to have a refocus on education, appropriate funding to right the wrong of the devastating cuts.
850: How do you channel more money into education?
CC: When the new governor gets sworn in you start working straight away with the new legislators. We're going to have a new House speaker, a new Senate president. I know them both, and I think we can work together to do what's right for Florida and review those education cuts that have been made, reverse them and start getting more funding for education.
After all, even during the Great Recession, when I served as governor before, the per pupil funding for education was, when you factor in inflation, $1,200 more than it is now under Rick Scott — and he had an almost $3 billion surplus in his budget.
If you are going to have economic development, you have to have good education available to Florida's young people. Over $400 million in Bright Futures scholarships have been cut down to about
$260 million. That's over 30,000 kids — that's a whole university. You've got to have the education foundation in order to build a stronger economy.
850: Would you consider more tax incentives to lure in new companies?
CC: We're doing that, and it's been an abysmal failure.
(A Tampa Bay Times and Miami Herald review of 342 job creation deals orchestrated by current Gov. Rick Scott revealed that despite a pledge of $266 million in tax breaks for 45,258 jobs, 96 percent have not materialized.)
Only 4 percent of the promised jobs actually happened. A 96 percent failure rate. That's stunning in how bad it is. Incentives can be a good thing, but we've got to do better than a 4 percent rate of return. That's just failing miserably.
We need to invest the people's resources in education instead of finding tax breaks for (Rick Scott's) buddies. We've seen enough of that.
850: Are there good incentives?
CC: We've got to change the laws. Let's talk about alternative energy. To encourage solar energy development in Florida, we need to get laws off the books that make it so restrictive and so favor existing utilities and the good ol' boy network of how we're dealing with energy development in Florida. To allow billions of dollars to go to companies, even if they don't build a new (power) plant, it doesn't make sense. You could use that money to incentivize solar development companies, wind development companies that would provide more innovative and high-tech jobs for our people. It just doesn't make any sense.
850: What about space program jobs?
CC: It doesn't make sense to me either that we're not pursuing more aggressively the development of the space program with public/private partnerships. I just read that SpaceX — I don't know if the governor met with them or tried to — but they announced that rather than pursuing development in the Space Coast area they were going to go to Texas.
It's a missed and failed opportunity to provide innovative jobs. What's more innovative than space travel? We're missing out.
850: What brings companies to Florida?
CC: I think it's hard working Floridians that bring companies here, and there would be more if Rick Scott weren't governor. There has been a complete ignoring of our education system. We've had four education commissioners in four years. There should at least be a level of competence. It seems like they change the way we test in our schools every other day. So how can you have some consistency or some idea of how our children are doing when you inflate grades, change commissioners? It's a joke.
850: Most of the major announcements of new companies coming to Florida have come from Central and South Florida. How do you improve Northwest Florida's standing?
CC: Spending some time there would be a help. I had the experience, during the BP oil spill, of spending virtually two months living there, really getting to know people, spending some quality time there. When I was governor, and as attorney general, we established an office in Pensacola. It's such an important part of the state. Spending more time there shows you care about it, and the people there are important. Meeting there with new or existing companies would help nurture the economic environment.
850: There is a major push in the 850 region to bring in more aerospace companies.
CC: Obviously the military presence in Northwest Florida is significant, to say the least, and of the companies that naturally can partner with the military, aerospace is one of them. When I was governor, we significantly improved Embraer's presence, and we saved Piper from leaving Fort Pierce. I have experience with aerospace — and we could develop it more. You have a beautiful brand new airport in Bay County. Enhancing aerospace development is a natural.
850: Would you support improvements at the port of Port St. Joe?
CC: I served on the board of The St. Joe Company when I left office. It gave me the opportunity to become more acquainted with that port and the advantages it represents and how it can enhance economic development in the area with the combination of rail.
Developing our ports is extremely important. We're the gateway to the Caribbean and to Central and South America. We don't have to focus everything on our east coast ports. We could just as well focus on Port St. Joe. It's a vital link and important component in developing the Northwest part of the state economically.
When you have a $3 billion budget surplus it gives you the opportunity to do things like (develop that port) and refocus on education.
850: The Legislature this year went home without increasing money to encourage the film industry to come to Florida.
CC: It should be an important industry for Florida, and there has been virtually zero focus on it, and I don't know why. It's a clean industry that provides high paying jobs and promotes the state. Florida should be in the leadership of promoting the film industry. It was a focus for me before, and it would be again.
850: How else would you promote new jobs?
CC: There are some obvious things that would provide a lot of jobs that the administration has turned its back on. One that comes to mind is high speed rail — almost out of the gate Rick Scott rejected it, and there were estimates it could have provided 30,000 to 60,000 jobs. And then not being willing to partner with our federal friends in Washington as it relates to Medicaid expansion, you're leaving on the table about 120,000 jobs and $51 billion. And most important, there are almost a million of our fellow Floridians who need health care and aren't getting it because of a lack of effort. It's appalling. That's close to 200,000 jobs, and all you need is a chief executive who has the open-mindedness to say yes. It's not that complicated, but it's sure important.
850: How do you think Enterprise Florida is working?
CC: I think it can work better. I would revisit how it's being run. With a success rate of only 4 percent, it's not working. It needs to do much better than it is. It's a failure.