Creativity and Diversification Help Production Support Group Beat Bigger Competitors
Beating out New York and Hollywood companies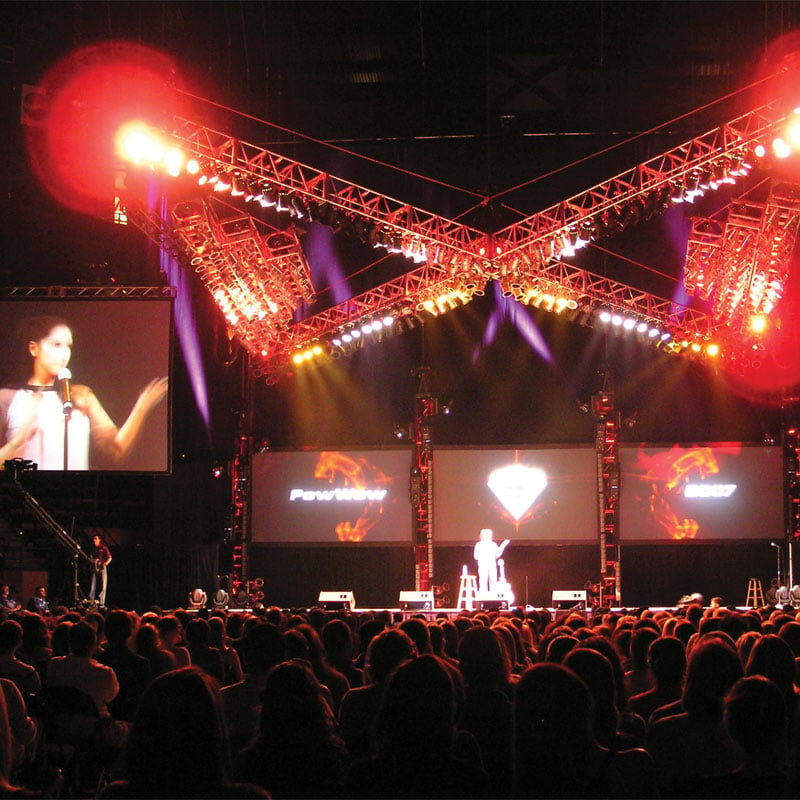 In the world of entertainment, Production Support Group Inc. and Reel Rock Productions Inc. are definitely off the charts. Literally. You just about have to be invited to their offices to even know the address for the two companies, which are tucked away in a nondescript warehouse on a one-lane road on the northwest side of Tallahassee. Even if you do happen to stumble across this private headquarters, be prepared for a chilly reception. Walk-ups are not allowed or encouraged.
"People who use us know how to find us," said Larry Schmidt, the founder and owner of the two companies. "We're not snobs or anything. It's a security issue. It's a capital-intensive business. We are here for pro event people, and we very much control who comes here."
Production Support Group and Reel Rock are different sides of the same coin. Schmidt explains it this way: PSG is the rental service company, a one-stop shop for audio, lighting, staging or audio visual needs, while Reel Rock is the leasing and retail sales division.
Reel Rock was the original company that the former restaurant manager started back in the early 1980s.
Schmidt had no business plan when he started out renting sound equipment. All he wanted was a career that was fairly recession-proof. Despite his lack of a formal "business plan," and the fact that he entered the trade without any previous experience in stagecraft, he built a company that has endured recessions that have crippled or even wiped out other production companies.
"A lot of guys ask me, 'What was your business plan?' You know, if I did a business plan, it would be so off the mark. It wouldn't even be close to what this has worked out to be," he said with a laugh. "I would not have been able to sit down and put it on paper and imagine that this is going to go on."
Indeed, thanks to diversification and a healthy bit of do-it-yourself can-do attitude, his business is going stronger every year. For two years in a row now, Reel Rock has produced the Bass Anglers Sportsman's Society's Bassmaster Classic — the "Super Bowl" of freshwater fishing tournament shows. Reel Rock landed that gig by beating Production Resource Group, an international giant in the live event production industry. ("We call them 'The Borg' because they just swallow everything they get in contact with," Schmidt said.)
Bookings and Beyond
"I really hated the job I was doing. I didn't really care for the business," Schmidt said about his old job, which was managing restaurants. But he had a back-up plan. A big music lover, he thought maybe the music business would offer enough challenges for a lifetime and be fairly immune to economic downturns.
"I thought in my own mind that probably the way to make money in this business would be to find a band that did original music instead of what we call a 'copy' band," he said. "So I found a band … and I asked them if I could try my hand at doing the business part of it. Started doing bookings for them, which I soon found out is a very distasteful business. Club owners are not the easiest people to work with. Let's keep it at that."
But on his first gig with the band he got his first big break — and it wasn't booking acts.
"They had the lighting system in pieces on the floor, and they told me if I could figure out and put it together I could be the lighting guy," he said. "Well, I did the show that night, and that was my first taste of the technical end of it."
Schmidt said the band played gigs on both Florida coasts but found out that tourist areas didn't want original music. They wanted bands to play cover music. That is, pop music that was already on the airwaves. It was a roadblock the band couldn't overcome. They ended up at a club down in Lakeland and "didn't last through the whole night." From there, half the group stayed in Lakeland and the rest went back to Tallahassee.
"At that point, it was my suggestion that we had the equipment, why don't we rent the equipment out to other bands?" he said.
That's how Reel Rock Productions was born, formed with four partners in 1980. The new company rented out its audio and lighting gear to other Tallahassee bands. In the process, Schmidt learned how to do audio. But while he was learning new skills, the partnership was breaking up. They lost one partner almost right away, another partner lasted two more years. The last partner parted company in 1987.
Schmidt kept the company. Then, in 1997, he split it to form Production Support Group as the rental service company and left Reel Rock for leasing and retail sales.
The reason for the new name? Well, back in the early days, a name like "Reel Rock" conjured up images of long hair rock 'n' rollers. Not exactly a popular visual for potential clients like straight-laced churches and corporations. So, the name was changed to a more conservative-sounding appellation.
Picking Up Steam
During this same time frame, the Tallahassee-Leon County Civic Center opened up and Schmidt found himself doing some freelance work and learning the art of rigging, the "stuff that's hanging from the ceiling."
"So, I specialized in that … and was still building the company. I don't think I got a paycheck for 10 years, because I was interested in buying more equipment," he said. "Everything that I earned we bought new equipment with. I think I first got an apartment after about '87. It's very much like the story of you lose everything and start over."
His main goal during all of this was to learn every job in the staging industry, including audio, lighting, rigging, pyro, special effects, anything that he could lay his hands on.
At this point he was working local acts and was just starting to pick up some regional shows with the rental equipment. Branching out more and more, he also picked up work for churches, doing their Christmas and Easter shows. All the while he was told there was no market locally for what he was providing.
"In the early '80s there had been a company that had done similar things, and they went out of business. So, the artistic community at the time expressed … they did not feel there was any type of market here for this type of business," Schmidt said. "It could have been me being naïve, but I thought the only difference was nobody taught them that there was a need for the business here."
The corporate market gradually started to open as he met more people, and the two companies started to seep into every "nook and cranny" in the market. Then a recession hit in the mid-'80s. Ironically, that's when the business really started taking off.
"Entertainment is, I hate to use the word, recession-proof. But it fares better than other businesses in recessionary periods," he said. "It's hard to say exactly what caused the company to do better. I lost my last partner in '87, and our sales immediately started going up, which I attributed to having one captain on the boat as opposed to having to try to satisfy several peoples' direction.
"So who knows if it was just a point in time, or was directly resulting from a single captain or whatever. But even during that recessionary period of time we started picking up the pace."
When the economy dropped again in 2008, some corporate clients were lost, but at that point the business was so diversified that it could survive the downturn.
"It was lucky for us that we were (diversified), because we saw many a production company go right down the tubes," he said. "We lost a chunk of our corporate market, but we had our best wedding season that year."
This ability to provide different services — ranging from pyrotechnic displays to bubble machines — for a wide range of clients came about because the company had to learn to survive in a small local market.
"We always looked for other avenues for our services, so it forced us, being in this locale, to diversify enough to be able to make a business grow," he said. "If you're going to try and grow off the music business here, we'd still be in the stone age."
That's why they do much more than music. They've done shows for every presidential candidate since Michael Dukakis in the late 1980s. They've done corporate "theater" presentations, unveiling ceremonies, "mega-weddings." They even provided audio-visual service for an overflow crowd at a recent funeral.
Remember Where You Came From
Even as they began to take on national clients, Schmidt continued to work in the local, smaller market.
"You never forget your roots. Our roots were here, working in this local economy," he said. "We also have the advantage of working in an economy of state government, of two universities, a very large community college, so there's a lot of things that are consistent in this locale that are not necessarily in other cities."
That commitment to local service paid off last year when Production Support Group took the 2011 Parnelli Award for "Hometown Hero Sound Company." For the live event industry, this is like winning an Emmy.
"It's a huge win for a small company from Tallahassee," he said. "This is a big honor for us."
It was an award 30 years in the making, but Schmidt said the company hasn't reached its peak quite yet.
He's going to continue building on the tradition he's established for reliability, rapid service, devotion to the latest technology and a reputation for pushing the envelope.
"We see new doors and we want to continue to open those doors. Like any company we want to be bigger and better, but we will also not be leaving our local clients."
Does he have any words of wisdom for budding entrepreneurs trying to survive in the worst economy in decades? Sure. Don't despair. Don't let anybody tell you it can't be done.
"Don't let gloom and doom stop you. I didn't take 'no market here' as an answer," he said. "There are still successes. It hasn't stopped."