Couple Combines Family Dairy Products with Local Produce for Unique Ice Cream Offerings
Churning Ice Cream Into Good Business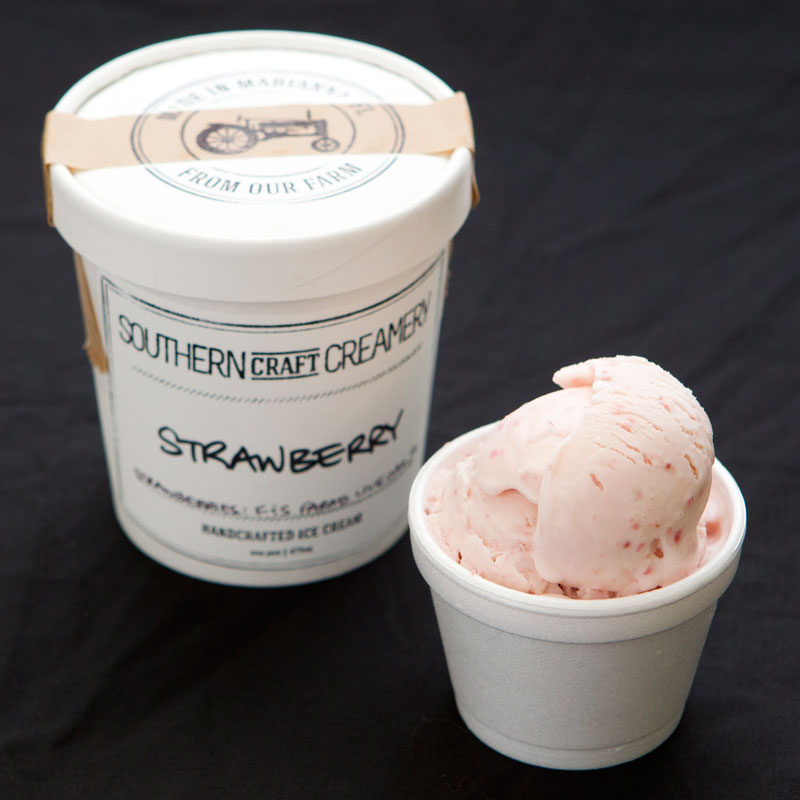 When searching for a new direction to take the family dairy business, one Marianna family decided to think outside the milk box and delve inside the ice cream carton, with their own line of artisan ice cream and a uniquely Northwest Florida flavor.
Lauren O'Bryan had grown up alongside her sister, Meghan, helping out their parents Cindy and Dale Eade on the Marianna dairy farm they founded in 1994, Cindale Farms. O'Bryan had entered the wine sales business years earlier, first while living in North Carolina and later Athens, Ga., while her husband, Zachary, trained as a helicopter pilot.
The couple had discussed launching a new business venture that would enable them to spend more time together — and they found it after the Eades asked them for new ideas to use the dairy's products to promote local agriculture and forge meaningful relationships with vendors, customers and retailers.
"Ice cream made a lot of sense, because we both really like to cook," Lauren said. "Ice cream is one of those things we knew we could make flavors you couldn't find anywhere else and develop a passionate fan base."
From the outset, the goal for Southern Craft Creamery was to minimize debt, so the couple pooled available financial resources from family members, including the Eades, and sister and brother-in-law Meghan and Brad Austin. They considered applying for a few agricultural grants but didn't find any suitable for their venture and its needs.
When it was time to become experts, the O'Bryans in late 2011 attended an intensive three-day course at the University of Wisconsin to learn about the processes and science behind making ice cream. In 2012, Lauren completed a weeklong ice cream making class at Penn State University.
Although she learned how to make ice cream with processes and additives for greater heat resistance during shipping, Lauren and Zachary wanted their ice cream to be non-homogenized and contain simple ingredients without artificial stabilizers. Through trial and error they experimented for a year to perfect their own recipe, with the proper taste and texture.
Meanwhile, they established their headquarters in a former peanut warehouse on Franklin Street in downtown Marianna, leasing space from family friend Rex Wimberly, who owns a construction firm and built dairy barns for Cindale Farms in the past. He handled renovations to the creamery's work areas to meet industry specifications for drainage and sanitation and to accommodate their equipment. The space includes a small business office and separate test kitchen.
Lauren said finding the right tools for their trade took quite a bit of research as U.S.-made ice cream equipment is typically manufactured for large-batch enterprises. They wanted to start out with smaller, more quality controlled batches. European equipment is made in smaller sizes but isn't approved for use here. Finally, they found a batch freezer manufacturer in Florida, Emory Thompson, and located a custom maker of pasteurizing and aging tanks equipment in Maryland that could finish the tanks in three months' time.
While setting up the mechanics of their new business, the O'Bryans sought out and selected seasonal and locally sourced ingredients for their frozen products, including peanuts, Satsuma oranges, strawberries, sweet corn, blueberries and Tupelo honey. The aim was to ensure the flavors complement, not mask, the fresh milk flavor from the family's own Jersey cow herd.
Mack Glass, owner of Cherokee Satsumas in Marianna, will provide oranges each November and December for Southern Craft Creamery's Satsuma Ginger Sorbet. He's known the Eades family for years, as he also raises cows.
"Lauren did call me about my satsumas to use in her ice cream and came out and bought a few boxes at the very end of the season last year," he said, adding that he's tasted and enjoyed the finished product.
He said he appreciates that the O'Bryans handwrite the farm name, geographic location and produce used in the ice cream on their labels.
"There are so many small producers who don't get noticed," Lauren explained.
The handwritten labels are as much about economy as to underscore the artisan nature of the business. Pint-sized ice cream cartons and printed labels are "extraordinarily expensive" to order in small quantities, Zachary said, about twice as much as the cost of the ice cream itself. With a bit of creativity and additional labor, they've kept costs down by hand-stamping labels and hand writing the flavor varieties on each.
"For startup it was great, because it was affordable and feasible," Zachary said.
The couple also designed their own marketing materials with descriptions of their ice cream flavors and the company's history.
The selling of the ice cream began in early spring 2013, with Zachary handling accounting, Lauren tackling sales and customer service and both sharing duties making ice cream at least five days a week, along with packaging and distribution responsibilities.
At the suggestion of a vendor, they began making calls to local restaurants along 30A in South Walton County before the busy summer season kicked in. They quickly signed on with four stores and five restaurants in the 30A area of Santa Rosa Beach — and The Pearl Resort, which opened in the summer — while also penning deals with select stores in Fountain, Chipley, Marianna and Tallahassee.
They don't want their products sold in every market or restaurant, carefully identifying, soliciting and handpicking their retail and restaurant customers to ensure they will be a good fit. During sales meetings, they offer tasting samples.
One of their product's retailers is Modica Market in Seaside, where Manager Carmel Modica said the ice cream has become a strong seller, with samples sometimes offered at the sales counter.
"The samples were good, she was local and I wanted to help (Lauren) out," Modica said. "Everybody buys more than two. When they buy them, they always buy several."
Every business day can dawn with new and unforeseen challenges, but what Lauren and Zachary really underestimated was the demand for their ice cream and how tirelessly they'd have to work to keep pace with orders. While the couple now spends more time together, they said it's often spent working, noting they hadn't really had a day off in several months.
"It's a good problem to have — the demand kind of caught us by surprise," Zachary said. "We weren't prepared for that."
They aren't drawing a paycheck yet, instead reinvesting revenues back into the business during this rapid growth period. Once income stabilizes and sustains, they plan to hire some drivers for distribution, but ideally those workers will have additional roles in the creamery, helping make the ice cream and offering fresh suggestions for new varieties.
The goal is to keep a distribution radius within 250 miles of Marianna while building and maintaining their market share, without trying to compete with or imitate big-name ice cream manufacturers.
The family purposely takes a "cheese and wine" approach to making their ice cream, by designing a high-end but accessible treat you'd want to share with friends while also sharing the story behind the ice cream and its local ingredients.
Explained Lauren, "We're making a different ice cream and changing people's idea of what ice cream can be."