Cotton Is Still a Big Business in Jackson and Santa Rosa Counties
In High Cotton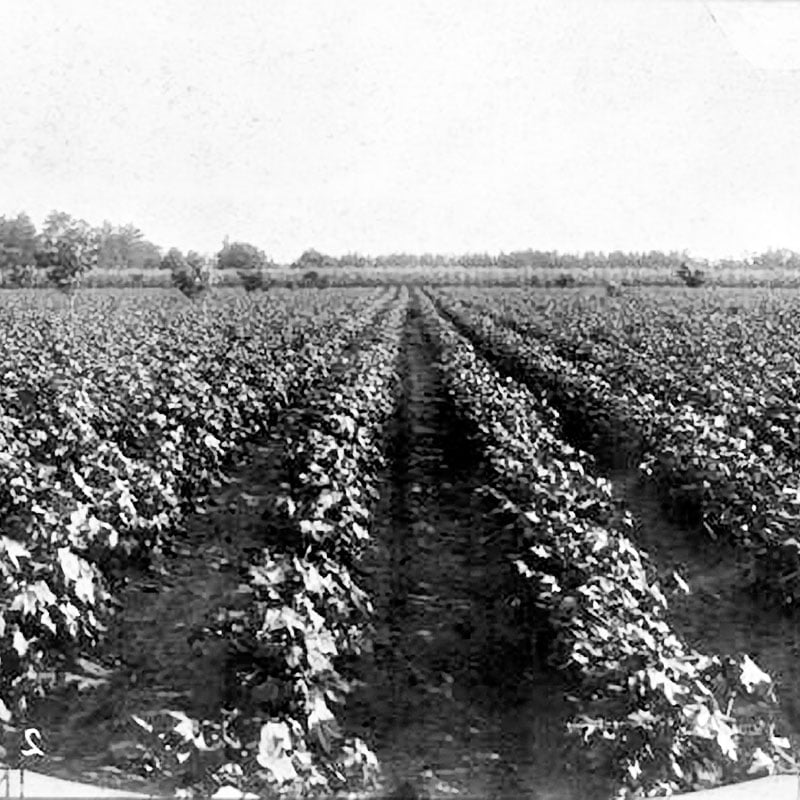 It's the second week of April and Sonny Davis' cotton fields are empty while the big John Deere farming equipment sits idle in the shade of a barn. Purple martins flit over the dry, open fields. They're the only things moving in the early spring heat. It's quiet, but in a couple of weeks farmhands across Jackson County and other parts of Northwest Florida will be busily prepping the soil as cotton-planting season begins.
Cotton was a significant "power" crop in the early history of Florida. In Leon County, the seat of antebellum political power, no less than 79 plantations were listed in an 1860 agricultural census. The larger plantations were owned by Edward Bradford, the Chaires brothers (Benjamin, Green and Thomas Peter) and governors John Branch and Richard Keith Call. St. Marks, Port Leon, Newport and Apalachicola were, for a time, important cotton ports with dockside warehouses. In 1828 alone, the port of Apalachicola shipped 55,000 bales, and by 1840 "Middle Florida" yielded 80 percent of Florida's cotton crop.
The years of "King Cotton" are gone. In some parts of Florida it's still a big business venture, by all means. But Davis and others know farming is all market-driven, and the market is always prone to change. It's cotton now, but it could be something else down the line. For example, if the Midwest drought persists, or if the price is right, Florida farmers might end up planting more corn than usual.
"Personally, I don't see cotton as being king anymore as it was thought of during the '40s and '50s. Today I think growers look at their options," he said. "They figure out the best option whether it's corn, soybeans, peanuts or cotton. It's just one more crop alternative now." Still, he adds, "I will say that cotton has been very good to our operation over the years."
The Davis family has been farming Jackson County and surrounding areas for 150 years. Today, Sonny Davis is chairman of Chickasha of Georgia, Davis Farms, Clover Leaf Gin and Quality Peanut. He's also the 2013 Florida chairman of the American Cotton Producers board of the National Cotton Council. He has four brothers who have their own operations. Davis works with his son, three nephews and his youngest brother on his own farm.
"My grandfather's old house is right here, so I've been here all my life, raised on this place here and been farming 41 years on my own," he said. "We've grown peanuts and cotton primarily (and) a few beans, probably for the last 28 years. Prior to that, it was peanuts, soybeans and corn."
In Jackson County, a large producer of Florida cotton, there's a wide range of agricultural products being grown, including beef cattle, Satsuma oranges and olives, and there's even some international aquaculture taking place in the form of a caviar farm. But the biggest effort is in cotton and peanuts, which go hand in hand.
"If you look at the total acreage devoted to agriculture, far and away the driving number of business and dollars and land devoted to commodity agriculture in our case is primarily three crops: cotton, peanuts and beef cattle," said Doug Mayo, director of the Jackson County Extension office.
Resurgence of Cotton
Cotton has been grown in Jackson County since the Civil War. It was grown along the Chipola River but became less significant for a while because the market was better for other crops, and then the boll weevil came along.
"When we were having all the trouble with the boll weevils … one old man said, 'You have to plant enough, son, for you and the boll weevil,' " Davis said.
That pest was the bane of growers everywhere. By the '70s and '80s there were more corn, soybeans and peanuts being grown, because they were more profitable.
All of the cotton acreage in Florida is in the Panhandle area. Jackson and Santa Rosa counties together account for two-thirds of the state's cotton production, while six others — Calhoun, Escambia, Holmes, Okaloosa, Walton and Washington — provide most of the rest.
Cotton has played a big role in Santa Rosa County since at least the early 1900s, according to Michael Donahoe, Santa Rosa County extension director. While Santa Rosa was getting into cotton, the old estates around Tallahassee, at one time considered the capital of the Cotton Belt, were transforming their cotton fields into pine plantations and recreational hunting lands. There was a period of change around the turn of the century which marked a steady decline in the total acres of cotton statewide. By 1975, there were only 4,000 acres in the state devoted to cotton production due to a host of factors, including pests like the boll weevil and bollworm. The pests made it too costly to raise cotton, but even as other counties were getting out of the business, Santa Rosa clung to it.
"In the mid-70s, Santa Rosa was the only county in the state to have any cotton," Donahoe said. At the time, there were only two cotton gins in Florida and both of those were in Santa Rosa County.
But then, new technology and new insecticides came on the market and caused a shift once again. In the late 1980s the boll weevil eradication program basically eliminated the pest. This opened the market back up. By 1995 the state was up to 110,000 acres of cotton.
When acreage increased, two other gins were put in, in Escambia and Jackson counties. When cotton acreage really took off, Jackson County got back big into cotton — and for some years it has had more acres than Santa Rosa.
Cotton has pretty much thrived in the open and arid fields of Santa Rosa and Jackson counties. The two main crops in Santa Rosa County today are cotton and peanuts, ranking it second in the state behind Jackson County for those major crops.
Naturally, the number of acres devoted to each changes yearly depending on the markets. Peanut acreage went up and cotton went down in 2012. Donahoe said that about 25,000 acres in peanuts and 15,700 acres in cotton were planted that year. But this year, peanut prices have been down and farmers may plant fewer peanuts as a result. Cotton prices have gone up a little bit, he said in May, but the number of acres in cotton may stay about the same.
"I don't think we'll see a big change in acreage this year," he said. "We're seeing a little increase in corn acreage and maybe a little increase in soybean acreage, because more people planted wheat last fall and they'll double-crop wheat with soybeans."
Meanwhile, Doug Mayo said Jackson County, which has more than 200,000 acres of land devoted to some kind of agricultural endeavor, had 43,098 acres of cotton and 34,726 acres of peanuts in 2012. According to the University of Florida's Institute of Food and Agricultural Sciences, that's enough cotton to make 18 million pairs of jeans and enough peanuts for one billion sandwiches. Peanut production, while smaller in acreage, grew 10 percent over its 2011 numbers while cotton actually went down 4 percent from 2011.
Peanuts are an integral part of the cotton-growing system because farmers have to rotate crops to prevent pests from taking over.
"You can't just grow one crop on the same ground every year, or you'll build up soil-bound roundworms and fungal diseases. You get populations of insects, and you'll start to get weeds that outcompete the herbicides you have. So (farmers will) grow peanuts in some kind of a rotation," Mayo said.
A typical rotation might involve growing peanuts one year, then cotton for the next two years. Long-term studies by UF have helped develop what Mayo calls an ideal rotation.
"The ideal rotation that we've been studying at UF is to raise cattle on Bahia grass, and then follow the grass with a year of peanuts and a year of cotton," he said. This system seems to promote better pest suppression and an increase in crop yields. "The ideal situation is perennial grass for two years and a year of each crop, then start over with grass. That's the ideal, but that's not the real world."
There are roughly 100 cotton farmers and 200 peanut farmers in Santa Rosa County, but that number changes, and most of them farm both crops. Cotton is preferred because of the diseases that peanuts are prone to, Donahoe said. The rotation is two years of cotton, followed every third year by peanuts planted in the same field.
When it comes to cotton yields, Davis said that new hybrids and varieties have the ability to produce.
"Yield-wise, in our part of the world, being conservative, we'd love to be able to pick 1,100 pounds of lint per acre," he said. "We gained a lot in new hybrids."
Farming Economics
The United States consumes the equivalent of about 28 million bales of cotton a year. But there's a problem, Davis said, because we're only going to produce around 16 million bales this year. In other words, we don't grow enough cotton for what we consume.
Adding to that is the fact that a majority of our cotton is exported. And for the last three years alone, he said, we've probably sent some 60 percent of our cotton to China.
"Everybody needs to understand we are truly a world market," Davis said. "And it comes down to lowest cost. Right now you know the dollar is depressed so that gives cotton a little advantage in the world. U.S. cotton is a little cheaper."
And the U.S. textile industry isn't exactly what it once was. That pair of jeans you're wearing now? "Made in Mexico."
"In my life you've had textile mills in the Southeast and sewing factories in every little town, in the Panhandle and the South. All of those no longer exist," Davis said. "All the cutting and sewing of garments have moved out of the country. Cheaper labor."
A decade ago, domestic mill consumption was around 11 million bales a year. That's the textile mills processing that many bales into yarns, cloths, denims. He used to tour a lot of denim plants, and they were as close as Columbus, Ga. But all those are gone now, Davis said. The mill capacity now is about three million bales.
Meanwhile, the one constant in farming — and any business for that matter — is change. But it takes a lot of time and effort to change to new markets, Mayo said, especially with farming.
"You got to know how to grow the crop, and you got to have the processing power, the buyers, the infrastructure, and that's a big part of it," he said. "We can't just switch to corn, because we don't have enough infrastructure to handle that. That's one of my concerns. If we increase corn, where are we going to sell it? That's going to be a challenge."
Even when the local farmers switched from peanuts to cotton, it took no small amount of effort and cooperation among farmers to grow and market it once the boll weevil was gone, Davis said. The U.S. Department of Agriculture started eradication efforts in the late 1970s, and by the late '80s the pest was on the wane. Davis said that in Florida, these efforts were a joint venture between IFAS, USDA and the growers.
"Personally, I don't see cotton as being king anymore as it was thought of during the '40s and '50s. Today I think growers look at their options." —Sonny Davis, Jackson County Cotton Farmer
"It took probably four years to eradicate the boll weevil — and I say that lightly, but I've not seen a boll weevil in over 20 years," he said.
By that time, though, there wasn't much cotton infrastructure left to work with. The only cotton gin available to local growers was in Dothan.
"The first year we ginned in Dothan, on what was probably a gin that was built in the 1950s," Davis said. "In 1985 it was a group of farmers, mostly southwest Georgia and a few down here, like my brother and I, that were growing cotton at the time, and we became partners. There were 13 of us. In order to continue growing, we had to have somewhere to process. We built a modern cotton gin in Donaldsonville, Ga. That was the first modern cotton gin built in the Southeast."
As its popularity grew, and more cotton was planted, Davis and his partners in 1991 built another gin in Jackson County, just west of Greenwood, and called it Clover Leaf Gin.
"In the early '90s, we just had an explosion in cotton acreage in the Southeast. Georgia, Alabama, Florida, the Carolinas. It was a more desirable crop from an economic standpoint, compared to grains or corn or soybeans. And it was a good rotation of peanuts," he said.
Even then, cotton farming isn't for everyone. It takes a massive amount of capital and land to make it work. One piece of equipment alone can cost upwards of $400,000.
"There are several challenges … not the least of which is the machinery involved," Mayo said. "You've got a $300,000–$400,000 piece of machinery that picks cotton and does nothing else. And these pickers have been known to catch fire occasionally, because the heavy, dry material comes in contact with the heat of the machine, and one little spark can set it off. Add an oil leak to it, and you've got a pile of rubble in no time, no single fire extinguisher can put it out. That's why you don't see 10-acre cotton patches. You need be a larger farm operation to grow cotton. It takes (a farmer) with the means and the money."
Being larger means you also have more clout with the buyer. Cotton is a commodity crop, and Mayo said the disadvantage of a commodity is the grower has little control over the price he receives.
"The only thing he can do is forward contracts so they can get a contract for a set price for what they're going to produce this year," he said. However, if he's big enough, a farmer might still be able to exert some leverage when it comes to contracts and what gets produced.
"Sonny Davis might say he's not going to grow any corn until he has a contract in hand, but you got to be pretty good-sized and have the acreage and the history to do that, to have that kind of marketing clout. A lot of smaller farmers don't have that," Mayo said.
However, the cotton contracts are set up in such a way that the farmer "owes" a buyer cotton — even if his crop fails to completely deliver the goods, for one reason or another.
Crop insurance is one area that Davis keeps advocating for. He knows that it can make a difference for farmers faced with debilitating crop losses. Because, he said, there are going to be drought years, hurricane years and other bad weather-related years that can devastate crops and farming families.
"We, as growers, really need the farm bill addressed, or a new farm bill," he said. "Probably one of the more important things, particularly for cotton, is crop insurance. These are safety nets that government does, and should do, to insure our ability to produce food and fiber for our consumers."
The American Farm Bureau Federation sent a farm bill proposal to Capitol Hill in early April. According to the AFBF, the proposal offers a wide mix of risk management and safety net tools to benefit a wide range of farms.
"There is far less money this year than last with which to secure an adequate safety net for the many family-owned farms that make up the bulk of America's agricultural system," said American Farm Bureau Federation President Bob Stallman. "Last year, Congress merely extended the old 2008 farm bill until Sept. 30 of this year. Now, while unfortunately we have less money to work with, it is vital that Congress complete a new five-year farm bill this year. Doing so is in the economic interest of our entire nation."
Davis said it's vital for the farmers to have that protection.
"In production agriculture, it's one business where you put it all on the line, every year. And it's hard — and next to impossible — if you have a hurricane and a complete loss to have the ability to come back from that," Davis said. "The margins are just not there to overcome it. There are things beyond your control, huge losses. And you do have them. 1980 was a terrible year for me. Drought. Had no crop insurance. It was tough, tough coming back with interest rates at 18 percent. But we did. We were blessed. Had 10 good years."
But crop insurance isn't the only thing dogging cotton producers in particular. Through the World Trade Organization, Brazil challenged the U.S. farm bill as it applies to cotton and said government price supports were distorting the price and therefore hurting Brazilian cotton growers, Davis said. Brazil won a court case giving it the authority to take retaliatory trade measures, including levying millions of dollars worth of high tariffs on an array of U.S. consumer goods.
"By virtue of that, we've got to change the price support program for cotton. If we don't, the Brazilians do have the authority to retaliate against other commodities, or cars or trucks or whatever is going into their country. Not just cotton," Davis said.
The cotton industry is proposing a supplemental insurance program, called the "Stacked Income Protection Plan," that would allow a grower to insure a bigger percentage of his historic yield.
"Normally we insure 65 percent of our historic production. The STAX program might allow us to insure 75 percent," he said.
Push-Button Farming and Engineered Cotton
Farming in general has come a long way since Cyrus McCormick demonstrated his mechanical harvester in the 1830s. Today, tilling the soil has become a computerized, automated business that is more efficient than ever before. In the mid-90s, "Bt" cotton (named for the bacterium Bacillus thuringiensis) was made available to farmers. This genetically engineered cottonseed resistant to the bollworm helped farmers dramatically reduce insecticide applications.
"Up to then, with the worm and weevil, farms had to spray 15 times a year on average for insects, sometimes as much as 20 times per season," Santa Rosa County's Donahoe said. As pest eradication programs enjoyed success, and with the adoption of Bt cotton, insecticide sprays dropped to about two or three per season.
Soil analysis and conservation have also played a key role. Instead of conventional tillage, where a field might lie empty and prone to losing topsoil from strong winds and rain, conservation tillage involves planting a "cover crop" to lock the soil in place until needed. Then, a special herbicide is sprayed on the cover crop, and farmers till a very precise corridor where they want to plant the seed.
Meanwhile, grid sampling and soil analysis tell how much fertilizer is needed in a given area. A farmer can plug the information into a tractor, push a button and the correct amount of chemical is automatically dispersed where needed. All these advances save time, eliminate waste and redundancy and, most importantly, save money.
"A tanker load of diesel fuel is $25,000, and it's amazing how quick you run through it," Davis remarked.
Most of these strides have taken place in the last 40 years. But it's not just the hardware that's improved to make cotton farming more successful now than ever.
"Think of how hybrids and varieties have improved," Davis said. "We continue to strive to get bigger and more efficient."
All these new methods and technologies have led to the resurgence of cotton in Florida as soil conservation efforts, new herbicides, new strains of bug-resistant plants, all contributed to save or reduce equipment cost, fuel, labor and production costs.
Cotton Resurgence
New technology — including bug resistant plants — and planting methods have led to cotton being a more successful crop in Northwest Florida.