Completing Streets While Wrestling with Congestion
Northwest Florida paves ways for bicyclists, pedestrians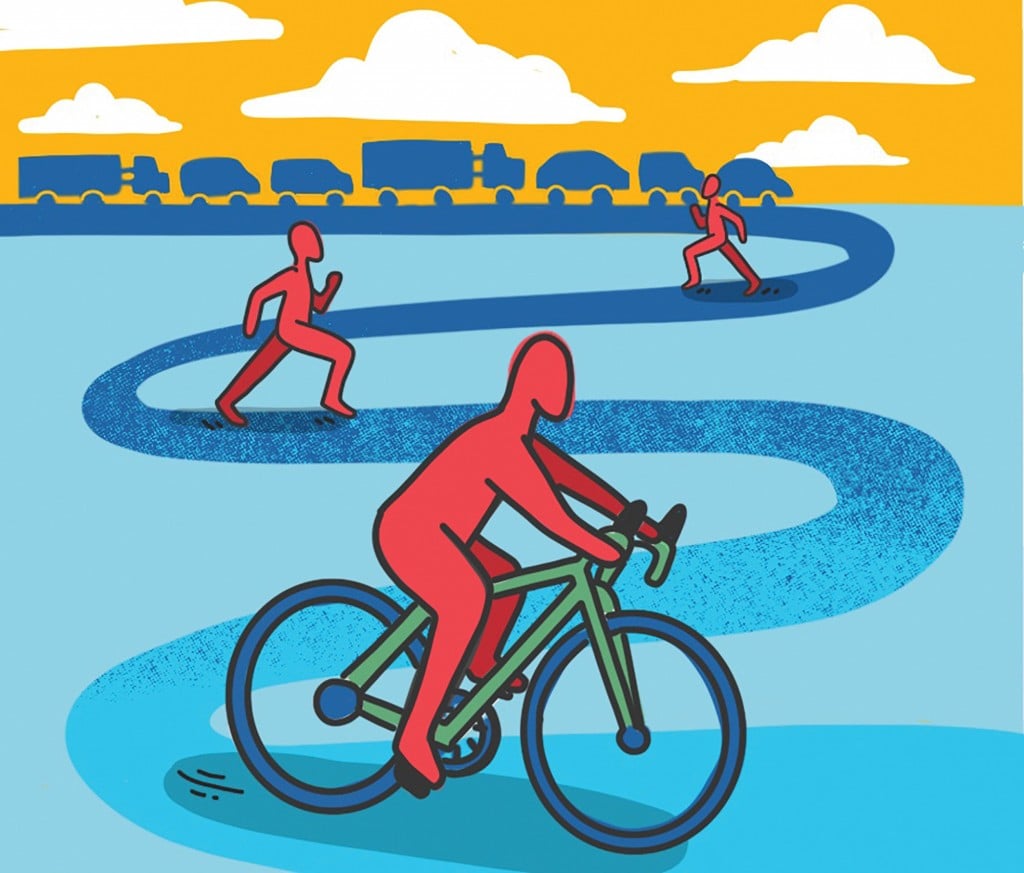 In transportation planning circles, sustainability still takes a backseat to the decision-making driver: mobility.
Mobility inspires officials and stakeholders to push for a wider access route to an airport, the case in Tallahassee, or a bypass around a growing business district as in Crestview.
The Florida Department of Transportation says it puts mobility at the center of the five-year work plans it establishes for Northwest Florida.
"We specifically focus first on safety," said Phillip Gainer, secretary of FDOT District 3.
"After that, we look at mobility. What you're trying to do is move vehicles and boost traffic without congestion, and that becomes an economic driver."
Gainer's district entirely covers Northwest Florida, and it includes communities where mobility happens in various ways.
Green-conscious places emphasize bike lanes, foot traffic and multi-purpose pathways.
Gainer mentioned FDOT's goal of designing "Complete Streets," part of a national movement to serve road users of various types, ages and abilities, including pedestrians, cyclists, transit riders and freight handlers.
"The Complete Streets process is one that is pedestrian- and bicycle-friendly, and a lot of these communities are trying to go back in those directions," Gainer said.
In DeFuniak Springs, the city council has endorsed a plan that would include a Complete Streets project, with enhanced pedestrian use, along a downtown section of U.S. 90, said Nathan Boyles, an Okaloosa County commissioner who serves as chairman of the Okaloosa-Walton Transportation Planning Organization.
"We're certainly seeing it being discussed," Boyles said of Complete Streets.
The Okaloosa-Walton TPO is one of four transportation planning organizations in the territory of FDOT District 3.
The others are the Bay County TPO; the Florida-Alabama TPO, which includes Escambia and Santa Rosa counties; and the Capital Region Transportation Planning Agency, which includes Jefferson, Gadsden, Leon and Wakulla counties.
TPOs are made up of elected officials including county commissioners and city council members who establish transportation priorities and collaborate with FDOT and other entities on their implementation.
"They are the people's voice," the FDOT's Gainer said of TPOs. And they too tend to let mobility lead the way.
FDOT District 3 says its priorities include an Okaloosa-Walton TPO project — a four-lane bypass around downtown Crestview. The project will happen in three main components, with the first underway, and connect State 85 on the south side to U.S. 90 on the west.
"We're going to try to enhance the mobility and reduce congestion in that area," Gainer said.
Gainer said he counts replacement of the Brooks Bridge on U.S. 98 as another priority of the District 3 five-year work program.
The bridge, built in the mid-1960s, connects Okaloosa Island to Fort Walton Beach.
But it has exceeded its so-called design life, and it doesn't meet requirements for navigational clearance and for the Americans with Disabilities Act, FDOT says.
Plans for a new bridge include three lanes in each direction and a path for bicyclists and pedestrians.
Federal funds will pay for the project since it is on a U.S. highway, officials said. Construction could start in two to three years.
"DOT has a strict set of protocols," said Boyles of the Okaloosa-Walton TPO.
"When a bridge reaches its end of useful life, it is going to be replaced — it's just how they do it. From that standpoint, there wasn't a lot of public or local stakeholder involvement, (but) there has been tremendous interest."
The Capital Region Transportation Planning Agency sees a Tallahassee project as its top priority: multilane reconstruction, with bike lanes, on Woodville Highway from Capital Circle to Paul Russell Road. 
"But that doesn't have any construction timing on it," said Greg Slay, the agency's executive director.
"That's one of the struggles we have right now, just a lack of funding."
FDOT is funding a high-profile CRTPA project that calls for the widening of Capital Circle from Orange Avenue to Springhill Road, including a sidewalk on one side of the road and a multi-use path on the other. Construction could begin late this year, Slay said.
That project is separate from Tallahassee's Gateway, a taxpayer-funded plan of the Blueprint Intergovernmental Agency to better link downtown Tallahassee and the universities to Tallahassee International Airport.
The Gateway project contemplates the addition of landscaping, sidewalks, bike lanes and more to Springhill Road.
The CRTPA project will include some Blueprint money, mainly for beautification, Slay said.
"I think it will be pretty much identical to the Southeast portion of Capital Circle, with the multi-use path, the wider size of the road, landscaping and things," Slay said.
Slay said the agency also thinks in terms of resiliency. Its long-range plan will consider the threat to U.S. 98 in Wakulla County of storm surge — a reality that the region's three other TPOs know all too well.
In terms of sustainability, Okaloosa-Walton's Boyles said: "There's no such thing as a road that's going to be big enough to solve all the problems, so you don't want to just pursue capacity for capacity's sake. But you also need to have enough capacity. And I think we're as a community in that kind of awkward spot where we need to try to figure out how to do both at the same time."