Compensatory Restoration
Mitigation banks benefit environment, enable development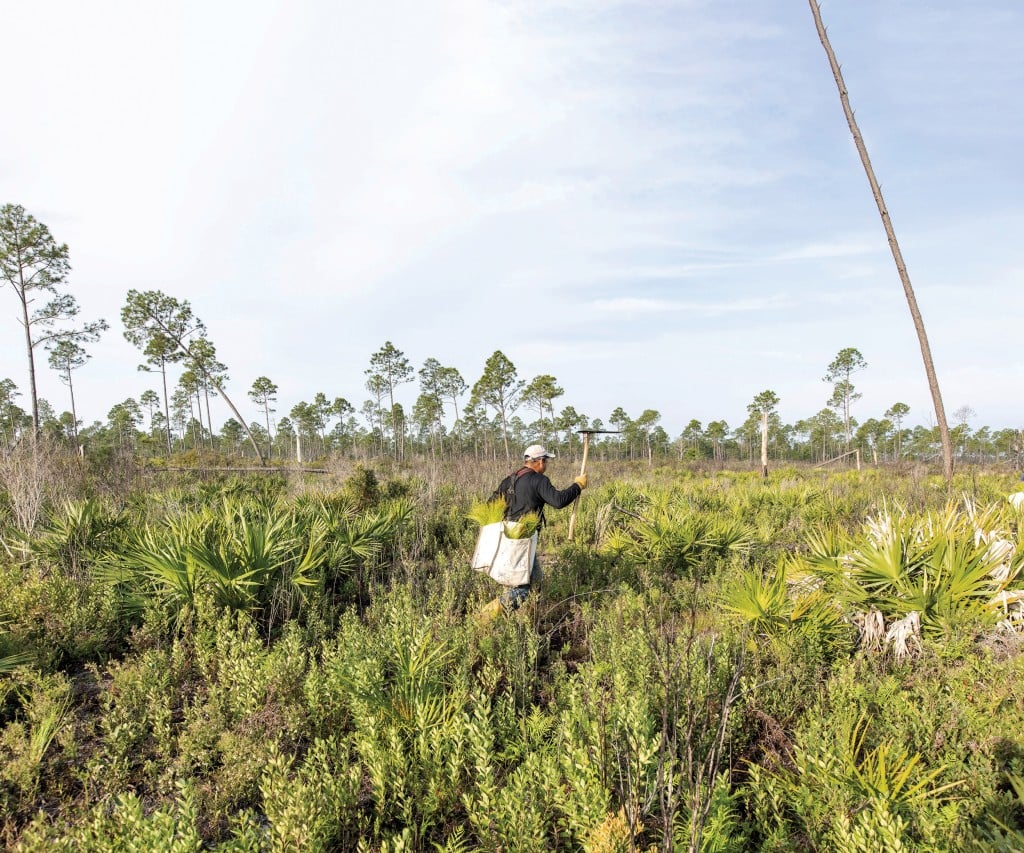 As a personification of the American expression "Mutt and Jeff," no pairing could be more spot-on than Tim Stuhr and Jeff Allan.
Stuhr is the shorter and more senior of the two and has been with the St. Joe Company for a total of 42 years. He does the driving. The lanky Allan, more familiar with the workings of the company gas card, mans the pump when one in St. Joe's fleet of uniformly white SUVs nears "E."
Both men relate to a traditional St. Joe activity: silviculture. Stuhr serves the company as its director of forestry, and Allan is a forester. While St. Joe is most frequently thought of these days as the developer of large resort and residential communities, it very much remains in the pine-tree growing business.
In a typical year, Stuhr said, St. Joe will reforest 3,000 acres of clear-cut land by planting 625 seedlings per acre.
"The Grove Collaborative Co. brags about planting a million trees across the country in a year," Stuhr remarked. "That ain't nothin'. We do twice that, and we're just a little company in North Florida."
Allan, more than Stuhr, is involved in growing trees not intended for harvest. That is, he helps oversee restoration work at St. Joe's mitigation banks.
Today, I am riding shotgun, and Allan is wanting for legroom in the back seat as Stuhr steers us toward a gated and locked entrance to the 5,056-acre Breakfast Point mitigation bank. Presently, we head down a forest road, cross what Stuhr called a "female bridge" over Botheration Bayou and head toward West Bay. The mitigation area encompasses a peninsula, roughly the shape of lower Michigan, that juts northward into the bay.
The Breakfast Point mitigation bank comprises five project areas in different stages of restoration. The aim is to return set-aside ecosystems, including "coastal flatwoods" and "cypress mixed forests," to the condition they were in as of ı920. To the extent that they succeed that way, St. Joe earns development credits. Some ecosystems generate more points than others.
"There are several different scenarios, all of them governed by the state Department of Environmental Protection and the U.S. Army Corps of Engineers," Allan explained. "They have specific requirements related to plants, regeneration and elimination of invasive species."
Prescribed burning is an effective tool in eliminating unwanted vegetation. To a great extent, it provides Stuhr and environmental consultants retained by St. Joe a blank canvas to work with.
Regulators establish square-meter plots along a transit line and inspect them annually for progress.
"They look at grasses and other vegetation and make a list of what species are growing," Allan said. "That's how they monitor the progress of the mitigation bank."
As a developer with abundant land, St. Joe is an obvious candidate for the mitigation program. It helps them obtain development orders — and it also is a source of revenue.
"We are doing a lot of development in the area, and we know that we are going to be impacting wetlands," Stuhr said. "We had the land available to us to establish mitigation banks to help offset the impacts that we will have. So, we decided to create one for our benefit and for the benefit of others."
In fact, St. Joe has two Bay County mitigation banks — Breakfast Point, located along much of the south shore of West Bay, and the 3,036-acre Devil's Swamp, which abuts Steelfield Road and straddles the Bay-Walton county line.
"The consultants and the agencies identify all the different ecosystems that are on a tract of land," Stuhr said. "They assess the condition of an ecosystem, figure out what it should look like and develop the criteria that will be used to mark your progress toward restoring it to year-ı920 condition."
The tour aboard the white SUV passed by areas that are awaiting restoration work and some where progress is obvious.
It's out with the popcorn trees and torpedo grass and in with the wiregrass and longleaf pines.
"The agencies give you a certain number of credits for each type of ecosystem when you get it restored," Stuhr said. "We may retain those credits ourselves or we may sell them to others who need them to get a project approved. Around here, you can hardly do any development without impacting wetlands.
"You've got to offset. You're destroying that, but we are restoring this."
---
Multiple Strategies
→ The St. Joe Company pursues two types of mitigation strategies. Mitigation Banks St. Joe has two mitigation banks, Breakfast Point and Devil's Swamp, totaling 8,092 acres. The owner of a mitigation bank gains credits from the state Department of Environmental Protection and the U.S. Army Corps of Engineers for restoring ecosystems to criteria determined by the agencies. The credits may be sold to anyone developing property in the area that the mitigation bank influences. The value of the credits can vary greatly due to market forces. Mitigation Areas St. Joe has two large mitigation areas totaling 10,298 acres and many small ones. The big ones are the Topsail Hill MA and the Airport MA. Mitigation areas are generally managed and restored to mitigate for a specific project. Joe manages the Topsail MA for its projects in that area of Walton County. The Airport MA was set aside by St. Joe to mitigate impacts arising from the construction of the Northwest Florida Beaches International Airport. It is managed by the local airport authority.