Community Partnerships Are Key to Bay EDA's Success
Asset growth is at the forefront for Bay County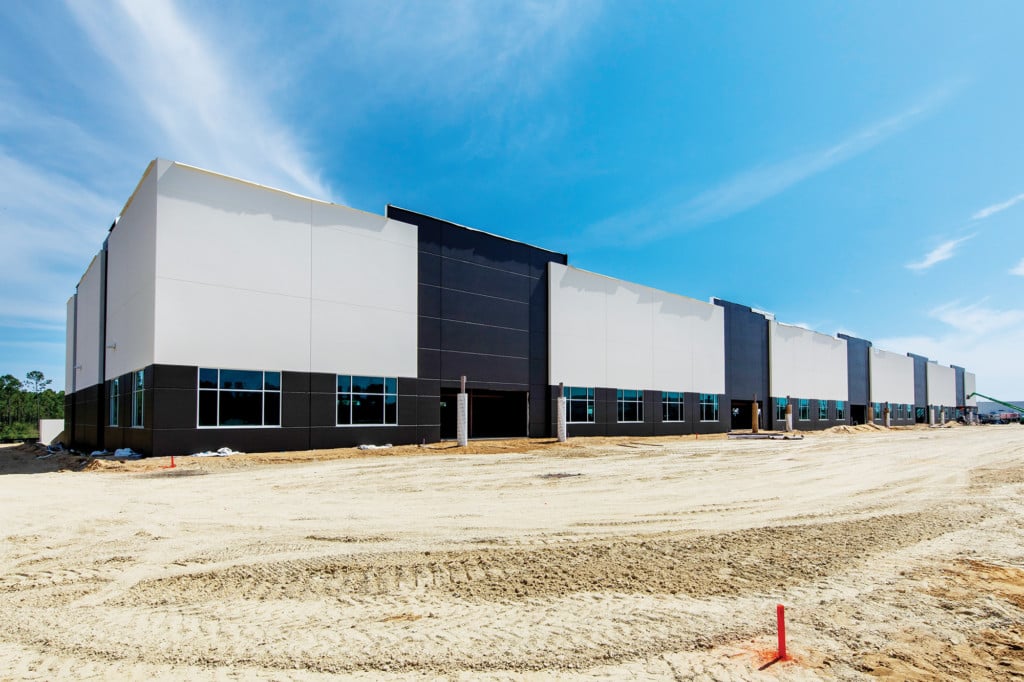 Becca Hardin was confident but couldn't guarantee anything.
She had met officials with GKN Aerospace at the 2017 Paris Air Show and, through subsequent conversations, grew increasingly optimistic about the chance that the Bay County Economic Development Alliance might land the parts maker as a tenant at the St. Joe Company's VentureCrossings Commerce Park near the Northwest Florida Beaches International Airport in West Bay.
GKN, meanwhile, was facing a deadline for plant construction imposed by its customer, the federal government. As talks between the EDA and GKN continued, the construction timeline was becoming more and more compressed, and that concerned St. Joe CEO Jorge Gonzalez.
Gonzalez, then, took an extraordinary step. With his go-ahead, St. Joe began construction of a factory building at VentureCrossings to GKN's specifications, even though a deal between the EDA and the contractor had not been reached.
"There were some sleepless nights," recalled Hardin, the EDA's president. "If we hadn't been able to do business with GKN, that would have been a career ender for me. And it wouldn't have done Jorge any good either."
Hardin and Gonzalez asked one another what they would do if negotiations went south. Well, they agreed, there would be a nice, new, customized spec building to market.
"It's extremely rare to find a partner who will share in a risk like that," Hardin said. "But with that risk came great reward."
Indeed. Already, GKN's presence in Bay County had led to a decision by one of its suppliers, Advanced Composites and Metalforming Technologies (ACMT), to establish an operation in the one-time Honeywell building in Lynn Haven's industrial park.
"We don't get GKN without St. Joe, and we don't get ACMT without GKN," said Hardin, describing what she called a domino effect.
GKN, at this writing, has entered into a testing phase at its new plant, on its way to gaining approval for full production. Hardin was among local dignitaries who were afforded an opportunity to tour the 135,000-square-foot plant before any highly proprietary manufacturing operations commenced.
At the tour's conclusion, said Hardin, the delegation was told, "We hope you enjoyed seeing our facilities, because you will never be allowed inside again."
GKN had hired 70 employees as of May and has committed to creating 172 jobs. Of those hired, 30 percent are retired military personnel who arrived on Day 1 with top-secret security clearances.
Hardin refers to GKN as a "legacy project that has enhanced all of our recruitment efforts." And, she added, the contractor "really likes our area and, as a result, they have been our greatest salespeople in the aviation world.
We have several active projects as the result of having GKN in our community. We take prospects through the VentureCrossings commerce park, and they see the GKN building and they see that we are building a spec building out there. Soon, they will see a hotel going up. They see the synergy that the GKN project brought to the properties around the airport."
Hardin had pleaded for years with Gonzalez to develop a spec building, given the scarcity of available existing space in Bay County. When finally he said yes to the idea, Hardin "screamed and hugged his neck," she said.
"At St. Joe, we see land and lots and buildings going up pretty quickly," Gonzalez said at a wall-raising event for the spec building held in May. A scheduled groundbreaking ceremony became a construction celebration, given the pace at which the project has proceeded. "But not everyone sees things that way. Becca satisfied me that this project will greatly enhance her recruitment efforts."
Hurricane Michael wiped out what little building inventory Bay County had remaining after ACMT snapped up the Honeywell building and Air Temp, an auto parts manufacturer, acquired the one-time Boyd Brothers Printing property.
Hardin has assured Gonzalez that she will fill the new building quickly. In April, she and Garrett Wright, the EDA's vice president, attended MRO Americas Atlanta, an international trade fair, which is focused on maintenance, repair and overhaul in the aerospace industry.
Hardin talked up the spec building while there and lined up four businesses — all located in the U.S. outside the Southeast — who will be making trips to check out the project.
"I don't think this space will be on the market very long," Gonzalez ventured to say.
The "flex" building has been designed to accommodate one or as many as 10 tenants. Each of the 10 bays making up the structure will feature front entries, rear dock doors and ceiling heights of approximately 28 feet. White Construction of Panama City, the project's general contractor, anticipates that the building will be complete in September or October.
The spec building is one of three that St. Joe plans to develop. The others will be located in the Panama City Beach Commerce Park and at the commerce park in Cedar Grove. In addition, St. Joe has announced plans to develop a 142-room hotel at the entrance to VentureCrossings.
Economic development efforts, then, have gained momentum in Bay County.
Seemingly long ago are the days when the EDA was in "dire straits," Hardin said, its credibility shot and its relationship with local government in shambles after it convinced the County Commission in 2011 to advance an IT company, Redpine Healthcare Technologies, $350,000 in incentives.
Five months later, Redpine, which had pledged to create 410 jobs averaging $49,155 a year, shut its doors. It had hired a mere five people.
Neal Wade, who had done economic development work for St. Joe and had served as commerce secretary for the State of Alabama, was brought in to clean up the mess.
"Neal did an excellent job in creating a foundation so that when he hired me (in October 2014), I was able to come in and hit the ground running," said Hardin, who moved to Bay County from Columbus, Georgia. "I immediately started reaching out to my contacts — site selection consultants, industry leaders — and my goal was to bring people here for visits, because we feel that if you can get people to Bay County, the county pretty well sells itself. We started turbo marketing Bay County and trying to get it on the international map."
In that, Hardin has succeeded. To distinguish her product from those of competing communities, she talks up two key Bay County assets: the airport and properties around the airport and Panama City's international deep-water port.
In recent years, the aerospace industry has been a focus for economic developers throughout Northwest Florida.
In Pensacola, ST Engineering Aerospace is new to the airport. Santa Rosa County has secured Triumph Gulf Coast dollars for development of an aircraft repair facility adjoining the Navy's Whiting Field. Even Marianna is improving its commerce park in hopes of attracting an aerospace business.
"We do have a friendly competition, but I would say that Northwest Florida as a whole competes more so with Louisiana, Mississippi, Alabama, Georgia and the Carolinas," Hardin said. "We don't really compete with other parts of the state of Florida like Jacksonville, Orlando, Tampa or South Florida because they have their own niche markets and they are going to get their share of business. Our part of Florida is much more like other Southern states and they are extremely competitive."
It doesn't help that legislative funding for Enterprise Florida is shaky year after year.
"You deal with site selection consultants and international companies, and they read about Enterprise Florida and they wonder whether leadership at the state level supports economic development," Hardin said. "That's a question that we are always having to handle."
NEEDED: PLACES TO LIVE
Among the problems created by Hurricane Michael was a housing shortage. As Hardin checks in with existing Bay County industries, she finds that employees are commuting to work from as far away as Tallahassee.
For those workers, new housing stock can't be built fast enough. But, as to incoming businesses, Hardin isn't as stressed by the immediate housing crisis. With the exception of businesses going into the spec building, newcomers will have no choice but to proceed with "Greenfield projects," starting with a clean piece of dirt and requiring something like
18 months to complete. By then, Hardin hopes, the housing issue will substantially be resolved.
"You ride around this community and you see the apartments and housing developments already starting to go up, and I'm confident that in a year or so we'll be in a much different place," Hardin said.
For the Bay EDA, 2018 headlines included four welcome commitments …
Air Temp de Mexico, a leading supplier of automotive parts, including condensers, radiators and heat exchangers, announced plans to establish their first manufacturing operation in the United States in Panama City. The company is a Tier 1 supplier to Volkswagen, Nissan, Peugeot and Ford. It is occupying the former Boyd Brothers Printing property. It has committed to creating 50 advanced manufacturing jobs and will be making a capital investment of $6 million.
Advanced Composites and Metalforming Technologies (ACMT), a supplier of components for domestic and international aerospace manufacturers, announced plans to open a new facility in Lynn Haven. ACMT, headquartered in Connecticut, is engaged in Original Equipment Manufacturing (OEM), Maintenance, Repair and Overhaul (MRO) operations, Adhesives and Chemicals lines, and its relatively new Airframe division. The project represents a $20 million capital investment and will result in 105 advanced manufacturing jobs.
Revint Solutions, a revenue recovery business serving health care providers throughout the nation, is establishing a regional headquarters and employee service center at a facility in Lynn Haven. The company is based in Pennsylvania and has grown through acquisitions and the merger of several health care revenue integrity solution providers in the U.S. Once fully operational, Revint will add approximately $6 million in annual payroll to Bay County.
Butterfly Training, a developer of e-learning solutions related to airport security, airport safety, airlines and aviation manufacturing, announced plans to establish a U.S. headquarters in Panama City. The company, which has seven locations in Europe, is partnering with Gulf Coast State College in providing internships and apprenticeships to students in the college's digital design program. It will be creating 10 permanent jobs.
Other activities, too, are adding to Hardin's energy level.
Eastern Shipbuilding, she noted, is in the process of hiring 1,000 welders to help fulfill new contracts. Port Panama City has developed its east terminal on property purchased from WestRock, operators of the paper mill in Panama City. The EDA will be marketing additional nearby property to industrial operations requiring port access.
A "very, very active prospect," said by Hardin to be an international company, is looking at the Intermodal Distribution Center north of Panama City on U.S. 231. Progress toward a deal was delayed by the hurricane, but the prospect has now made several trips to Bay County.
Another international company, of Japanese ownership and with its U.S. headquarters in California, has made seven trips to Bay County as part of a site search.
"Every time they come, they comment on how much things have improved and they want to be part of the recovery," Hardin said. "They see how resilient the community is and how committed it is to rebuilding. Those are the kind of companies you want in your community — people who are committed to the same things that you are committed to."
ACMT sent a team of seven people to Panama City from its home office in Connecticut shortly after the storm.
"They stayed in Destin," Hardin said. "They rode around for a few days and helped people cut trees down and clean up debris, and they handed out food and candy at a Halloween festival in Lynn Haven."
LEAN, MEAN PROMOTING MACHINE
The Bay EDA team comprises just three people: Hardin, vice president Garrett Wright and Polly Jackson, the director of finance and administration.
"But we're just the paid staff," Hardin was quick to point out. "We have so many people in the community who help us with prospect visits and dinners and hosting people. We have a fantastic group of allies. In Georgia, we had a good partnership with the community but nothing like here.
"People always answer my phone call, and they will drop everything to meet with a prospect."
In particular, Hardin mentioned the relationship that the EDA has with Gulf Coast State College and Florida State University Panama City.
"We wouldn't be in business if we didn't have our educational partners," Hardin said. "I say all the time that I can't get a prospect to the table to work on an incentives deal if I can't convince them that we have a workforce available to meet their needs.
"Every single prospect we bring to town meets with president John Holdnak at Gulf Coast and dean Randy Hanna at FSU."
Holdnak was instrumental in finding the EDA office space on the GCSC campus.
When Wade was hired to rescue the EDA, he operated from a renovated house on Jenks Avenue.
"No way was I gonna stay there," Hardin said. "I never would have brought a prospect there. Moving to the Gulf Coast campus is the greatest move we ever could have made.
"This is where we need to be. With the college, the university and the port right here and the workforce office just down the hall, this really is the economic center of town."