Commissioner Gordon
Film chief shines spotlight on Bay County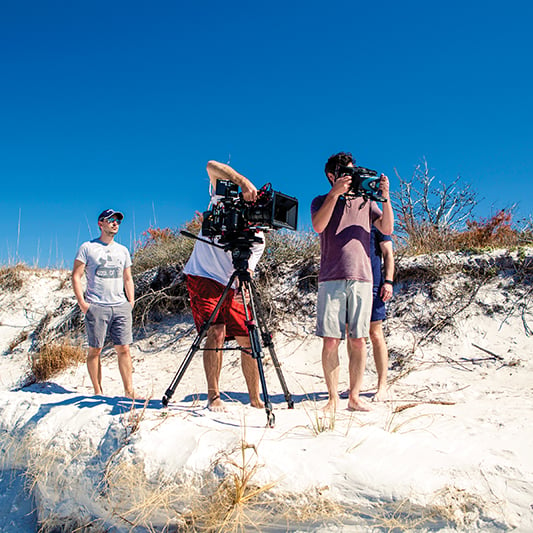 Bay County Film Commissioner Julie Gordon operates under a single mission: to market Bay County, Florida, to the film industry worldwide.
For Gordon, the film industry encompasses print, television, music video, motion picture and essentially anything that involves a camera. Since 2001, Gordon has been the liaison between production companies and all resources required to shoot, from providing locations, casts and crew to securing craft services and transportation.
In conjunction with the Tourist Development Council (TDC), which Gordon refers to as her "lifeblood," Bay County's Florida Film Office sustains itself on an annual budget of $30,000 from the county. In its course, the company has suffered its share of budget cuts, through both the Deepwater Horizon/BP oil spill and the cutbacks in state tax incentives for film in 2016.
"The loss of incentives has made my job twofold," Gordon said. "Now that the State has switched its position, we (film offices under the Florida Office of Film and Entertainment) are totally under the Office of Economic Development. My goal is to bring in more than a million dollars per quarter in economic impact, and we definitely surpass that every quarter."
Last year alone, the Florida Film Office produced 19 television series, five music videos and six commercials of note in Bay County. Gordon estimates that she shoots 225 to 250 days per year. This year, the projects have grown even bigger.
"There are many projects that haven't been shown yet — that have been shot and wrapped and are in the can, ready to go," Gordon said. "One of our best friends and partners is Home & Garden Television — HGTV — and we have a couple of new series and a pilot airing with them."
One of these television programs is called Sweet Beach Renovations, showcasing the refurbishment of beach homes. Additional HGTV shows in that vein, including House Hunters" and Beachfront Bargain Hunt, can shoot anywhere from Mexico Beach to Camp Helen to the Grand Lagoon Waterfront Farmers Market. Gordon believes that each time these shows air, it's a chance to create a new impression of Panama City Beach and Bay County for tourism and future film prospects.
This fall, several shows from other parties — which Gordon cannot name due to non-disclosure agreements — will air that have been filmed in Bay County in their entirety. According to Commissioner Gordon, one of these was a behemoth of a project, demanding a crew of 100.
"We had 50-person crews, each working 12-hour shifts per day over several months," Gordon recalled. "It was a lot of heads in beds, hired local crews, caterers. I can't describe how many people we put to work, how many jobs it supplied. That's going to be a doozy, because it's literally generated millions of dollars of economic impact."
Despite the burgeoning production of television, Florida remains overshadowed by its feature-film-site neighbors: Georgia, Louisiana and even Alabama. The culprit? A lack of film incentives, again.
"We just don't have state reimbursements like we used to," Gordon remarked. "For a long time, we felt like everyone else was eating our lunch, but Bay County has never survived on feature films. However, Bay County and Northwest Florida are really on the brink of being something great. If we were to get the film incentive from the state office, we could see that, instead of pondering what could be."
A healthy hint of "what could be" was most recently demonstrated by Moonlight, the 2016 winner of the Academy Award for best picture. Directed by Florida State University Film School graduate Berry Jenkins and shot almost entirely in the Miami area, the film stands as a symbol of hope for the future of Florida's film industry.
"A lot of the Moonlight crew was from Florida, so that was a huge deal," Gordon said. "Yet, it almost backfires on us when we point that out: The government asks why they should give us an incentive if something like Moonlight can be made without state funding. There's a big difference between a $300,000 TV show, and a $30 million film; but those films are what keep people in production houses and on sound stages in larger areas working steady, and we need those to keep people from leaving and going up to Atlanta."
Fortunately, this also means that the Film Office in Bay County catches most of the runoff from Atlanta. Whenever a beach scene needs to be filmed, it's common for crews to load up and head to Panama City Beach. Although Gordon couldn't be happier with the success garnered from the trickle-down and the profit from TV and music videos, she has a vision for an even bigger future.
"We need a grip house, a production house, a sound stage … there's nothing like that in this region," Gordon said. "If we had something like that, then we'd be the biggest draw. For now, marketing Bay County may not be all glitz and glam, but I love what I do and I love where I do it."