Commemorating Progress Toward a Vision
Project partners kick off construction of PCB medical campus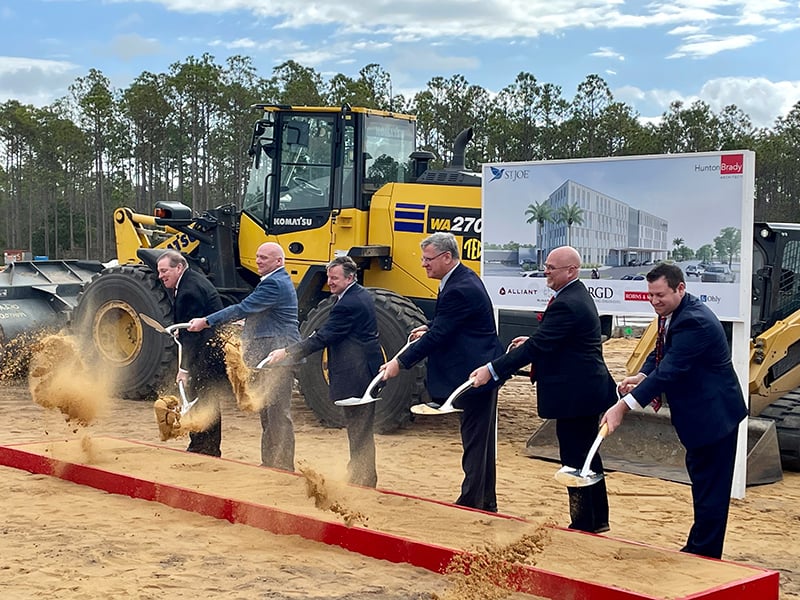 Paul Casto recalled the days, well within his lifetime, when Panama City Beach was without an ambulance.
"If there was an emergency, they had to send one from the old Bay Medical," said the Ward 1 representative on the PCB City Council. "We've been talking  about the need for a hospital on this beach for 40 years."
True that.
Four years ago, however, talk of a medical center started to become more than that. Jointly, the St. Joe Company, Florida State University and Tallahassee Memorial HealthCare (TMH) committed to bringing about a locally governed, comprehensive medical campus on 80 acres off State Highway 79 a few miles south of the large-scale Latitude Margaritaville Watersound development.
On Tuesday, the heads of the three partners joined with a large delegation of visitors from Tallahassee and local dignitaries and well-wishers at a ceremonial construction kickoff for the FSU Health-Tallahassee Memorial HealthCare Medical Campus.
Jorge Gonzalez, St. Joe's president and CEO, noted the difficulties experienced by many urban medical centers located on legacy properties that offer little room for expansion when the need arises. In the case of the Panama City Beach medical campus, space constraints may never become a problem.
Work has begun on an 80,000-square-foot medical office building that is scheduled to be operational in 2024. The building will house TMH physician partners, a couple of whom already have set up shop in Bay County, and offer services including primary care, urgent care, an ambulatory surgery center and cardiology and orthopedic services. Simultaneously, work on a 100-bed hospital with an emergency center is taking place. The hospital will provide inpatient services to include surgery, cardiology procedures and imaging and is expected to be open for business in 2027.
Gonzalez discouraged anyone from thinking that completion of those projects will be a final destination. Rather, he said, they will be steps along the way to a campus that may one day number 500 hospital beds.
"Today, we are commemorating the beginning of the realization of a vision," Gonzalez said in remarks leading up to the traditional tossing of spadefuls of dirt. "Collectively, we all want to work toward a healthcare campus that takes advantage of the natural synergies among research, teaching and clinical delivery.
"We know it's a big, bold idea that is not easy, but, hey, without a big, bold idea, big bold things don't get accomplished."
For St. Joe, Gonzalez said, infrastructure is much more than roads, bridges and utilities.
"To us, it includes education, culture, the arts — and healthcare. In my opinion, there is nothing that affects quality of life more than the quality of health care."
Early in the discussion that began four years ago, Gonzalez and TMH president/CEO Mark O'Bryant agreed that the new medical campus should be locally controlled.
"The best health care is locally driven, it is driven by the people who receive the care," O'Bryant said. "One of the things that I think has defined Tallahassee Memorial as an organization is the fact that we are locally governed, locally owned and we are stewards at the local level of the hospital's assets. We want to bring that same model to Panama City Beach."
O'Bryant touched upon the almost 75-year history of his hospital and called upon his audience to "take a mental snapshot of what you see here today. And come back in five, 10, 15 years. This campus is going to be transformative. It will redefine Panama City Beach not just as a destination for tourists, but as a destination for people looking for a place to live."
FSU president Richard McCullough anticipates that the FSU Health-Tallahassee Memorial HealthCare Medical Campus will have impacts that will ripple far and wide.
"We're going to create transformational health science programs and a research environment that will serve communities across North Florida and have a broad regional and national impact. At FSU, we want to be an integral part of the community and to provide services, workforce training, jobs for the area and opportunities for innovation and entrepreneurship. We look forward to educating and training workforce-ready graduates in many occupational areas including healthcare."
"This the right call for not just Panama City Beach, but the region," said U.S. Rep. Neil Dunn, a retired urologist whose district includes Bay County. "And with the people you see here working together, this is going to happen. We're going to get this done."
Concluded Panama City Beach Mayor Mark Sheldon, "We live in paradise, and this is the cherry on top."   
---