Coming Together for Kids
How we can do more to help children achieve more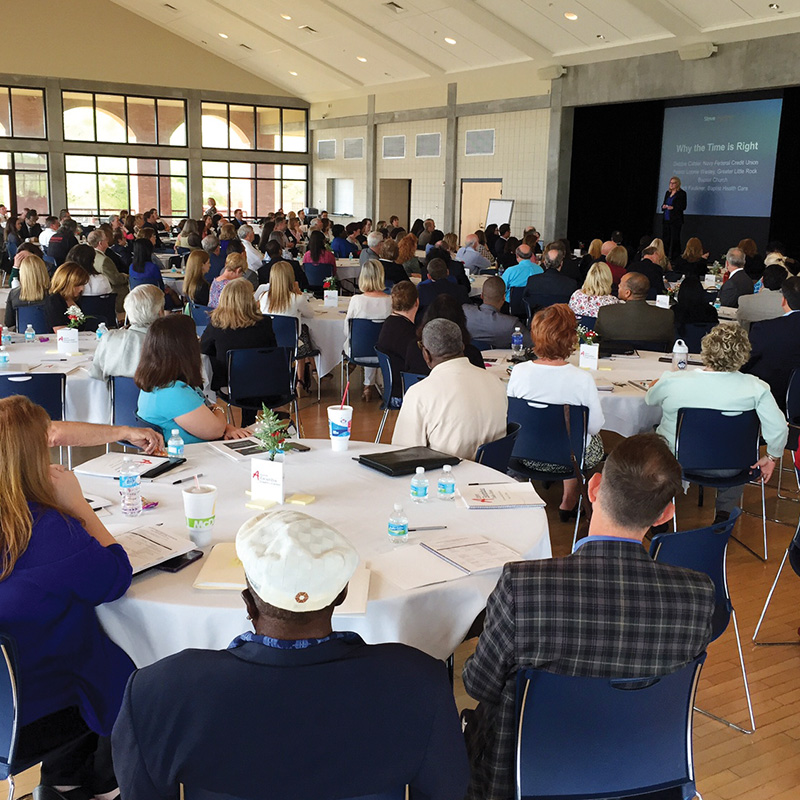 In Escambia County, only 67 percent of children are prepared for kindergarten. Just 72 percent of high school students will graduate on time. And among the working-age population, 63 percent hold a high school diploma or less.
The people of Pensacola want better for their children, and they're coming together to do something about it.
It all started two years ago, when Gulf Power CEO Stan Connelly took stock of the company's volunteer forces. He quickly recognized they were doing a lot of good — as were many other community partners.
Connelly wondered, "How can we align our resources to help kids succeed?"
From this question would develop Achieve Escambia, an initiative bringing together leaders in education, faith, public safety, health care, government and business to address social challenges by aligning efforts.
In addition to Gulf Power, Navy Federal Credit Union, Baptist Health Care and Sacred Heart Health System were integral to the establishment of Achieve Escambia, operating within the United Way of Escambia County.
For counsel and direction, the team engaged with Strive Together, a national organization dedicated to the improvement of education through collective impact. Achieve Escambia is the first Strive Together network in Florida and the only one in the nation to have sprung up from a business community.
Leading the Way
After numerous community summits, the next step was to hire an executive director. With more than 25 years of experience in nonprofit management, Greg Voss took on the role in October 2016.
"I know we are underachieving … everyone knows it," Voss said. "The idea now is to put a plan in place — to inch those statistics up and continue to see improvement."
Upon moving to Northwest Florida from Wisconsin, Voss was immediately impressed by the dedication of the Pensacola community.
"The staff from these corporations devoted so much of their time that would otherwise have been spent doing their jobs," he said. "It's amazing, the level of commitment. I have not seen such intensity and focus and loyal dedication."
Voss echoes the sentiments of those who worked to shepherd Achieve Escambia from the start.
"The school districts can't do it alone … the corporate folks can't do it alone, but when we bring in experts, take a disciplined approach and measure results, we'll move the needle," he said. "That's the benefit of collective impact."
To begin, Voss is working hard to build trust, meeting eye-to-eye with people throughout the community.
"In the end, isn't that what gets things done?" he said. "If you're a police chief, a priest or a principal, it all comes down to building trust."
Pensacola Chief of Police David Alexander couldn't agree more.
"Our goal is to increase cultural understanding and build trust between organizations within our community by engaging in Achieve Escambia's collective impact effort, so that our community's resources can be utilized more effectively," said Alexander, who serves on the initiative's Leadership Council. "I hope to help build trust between law enforcement and citizens and, in turn, direct members of the community to available resources."
Setting Goals to Achieve
Escambia County is growing, with 5,000 new employees expected to join Navy Federal's already vast employee base there. Corporate leadership wants what is best for its employees.
"I am proud to support Achieve Escambia's mission to align our community resources so that everyone is empowered to achieve success," said Debbie Calder, executive vice president at Navy Federal and a member of the Achieve Escambia Leadership Council. "Navy Federal hopes to help create a sustainable work force of future employees by engaging with Achieve Escambia, and we hope to see prosperity in our community as a result for generations to come."
Like Navy Federal, business leaders throughout Escambia County have a strong desire to improve quality of life. They're looking to attract skilled talent. They want to attract families.
What attracts families? Good schools.
To improve education in Escambia County, Achieve Escambia has established five CANs, or Collective Action Networks, in the following areas:
Kindergarten Readiness
Third Grade Reading
Middle School Math
High School Graduation Rates
Career Readiness
Along with the community, the board of Achieve Escambia weighed in on these goals and their progression. For each CAN, experts in the specific areas will help identify gaps and determine measurable outcomes. Kindergarten Readiness kicked off in November 2016 — a natural beginning to this noble journey.
Strike Up the Band
Voss is careful to keep the perspective of helping one child at a time.
Reflecting on being a father of four, he has a poem stuck in his head these days — "All I Really Need to Know I Learned in Kindergarten," by Robert Fulghum.
"Wouldn't the day be nice when the most significant challenge for kids would be remembering to hold hands while walking across the street?" Voss said. "It just seemed so innocent and simple back then."
Today, there are many other issues children face. That's why Doug Brown, executive director of the Community Action Program Committee, decided to join the Achieve Escambia Leadership Council.
"Achieve Escambia will benefit students and families greatly, allowing us to align resources," Brown said. "Children often need someone to step up and to stand in the gaps they are facing, and that Good Samaritan is in all of us. It can be exhausting if everyone tries to help but ends up pulling in different directions, but it is energizing when we all pull in the same direction."
Voss hopes to harness the energy of the community's loyal supporters to significantly improve all outcomes, from cradle to career.
"I'm the maestro of the orchestra," he said. "I'm just leading the band."