Coming Out of the Ground
A new Tyndall Air Force base plants trees and seeds the future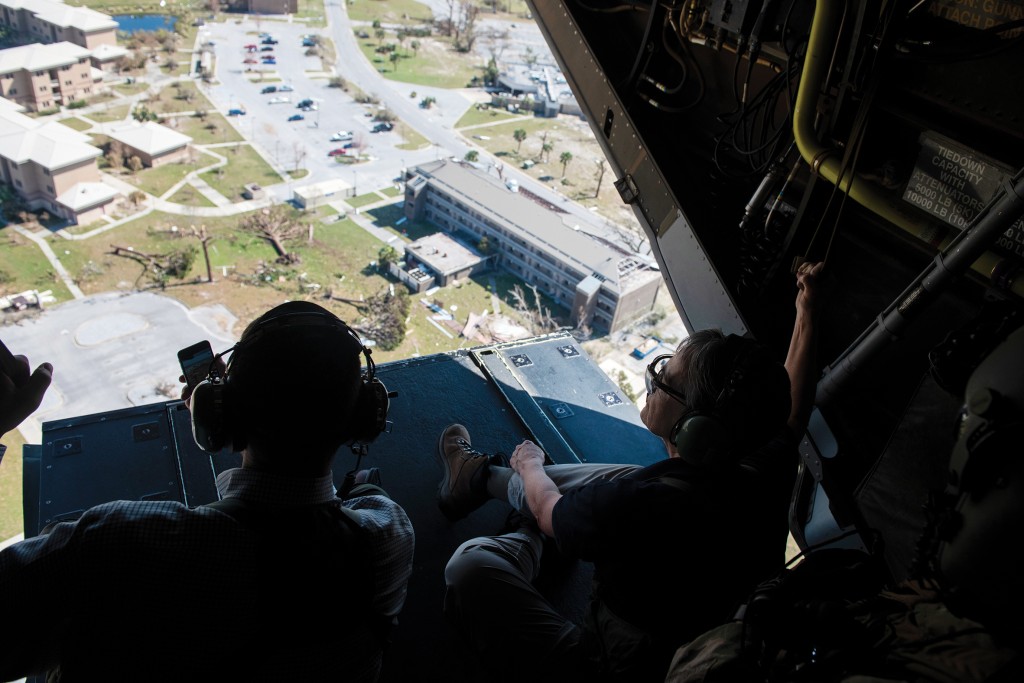 Tyndall Air Force Base, originally known as Tyndall Field, was established in ı94ı as the home of Flexible Gunnery School #9, which trained thousands of artillery troops through the end of World War II.
It was named in honor of ıst Lt. Frank Benjamin Tyndall (ı894–ı930), a fighter pilot during World War I, a Silver Star recipient and commander of the 22nd Aero Squadron.
Located about ı2 miles southeast of Panama City, the Tyndall site was made up of swamps, scrub brush, pines and palmettos. In order to create the base, bulldozer operators worked around the clock to transform the landscape. But while man can alter or make over certain natural elements for his own needs and uses, the forces of nature are not forever dormant, and Mother Nature can be a formidable adversary. That part of the story comes later.
Rechristened and repurposed by the newly formed U.S. Air Force in ı947, Tyndall became an Air Training Command (ATC) installation and flight instructor school. By the ı950s, pilots, crews and ground control operators were pioneering the jet age, flying and servicing the new generation of sleek jet fighters with quixotic names like Mustang, Shooting Star, Starfire and Scorpion.
As time went on, Tyndall kept adding new titles and more missions. Under the auspices of the Tactical Air Command, which took over in ı979, the base eventually became responsible for the air defense of huge swatches of U.S. territory, including the Southeast, the upper Midwest and the south-central parts of the country.
By the arrival of the 2ıst century, Tyndall had become the home of the newest and most capable jet fighter on the planet — the Lockheed Martin F-22A Raptor — the first operational aircraft to combine supercruise, supermaneuverability, stealth and sensor fusion in a single weapons platform.
Yet however high man flies and whichever mortal enemies he believes he can defeat, there are some antagonists that can't be denied. And in 20ı8, Mother Nature struck Tyndall's 29,000 acres with fury in the form of a Category 5 hurricane.
Making landfall at Mexico Beach, just east of the base, with winds up to ı60 mph, Hurricane Michael's devastation of the area was dubbed "catastrophic" by Air Force officials. The damage to the base was estimated at $4.9 billion in lost buildings, facilities and hobbled jets.
But just as nature has a way of derailing man's best-laid plans, there is also a human tendency to respond to calamity by bouncing back and devising ways to better contend with future storms.
Within several years, the broken installation at Tyndall will become the Air Force's "Base of the Future," with enhanced ability to prepare for, and recover from, future weather events and other disruptions that can impact mission assurance.
Tyndall's rebuilding efforts incorporate design strategies that address flood and storm surge risk, harden the base's infrastructure against future hurricanes, and provide for efficient use of land and any recoverable assets that Michael spared, while also supporting operational readiness and efficiency, and creating a secure, resilient human environment.
The years-long project will include 44 new military construction projects and 260 facilities, sustainment, restoration and upgrading projects. Eleven of those projects will help support ongoing F-35 operations, the Air Force's fifth-generation jet fighter wing.
Mike Dwyer is the deputy division chief of the Air Force's Natural Disaster Recovery Program Management Office at Tyndall.
"We need to build the base we need, not the base that we had," he said.
Of course, an undertaking of this magnitude has obstacles, not the least of which is having to provide temporary installations while planning the permanent buildout, as well as repairing and rebuilding the base while allowing what was left of the fighter wing to stay operational.
"It is like building an airplane while in flight," Dwyer noted. "The new base will strike a balance between providing powerful air dominance and a community that takes care of airmen and their families. Tyndall will consolidate facilities and locate functions into 'mission campuses' to improve efficiency and use of space throughout the installation. It will be a walkable campus by connecting working, living and community areas."
Aiding the reconstruction work has been the utilization of Digital Twin, a technology imported from NASA that originally was used to improve the physical-model simulation of spacecraft.
At Tyndall, teams with drones, scanners and advanced imaging technology created a virtual 3D replica of the base as it existed post-hurricane. Then, as each new or reconstructed building got designed, its own 3D digital model was uploaded into the Digital Twin and, according to Dwyer, "dropped into our new world."
"If you had told me that we were going to be able to create a complete digital version of a reconstructed Tyndall that we can use for very practical day-to-day design and construction applications, I would have said, 'No way; that's not possible,'" Dwyer admits. "And I'm glad to be wrong. The Digital Twin has probably been one of the most amazing innovation efforts we've done so far."
Will the reconstructed Tyndall become a prototype for rebuilds and upgrades elsewhere?
"I think our policymakers are very closely observing and studying what we're doing," Dwyer said. "I think they are keen to know the applicability of the lessons learned from the innovations here to influence potential changes to policy that could possibly be replicated across other installations that face the same climatic threats."
And while the reconstruction of Tyndall is being carefully carried out to help withstand the harsh and devastating aspects of Mother Nature, preserving and protecting her more benign characteristics is also part of the plan.
"We have to build in full compliance with the National Environmental Policy Act," Dwyer explains. "Respect for the environment goes into all our infrastructure planning, and we're very proud of many of the efforts that we are exploring and implementing to be in harmony with the environment. For example, we partnered with the State of Florida to replant many of the lost acres."
Motorists used to drive through the base via U.S. 98 and could not see the Gulf of Mexico because the forest was so thick.
"Now, you've got a line of sight, which is a testament to the level of damage from that hurricane," Dwyer said. "We're replanting with a species of pine that's native to the state and very resilient to high wind. So, that's a great example of how we're rebuilding smart, strong and in harmony with nature."
The Tyndall reconstruction project should be complete "somewhere between 2024 and 2025," Dwyer said. "Building in a COVID environment has not made things easy. And we are going to have to use workarounds for temporary facilities to support our F-35 mission until the permanent facilities are complete. But our Army Corps of Engineers partners are crack professionals, and it is so gratifying to start to see new Tyndall come out of the ground."