Coming Home and Giving Back
Bubba Watson makes major gift to children's hospital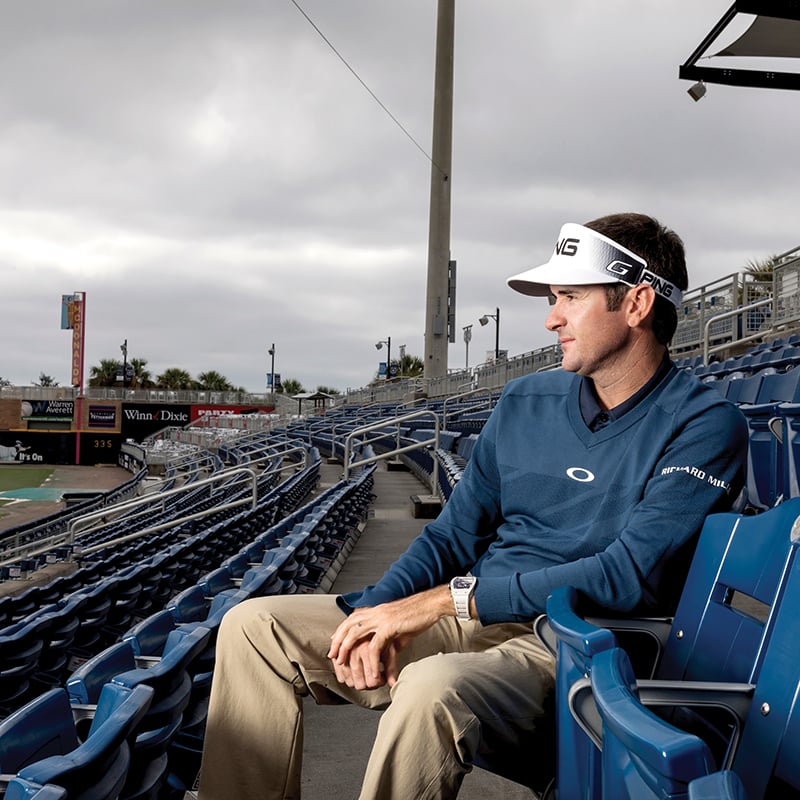 As he embarked on his career as a touring professional, Bubba Watson had the confidence that he would one day become not just a golfer, but a business.
"Randall and I always had a number in mind and we told ourselves that if we reached that, we would be a business," Watson said.
Randall is Randall Wells, who serves as Watson's money manager, and who was, as it happens, the valedictorian of Watson's high school class.
Watson, a two-time Masters Tournament champion, achieved the number some time ago. Today, the business employs a coterie that includes Wells, a manager, two assistants, a caddie and a therapist who stretches Watson out in the morning during tour events and massages him at night. Too, Watson respects his wife, Angie, as his leader, the woman who "keeps me grounded and sees to it that I am resting when I need to rest."
Watson has never had a swing coach or a sports psychologist, preferring to play golf his way. That's unusual, he concedes, then adds, "But I'm unusual; I'm from Bagdad, Florida," in Santa Rosa County, a tiny town of 1,490.
Having achieved "business" status, Watson began exploring the possibility of establishing a foundation and the name, Quint Studer, soon came up. Wells introduced the two men to the major benefit of the Sacred Heart Health System, headquartered in Pensacola. For Watson, the relationship with Studer led to opportunities to give back to his hometown after straying for a time.
While living in Arizona and then Orlando, Watson fell subject to the magnetic influence exerted by the Gulf of Mexico on many who have experienced Northwest Florida. And, for Watson, that pull was joined by a powerful homing instinct.
Those combined forces proved irresistible and Watson, relenting, assured himself that if LeBron James could go back to Cleveland, surely he could return to his roots. (It stood to reason that Watson would have an easier time going home again than James did. When James traded Cleveland for Miami, Cavaliers fans burned his jersey. No one was bending pink drivers over their knees because Watson left Pensacola.)
Watson is satisfied that he and his wife, Angie, who played professional basketball in the WNBA, made the right move and now he and his family and his foundation are engaged in very publicly embracing Pensacola, working generously to make it a better place and, in particular, doing what they can to bring about the realization of The Studer Family Children's Hospital at Sacred Heart.
With two gifts made in August and September, Watson donated a total of $2.1 million to the Children's Hospital project.
"We will be eternally grateful," said Henry Stovall, president of Sacred Heart Hospital Pensacola. "Bubba is one of the biggest supporters that this hospital has ever had."
Work on the $85 million, 120,000-square-foot children's hospital began in March.
"In my business, winning a trophy is great," Watson said. "I do that, and on Sunday night, I'm a hero. But, as of Thursday morning, when the next tournament starts, people are looking for the next hero. So, you begin to ask yourself where you can best put your love and use your connections to provide for generations to come."
Watson acknowledged that there are a "million good causes out there," but he was especially inclined to give to one with which he had a personal relationship.
Watson's connection to Sacred Heart in Pensacola is lifelong. He and his sister were born there and his late father underwent cancer treatments there.
"When I came back to this town, it was about becoming part of this place," Watson reflected. "I asked myself how I could become not just a golfer, but a helpful citizen. My kids will be at the children's hospital — they've already been there — so it's going to be a lifelong goal to remain part of that facility.
"I won't always be Bubba Watson the golfer, but, as a person, I will always be a representative of this town and indebted to it," Watson said. "People here helped me become better at the game of golf and shaped who I became as a person."
Watson is an admirer of Studer, a health care consultant with whom he now co-owns the Pensacola Blue Wahoos minor league baseball team.
Upon first meeting Studer, Watson had no idea he might wish to involve him in the baseball team, but he soon found himself buying into the consultant's reasons for bringing Double-A ball to Pensacola.
"When I was growing up, golf was a family experience for me," Watson recalled. "My dad played, my sister (three-and-a-half years older than Bubba) played and my mom was my caddy. I wasn't allowed to have video games as a kid; I bought my first game system after I turned pro.
"Wahoos baseball is a family event, too. It's fun and exciting. It's like a big kids party. Kids are kids and adults are kids again."
As half-owner, Watson takes care not to be too intrusive, but he occasionally stops by batting practice at Pensacola's Bayfront Stadium and pops into the locker room once or twice a season to play some ping-pong with team members.
Studer introduced Watson to his vision for the children's hospital, first at a Wahoos game and subsequently at his home. Those conversations got Watson to thinking and led to prayerful consideration and conversation at the Watson house.
"The Lord has given us an amazing platform with which to be helpful, and we want to see this dream of a children's hospital come true," said Angie.
She said that, in her experience at Sacred Heart, nurses, doctors and staff have always been very much attuned to what families need and want.
"When we picked up (our adopted daughter) Dakota, we were at the hospital for four days, and we enjoyed a sense of relationship with hospital personnel at every level. We felt like we were very much involved in everything that was going forward."
Angie said that the children's hospital undoubtedly will have a regional impact.
"It's not a stretch to say that people from a large radius will come to Sacred Heart for services and many of them will fall in love with Pensacola while they're here. As a parent of two children (the Watsons also have an adopted son, Caleb), I know that health care, along with schools, is one of the things you think about when you decide where to raise a family. Having one of the best children's hospitals in the country here will be a big factor for people."
To Bubba, supporting the hospital feels like acing a par 3.
"I am far from perfect," he said. "I make a lot of mistakes, as a parent, as a husband, and especially on the golf course — I make a lot of bogeys. The goal for me is always to get better. I benefitted from a community that supported junior golf and enabled me to make progress toward living my dream. Now, it's good to be able to give back."