CollegeTown hopes to redefine game day experience
Seminole Boosters partners with alums to create a student entertainment district from the ground up.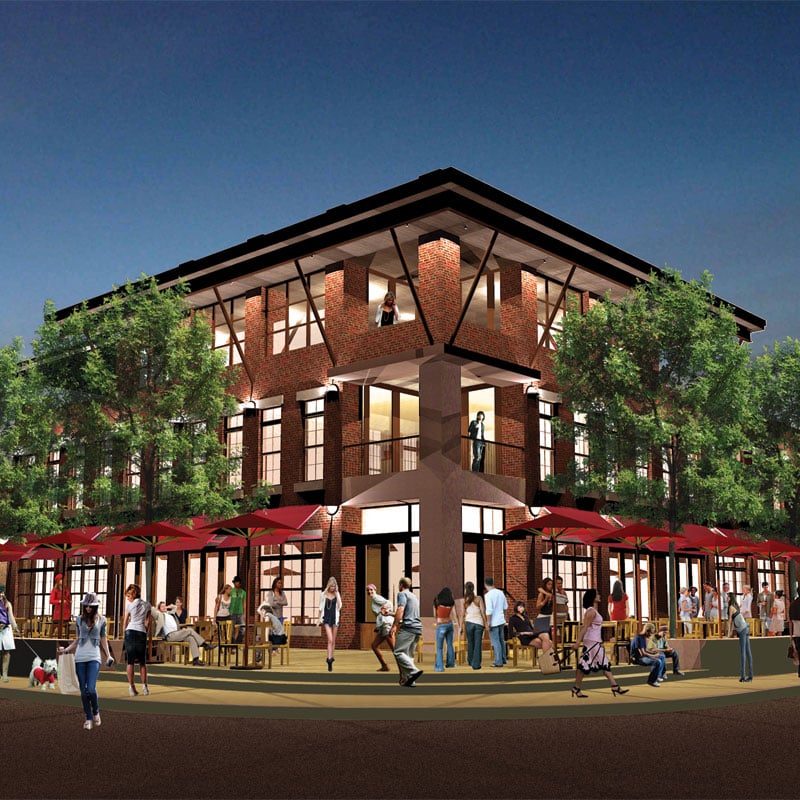 Florida State University, said Fort Lauderdale builder/developer Alan Hooper, "gave me the most memorable four years of my life." But something seemed to be missing when he returned to Tallahassee for football game days.
Unlike the Main Street area of Athens, Ga., or Boulder, Colorado's Pearl Street, there wasn't one "it" place in Tallahassee where students congregated and far-flung alumni could return to recapture those college days. "The really good college towns have a spot," he said.
Fortunately, Hooper is now in the position to do something about that. His firm is about 15 months away from completing CollegeTown, a brand-new living, dining and entertainment district designed to link FSU to downtown Tallahassee. Ground was officially broken for the project in January, and backers are aiming for it to be up and running in time for the kickoff of the 2013 Seminole football season.
The first $17-million phase of CollegeTown will consist of three buildings, all within sight of FSU's Doak Campbell Stadium. For the first, an old Post Office facility will be completely renovated into America's Backyard, a music venue and bar that could accommodate upwards of 1,000 people. The other two buildings will be built from the ground up: a three-level "Signature" building at the corner of Madison Street and Woodward Avenue will house several restaurants, and another building across a courtyard will feature retail on the ground floor and 72 loft-style student apartments above.
CollegeTown has been a long time coming, with its genesis in the completion of the University Center, the massive brick athletic/academic/office facility completely encircling the stadium, in the mid '90s.
According to Seminole Boosters President and CEO Andy Miller, "when we made the decision to develop the University Center, we realized that our footprint was not big enough and that we had to acquire property" to accommodate game day parking. "Our main two benefits are ticket priority and game day parking."
For years, the Boosters would buy parcels and sell them (at cost) to the university to create the lots and parking garages around the stadium, while holding on to some land for parking on game days.
Realizing that fundraising would be difficult during the continuing economic crisis, the Boosters began looking for ways to extract value from land that was only being used seven weekends of the year, Miller said. A consulting firm hired by the organization said a particularly choice parcel they had assembled on Madison Street — including a piece of land donated by local businessman DeVoe Moore and his wife, Shirley — would be an excellent site for a mixed-use, live/work/play project.
After visiting several universities with thriving student centers, "We realized we had a very special piece of property, with proximity to the university, right next to the University Center, within walking distance of the main campus," he said.
In concert with the city and county, and pulling together money from investors and revitalization programs, a vision for CollegeTown came together. The project has no bank financing, said Miller. Federal New Market Tax Credits and money from Tallahassee's Community Redevelopment added up to $6 million, investors kicked in $8 million and "the balance is land and property and cash we put into it as an investment," said Miller. "We're looking at a 12 percent return on our investment after we pay all our expenses and pay our investors … plus an appreciation in our property. We think that it's going to be a very, very, very good project for us."
Serendipitously, Hooper came to town looking for business at about the same time CollegeTown was coalescing, and he was steered toward the Boosters and their project.
Initially, Hooper was hired to work on design and programming, "and as it kept going, it was clear we could help them with some more of the management and the construction, because this is part of our whole package."
Hooper's bona fides and skill set make his builder/developer/management firm uniquely qualified to turn the vision into reality.
Originally from Fort Lauderdale, Hooper returned there after graduating and started out on the ground floor of his parent's property management company, painting apartments and collecting rents. After becoming licensed in real estate and construction, he would embark on his own business, which in the late '90s created a downtown entertainment district called Himmarshee Village.
"In Fort Lauderdale, our problem was after spring break there weren't a lot of places to go … A young person would drive anywhere in a 20-mile radius to three or four different spots the same night, so to have multiple places in one spot is a good idea," he said. "I think CollegeTown is going to be a real positive because at the end of the day, young people need a place to have fun when they're not studying and they're going to find it somewhere and to have a nice spot for them and a safe spot — hopefully it will work out."
The developer said there are several reasons he's confident CollegeTown will be a success, even though other revitalization projects nearby have retail spaces that have stood empty for years.
For starters, when you add up the student bodies of FSU (38,000), Florida A&M University (15,000) and Tallahassee Community College (15,000), you've got a 70,000-person, constantly changing community of young people that will never "age out" and can support an entertainment district in perpetuity.
Other local projects have suffered because they either don't have enough entertainment venues or the logistics of the area don't allow for a concentration of nightlife activities.
"You have to kind of point the activities at each other. It's really important to try to fill both sides of a street or both sides of a plaza. It's not really good to have pockets where there's nothing going on," Hooper explained. "It's really important that you try to keep it all close to each other and allow the visitor to experience as much as they can in one place. That's kind of why Tennessee Street is so successful, you've got four or five places right next to each other."
Although in the midst of an already developed area, the CollegeTown property is large, empty and complete.
"That's … why this is so special. It's rare to find two sides of the street for so many linear feet that are owned by a line of groups like the Boosters and the university," said Hooper. "Usually you (have) pockets, so then you're fighting to try to buy a piece. For a developer it's kind of a dream-come-true to be working on a project where most of the property is acquired and it's contiguous. It's a lot easier and it's a lot easier to attract tenants to want to come there."
While most of the tenants who have already signed leases have a national or regional footprint, the venue with the biggest "wow" factor is being developed by the local firm Hunter & Harp Holdings. Its principals, Chad Kittrell and J.T. Burnette, are the people who created Tallahassee's unique and trendy Hotel Duval, and were very active in the early planning stages of CollegeTown.
They have leased the top level of the project's Signature building and plan to create a rooftop lounge featuring an expansive deck and a see-through swimming pool overhanging the sidewalk below.
"That was their idea, and you know what? They're going to get the credit for being brilliant," Hooper said.
He said the ongoing revitalization of Gaines Street just a block away won't necessarily compete with CollegeTown, but could serve as a complimentary destination that will attract more low-key businesses and patrons.
Miller agrees and envisions success that reaches well beyond the FSU campus. "I'm a believer in the rising tide helps everybody. I really think it's going to be nothing but good," he said. "What we're doing is we're really upping the ante; we're making Tallahassee a better place to visit; we're bringing in more out-of-town people."
It all, he says, adds to Tallahassee's reputation as a progressive city where people want to not just visit, but to live.
"We want people to not only visit here occasionally … We'd like to see those people when they're ready to relocate their business, when they're empty nesting and looking for a place to retire. I'm interested in people that want to make a stake in FSU (and) alumni that move to Tallahassee."