Co:Lab Pensacola
Entrepreneurial successes fuel optimism toward world stage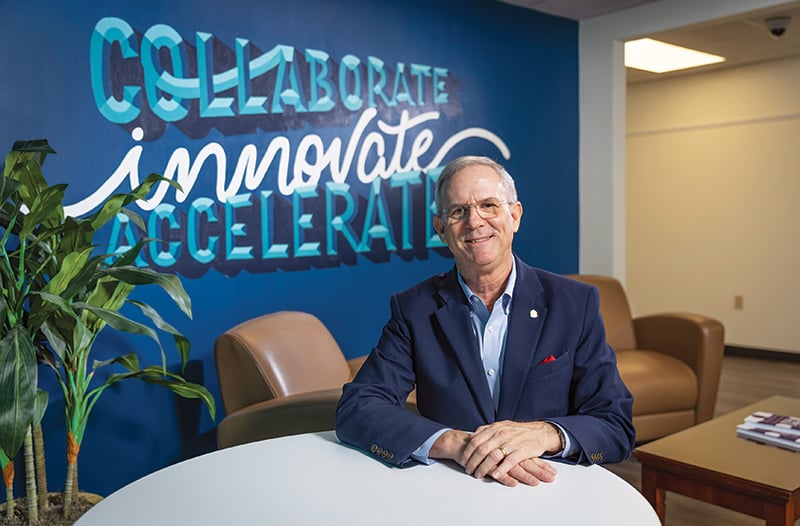 When it comes to the economy in 2023, Patrick Rooney is hopeful and betting on the entrepreneur.
"In uncertainty and situations like we are in, entrepreneurs see opportunities," he said. "I really think people are going to adapt."
And Rooney — a self-described "serial entrepreneur" who has co-founded and led at least 11 startups in multiple fields including defense, manufacturing, software development and education — should know.
"I really wanted to go out and start businesses," said the graduate of the University of West Florida, who is also a CPA. "I've touched a lot of really cool stuff."
In the past 30 years, he has held leadership positions in a variety of companies, including Brand Asset Digital, Cogon Systems, Deloitte Touche & Co. and Manufacturing Technology Inc. He's also the lead principal at Coastal CxO Services Inc., where he leads a team of executives providing comprehensive business and technology consulting services.
But it's the work Rooney does as the director of entrepreneurial development at Co:Lab Pensacola — a business incubator and growth accelerator created through a partnership between the Florida West Economic Development Alliance and Pensacola State College — that has emerged as his true passion.
"What we do well is provide support and resources," he said. "We have a very active policy board and a network of folks who are available to be called in to assist people and to answer questions. We get questions about legal things, tax things, payroll, human resources, even technology questions."
At its heart, Co:Lab's primary value is in helping small startups build connections inside and outside Escambia County, Rooney said.
"We have a great entrepreneurial ecosystem here," he said. "We have a lot of assets."
To qualify for Co:Lab, a company must meet several state-regulated criteria including being based in a STEM discipline, having no more than 25 employees, staying with Co:Lab for no more than five years and exporting at least 51% of its business outside of Escambia County.
"You have to be a net importer of wealth, which is the fundamental definition of what is economic development," Rooney said. "Economic development is a business that exports its services or products out of Escambia County. That's a crucial metric for us."
If a prospective company isn't exporting at least 51% of its business, it can still qualify for Co:Lab, but it must have a plan in place to achieve that ratio within five years.
Co:Lab offers its companies office space at its West Garden Street building, where it has 22,500 square feet available on three floors.
"Depending upon their growth and expansion, they can leave whenever they would like to," Rooney said. "They do have discounted lease costs for the first three years, and then in years four and five, the rates really go up quite a bit to encourage the entrepreneurs to focus on building a viable, sustainable business such that they can afford to go out into the real world. Rents are not cheap."
Like any incubator, Co:Lab's primary goal is survivability.
"Eighty percent of small businesses fail in the first five years," Rooney said. "They don't survive, which is not a bad thing necessarily. A kid burns his hand on a stove, but he'll never put his hand on another hot stove. Failure is a requirement of success. That's just a fundamental truth of being an entrepreneur."
The goal is to avoid failures that kill business.
"You want to take measured risks," Rooney said. "Unfortunately, a lot of people haven't failed enough to know where the risks are."
That's why Co:Lab places such an emphasis on building connections, mentoring, monthly check-ins, regular training sessions and learning from those who have gone before, and so far, the approach is proving successful. Since its inception, Co:Lab has had roughly 65 companies, including the current cohort, pass through its incubator, and the majority have experienced growth.
"Our survival rate is huge," Rooney said. "I would wager that close to 80% of those firms are still alive and kicking."
Rooney is especially excited about some of the new "clean tech" startups within Co:Lab right now.
"I have a Naval Academy graduate, an officer — a nuclear engineer coming out of the sub fleet — and he's developed a global network of bitcoin mining servers and data centers," Rooney said. "He's powering them with hydroelectric power … and then he's taking the heat output from the servers and he's creating hydroponic greenhouse operations to grow healthy foods. And he's just about to sign some big deals internationally and one in the U.S."
Another early stage company takes recycled circuit cards from computer systems and other technology, extracts the gold and sells that gold to the ethical jewelry market.
"As opposed to gold mining in countries where there's slave labor or unsafe or unclean environmental processes, this is gold that's traceable at least back to that technology it was extracted from," Rooney said.
The common thread is that these entrepreneurs are creatively solving problems and meeting the needs of consumers and often other companies in a variety of industries.
"If there are problems that can be solved at a reasonable cost and people have money to spend for that solution, entrepreneurs are going to have a lot to contribute," Rooney said. "I really believe that."
That belief in the entrepreneurial spirit is why Rooney is cautiously optimistic as he looks forward.
"Pensacola has seen a huge uptick in companies moving here, talent moving here," he said. "We have a lot of opportunities here for people. I think it's going to be a better year."
---