Circle Grill and Grady's Seafood Have the Friendliest Rivalry Around
Rivalry restaurants serve diners' palates well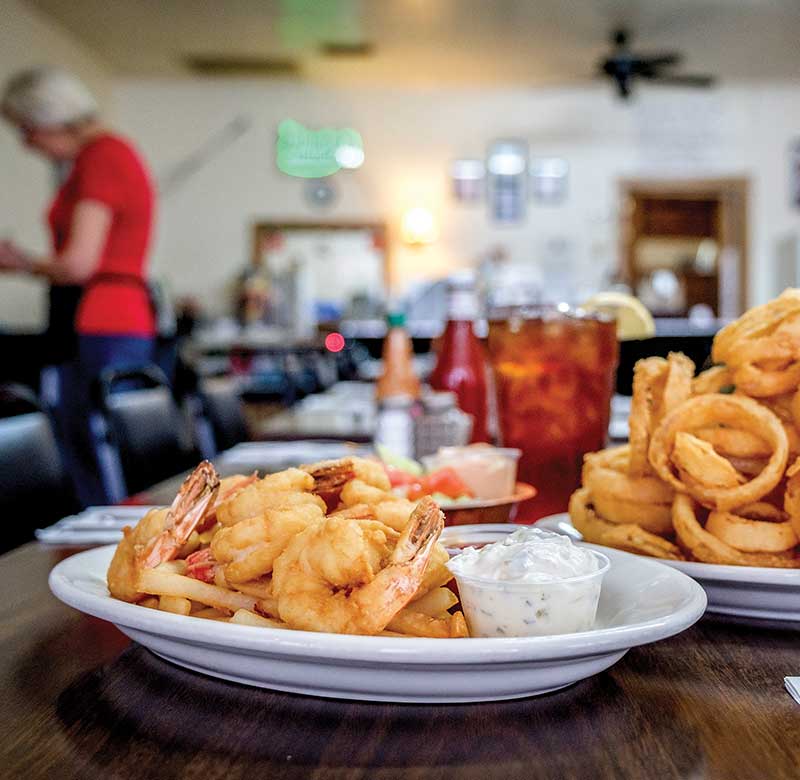 A few thousand people live in the Jackson County town of Graceville, a stone's throw from the Alabama state line. "I tell people I meet who don't know Graceville that we're south of Dothan, Alabama," said Graceville city clerk Michelle Watkins.
When Watkins and her husband, Tony, went on a cruise to Alaska, she was prepared to use this geographical locator. But at least one fellow passenger she met, from Mobile, was already familiar.
"He said, 'Oh, I know Graceville! I've eaten shrimp there," Watkins remembered.
In fact, two seafood restaurants in Graceville do a bustling business and have been go-to destinations in the Panhandle and Southern Alabama for generations. Circle Grill and Grady's Seafood share a city block and a 70-year history, and each boasts loyal customer bases willing to drive from other towns in Florida or Alabama for their fried shrimp.
"With the Alabama folks, we have a certain following, and Grady's has a certain following," said Kelly Register, who manages Circle Grill for her father, owner Phil Register. "We've got ours who won't go there, they've got theirs who won't come here. The local people kind of go back and forth between us — we're all from here."
Just fryers and a griddle
Businessman Davis Tindell opened Circle Grill in 1948. The Tindells were an established family in Graceville, and David Tindell owned several businesses in town, Register said. "I was told that he wanted us to have a nice restaurant in Graceville. Circle Grill was the nicest restaurant around."
The Dothan crowd tends to patronize the Circle Grill, featuring platters of fried and grilled shrimp and hand-cut steaks. Despite what may look like a rivalry, the two restaurants in Graceville have common roots and help each other out when supplies run low in
one kitchen or the other.
Soon after Circle Grill opened, Tindell recruited Grady Spears from the landmark Houston Hotel in Dothan to run it. Tindell intended to expand the half-circle shaped building into a full circle, but he sold it to Spears in 1951 before he finished it, Register explained. It remains a half-circle to this day.
Spears retired from Circle Grill in 1972, then a few years later, opened Grady's Seafood down the street. "He had been doing Circle Grill seven days a week," said Larry Skipper, current owner of Grady's Seafood and Spears family member. "He didn't know what to do with himself when he retired, so he opened Grady's. Since then our family has made a living off of Grady and his shrimp."
The Registers, who have lived in Graceville for several generations, bought Circle Grill in 1995. "When we bought the restaurant, it was named Circle Grill and there wasn't a grill in it — just fryers and a griddle. Then, it served shrimp, oysters, scallops and catfish. We grill stuff. We've added in different kids of fish, and steaks — steaks are our No. 2 menu item," Register said.
Circle Grill cuts its steaks fresh, patties out hamburgers each morning, and makes its Thousand Island and other salad dressings from scratch. Register says diners are also drawn to the Circle Grill by the fried pickles, especially kids from The Baptist College of Florida, located nearby, and her homemade "good Southern sweet tea."
Hold the salt
A short walk up Sixth Avenue in Graceville, customers at Grady's Seafood appreciate the no-frills menu of fried shrimp and onion rings. "We don't add anything to our shrimp," Skipper said. "That's the main thing. We don't add seasoning — we have homemade tartar sauce and cocktail sauce for that. We don't even add salt."

Skipper will only serve a certain brand of jumbo Gulf shrimp. The restaurant has been using the same supplier since 1976, he said. "It's got to be out of the Gulf, or I won't even think about eating it."
Larry Skipper and his wife Sherri have owned Grady's Seafood since 1991. Skipper had been educated as a computer programmer, but he switched gears to run the restaurant. "I wanted to keep the family tradition going," he said. Register brought up family too, noting that her son, who is 22, has "worked here since he was born."
"My son's getting married, and I can't tell you how many customers have brought him gifts who aren't invited to the wedding. They feel like he's a part of their family," she continued.
Both restaurants sell fried shrimp. Do they see each other as competition? No, said their owners and operators. In fact, both Register and Skipper said that staff from one restaurant will often call on the other if they're running short on an item in the kitchen.
A dinner worth the drive
Circle Grill and Grady's Seafood have made the two-stoplight town of Graceville into a destination. "We get people from Bonifay, Chipley and Dothan, Alabama — about 70% of our business is from Dothan. We have some customers from Tallahassee who came through here and ate before, and now they come back. We have business from Panama City Beach, who come up on their day off," Skipper said.
Register believes that it's the "old school" way of doing things that draws people to Graceville's seafood restaurants. "People like both of our restaurants because we hand-bread everything," Register said. "It's fresh seafood. You don't come in and get frozen shrimp, pre-breaded. That's the edge we have over most restaurants everywhere else."