Changing to Meet the Needs of the Future
Chipola College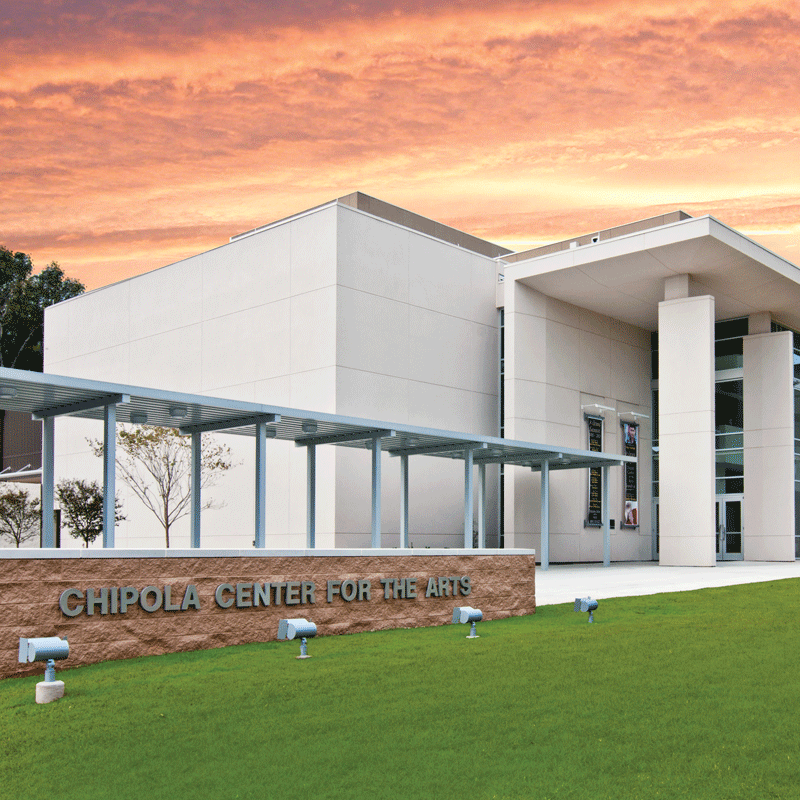 New programs, new facilities and a new president — the future is looking bright for Chipola College in Marianna.
Jason Hurst took over in March for Gene Prough, who retired after 12 years in the college's top position. Hurst isn't new to the campus, however. Over the previous 2½ years, he had served as Chipola's executive vice president and as vice president over bachelor's degree and workforce programs.
While it was one of the first three community colleges in Florida to offer four-year degrees 12 years ago, Chipola's primary mission remains the same as it has since its inception in 1947: "Our bread and butter is the AA degree … your freshman and sophomore years of general education classes preparing you to enter any university as a junior," said Bryan Craven, Chipola's director of Public Relations. "That's the vast majority of our students."
But because the five counties Chipola serves — Calhoun, Holmes, Jackson, Liberty and Washington — are relatively remote from Florida universities, the college started adding four-year degrees to its offerings. "Many of our students are place-bound; that's an educational term we use to mean that for whatever reason — families, jobs — they can't just pack up and move away to go to college," Craven said.
It now has 10 bachelor programs in teacher education, nursing and business. Degrees, Craven noted, that "are really about getting people jobs and getting people started on a career."
The college has also recruited more than 100 area professional and business leaders to serve on advisory committees for its technical program. "We depend on the expertise of these professionals to provide real-world advice about the training we need to provide to our students," said Hurst. These advisors also help in recruiting students for the career and technical education programs and finding jobs for the students.
Hurst's plans for his tenure include rebranding Chipola as a baccalaureate-granting institution, an overhaul of the college's website and a cleanup of the school's grounds and facilities, some of which date back to the '50s. In addition, "We need to add programs that are relevant to the economy of today," he said. "Expanding day programs into evening offerings and increasing our E-Learning program are efficient ways to grow the college."
The college is also home to vocational education, including a nationally recognized automotive program, cosmetology and a brand new welding program that maxed out with 20 students in its first term in a state-of-the-art facility.
While the mission is a classic one, Chipola is keeping up with the times via its E-Learning initiative, according to Craven. "We are expanding our online offerings, but we're also using technology to support our face-to-face classes. We're putting more content on the Web, and we're interacting with students electronically just to be more efficient. Even though you go to the class every day, there's still a lot of information posted on the Web and there's a lot of opportunity for interaction between the student and the professor on the Web."
It is possible to complete an AA degree at Chipola totally online.
A point of particular pride for the college is the $16 million Chipola Center for the Arts, which opened in 2012. The 45,000-square-foot facility includes a 655-seat theater and a 150-seat experimental theater as well as an art gallery, dance studio, teaching spaces and scenery, costume and paint shops.
It was created to not only serve the college, but also the wider community, including K-12 schoolchildren in the Chipola district. Craven says more than 10,000 guests visit the facility each year.
---
Chipola College Facts
Chipola College serves about 5,000 students each year — 2,200 in the fall and spring semesters and 800 to 1,000 during the summer term.
The college employs 185 full-time and 145 part-time employees. Including federal work-study students, total payroll is about $11 million.
Last year, the Chipola College's Foundation awarded $600,000 in tuition and books to 1,000 students.
Chipola's Brain Bowl team won a seventh straight state championship and a third consecutive national championship.
In 2013, Washington Monthly ranked Chipola No. 14 among community colleges nationally.
For three years in a row, Chipola College has been nominated for the Aspen prize, which recognizes the top 10 percent of the nation's community colleges.
Chipola's first-year retention rate of 65 percent is fifth in the nation and its 57 percent graduation/transfer rate ranked it 11th.