Cashing in on Creativity
Three Local Couples Turn Their Passions for Food, Design and Photography into Successful Careers Working Side by Side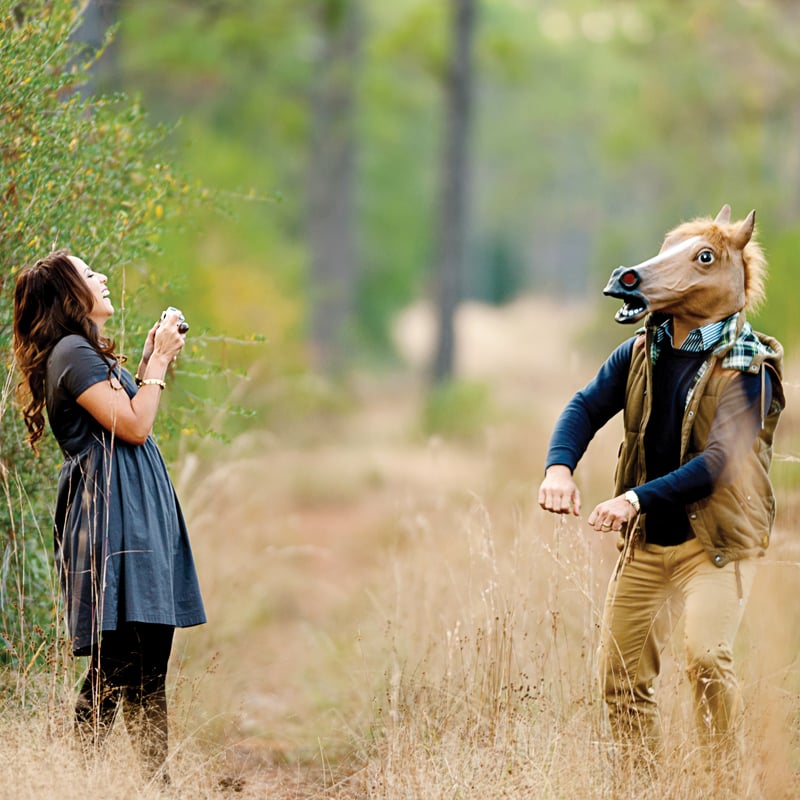 Only a small percentage of us share a workplace with our spouses. In fact, the average person would probably say that working with his or her mate wouldn't be good for the marriage. Yet three local couples have taken a less traditional approach to keeping business and pleasure separate. They've found a way to co-work and cohabitate in perfect harmony.
---
Shawn and Hannah Brown
Love Through the Lens
Shawn and Hannah Brown are the dynamic duo of HBB Photography, capturing the engagements, weddings, pregnancies and special moments of families on the Emerald Coast. Part Spanish shutterbug and part Canadian creative genius, the two are known for their photojournalistic style and out-of-the-box thematic shoots.
The Browns' passion to see life through a camera lens started early in life. Hannah grew up in Madrid, inspired by her mother's studio portraiture work and learning the fundamentals of light, composition and film. Shawn was born in Toronto, where he inherited his dad's film camera and developed a curiosity to learn more. The two made their way to the Emerald Coast and were each other's first kiss and first date, which eventually led to wedding vows. After eight years of wedded bliss, Hannah testifies that they are truly each other's best friend and says she couldn't imagine work without Shawn by her side.
For the Browns, being together 24/7 doesn't get old. Their success is a classic case of yin and yang that works. Hannah is technical and calculated while Shawn is uninhibited and eccentric.
"He also has no fear of making a fool out of himself in order to get a shot," Hannah said. "He thinks way outside the box, and I try to grasp what he's saying and make it into reality. That's how we come up with all of our thematic portraits."
Relying on each other's strengths during a photo shoot allows the Browns to produce one-of-a-kind pieces of art that families cherish for years. It has also helped them develop a reputation in the area as first-rate artists.
"One thing that keeps us passionate is getting to meet new people and experiencing the dynamics they have with their loved ones in their relationships," Hannah said.
When a family actually has fun during a photo shoot, that moment is one of the biggest compliments a photographer can get, according to Hannah. Also, when clients looks at their website and immediately know they want the Browns to capture their special day, the moment is very humbling to the couple.
When they're not behind the camera, Shawn loves to play and write music. Hannah enjoys riding horses and unwinds by reading at least three books a week.
"We work at the beach every day, but when we actually get to go just for fun, it kind of blows my mind that we live five minutes from some of the most beautiful beaches in the world," Hannah said.
Steve and Camille Withall
​Culinary Prowess
If you've eaten at some of the best restaurants on the Emerald Coast or taken a cooking class, chances are the dishes of chefs Steve and Camille Withall have tantalized your taste buds.
Steve boils a mean batch of crawfish as head chef at Stinky's Fish Camp in Santa Rosa Beach, while Camille is sous chef at George's at Alys Beach and enjoys baking her cake and eating it, too.
The couple come from a long line of great cooks in their respective families, Steve growing up in New York and Camille in the Philippines. After working in the engineering field left him unfulfilled, Steve had a desire for something more, and he soon discovered the kitchen is where he belongs.
Steve and Camille's paths crossed when they both ended up working in the same kitchen in Sandestin Golf and Beach Resort after culinary school. Their love affair with food and each other soon led them to tie the knot.
"Working together really well was organic," Steve said.
At George's, Camille takes pride in making sure the food tastes as good as it looks with memorable and unexpected dishes such as popcorn, bacon and chocolate blended together. At Stinky's, Steve satisfies appetites with a definitive taste of Gulf Coast cuisine, creatively integrating seasonal ingredients from local farmers and putting his own spin on things.
"Stinky's daily feature menus are my main creative outlet," he said. "Wine dinners, catering events and the guest amuse-bouche program (which is a small, unique one-bite treat used to stimulate a guest's appetite and to welcome them) all keep my creative juices flowing."
A dual household of chefs is demanding, with unforgiving work hours and very little time off. But both chefs enjoy being in the pressure cooker because it brings out their creativity.
"It's all about complexity of flavors for me, growing up with Filipino cuisine, which is a mix of Asian and Spanish food," Camille said. "It's the love of feeding others great food."
On their days off, they're at home in their Miramar Beach kitchen, entertaining for family and friends. For sweethearts Steve and Camille, the ingredients to a successful dish parallel the ingredients of a successful marriage.
"For any composed dish, quality of ingredients and maintaining their integrity with the correct amount of seasoning and attention to detail is key," Steve said. "Like the care you put in food, respecting your spouse and vows and communication, while remembering to have fun along the way, makes for a great marriage."
Scott and Lisa Marie Brooks
Building on Their Talents
An unlikely mix of talents and unfortunate circumstances led a couple from Malibu, California, to make their mark in the Emerald Coast as one of the leading husband-and-wife custom home builders and design firms in the area.
After purchasing property in WaterColor in 2002 and coming to the horrifying realization that they couldn't afford to pay a contractor to build their dream home, Scott and Lisa Marie Brooks took matters into their own hands. Although neither had worked in the home building industry, they pooled their skills — Scott as a naval officer, entrepreneur and airline pilot and Lisa Marie as a model, designer and photographer — and made their dream a reality with the help of family.
It was during the downturn in the home market from 2005 to 2007 that Lisa Marie called her dad, Dave Borges, who was a custom homebuilder in Arizona, in tears, saying their dream home wasn't going to happen based on what local builders were quoting them.
"The next thing I knew, he was on his way to Orlando to get his Florida contractor's license," Lisa Marie said.
Soon after building their dream home, others began to notice the craftsmanship, were impressed by the unique quality and began to inquire. It was at that point Lisa Marie's dad left the collapsing Arizona market for good and joined forces with the Brookses to officially launch Borges Brooks Builders in 2008.
Although they've been in business only six years, they've built 30 custom homes, five of which are for repeat customers building their second home with the firm, Lisa Marie said.
"We have built homes for three friends, and we are still friends with all of them," she said.
The booming business is truly a family affair. Dave is semi-retired now yet still helps with various aspects of the company. Used to operating with no margin for error as a pilot, Scott manages the finances and the building process while Lisa Marie handles the design aspects of building, taking a creative license to infuse her coastal contemporary style into home furnishings, elements and décor.
"I spent years in the fashion world, traveling and living in more than 14 countries, and immersed myself in different cultures, architecture, style and design, which all helps me to see projects from a different set of goggles than most," she said.
Working side by side every day is no big deal to Scott and Lisa Marie. They make it work by knowing which battles are worth fighting and which are not.
"It's not that difficult to work together," Lisa Marie said. "We both want perfection, so we can usually agree. If we do disagree, and if it's design-related, I win out. If it's a structural issue, Scott always wins."
In addition to their impeccable attention to detail and exquisite workmanship, one of the Brookses' biggest keys to professional success is operating with integrity.
"If you have that one quality, everything else falls into place, and all are happy in the end," Lisa Marie said. "Build it with integrity, and it will last. Design it to be in harmony with, as well as a reflection of, the amazing natural beauty in this area and people will love it."
Back home, Scott and Lisa Marie enjoy time outdoors with their son Logan, 13. Life on the water gives them a chance to recharge and reconnect away from the stresses of work.
"We love to hop on the boat or the Jet Ski or the Harley-Davidson," Lisa Marie said.
Their chemistry as a couple, their business acumen blended with sophisticated style, and their team of talented professionals are all the components of a successful equation for the Brookses at home and at the office.
"In order to compete in this niche market, you must always be upping your game. We are both creative; however, we cannot take all the credit," Lisa Marie said. "We have some of the most talented subs, designers and trade people anywhere. We have both lived and traveled all over the world, and we both agree that the level of talent in our little corner of the world is second to none. We are incredibly blessed to have all of them on our team."