Cascading Benefits
Downtown redevelopment project repositions city's center of gravity; Cascades Park area is growing hub of commercial, residential activity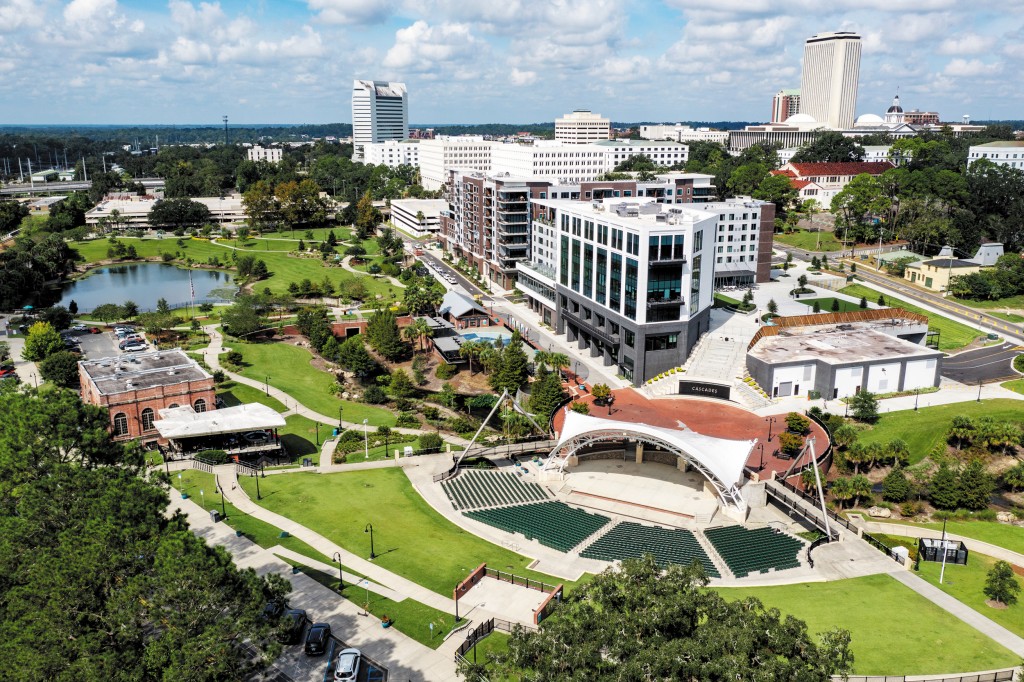 Early in 2020, the first phase in the construction of Shawn McIntyre's $158 million downtown redevelopment project, Cascades, was just reaching completion.
The pandemic, of course, threw a wrench into the works. While construction was deemed an essential activity, materials and appliance shortages and the availability of healthy, skilled workers slowed the pace of business.
But for McIntyre, a partner and senior vice president of North American Properties, these were "minor setbacks." In May 2021, just a few months behind schedule, the mixed-use development debuted a brand-new hotel and welcomed the first residents to its upscale apartment complex.
"I feel very fortunate that we weathered — and are still weathering — the pandemic well," McIntyre said. "I have peers in the industry from other states where developments have stopped and not restarted, so we've been very blessed and fortunate to be able to continue. And, the reward is that people have accepted Cascades into the community and are really happy to be here."
According to McIntyre, Tallahassee's center of gravity seems to have already shifted to the two city blocks adjoining Cascades Park.
Marriott International's 164-room AC Hotel Tallahassee has already attracted "a high guest occupancy," said McIntyre, and its 5,000-square-foot ballroom and business meeting space is being used frequently. The rooftop bar, Charlie Park, is now open, treating visitors to craft cocktails, epicurean small plates and a bird's-eye view of Cascades Park's 24-acre green space.
The Parkview at Cascades, a new amphitheater support space, is now complete with a green room, boardroom, dressing rooms and a 3,533-square-foot event ballroom. McIntyre said the development has been turned over to the Leon County Tourist Development Council and the City of Tallahassee Parks and Recreation Department, and leasing for events should commence soon.
"And, the city has closed on the 252 public parking spaces in the garage beneath our multifamily," said McIntyre. "Public parking is open, and the city even has a manned parking office in there."
McIntyre is referring to the partially underground garage beneath Millstream, the new multifamily community at Cascades. The 161-unit, nine-story luxury apartment complex currently has a 50% occupancy rate, he said in September. Recreational managers planned to open its clubhouse and pool courtyard, complete with chaise lounges, fire pits and cooking stations, after Labor Day.
Too, a multitude of tenants will be occupying Merestone. Neighboring the AC Hotel, the Class A office complex has already attracted Artia Solutions, a pharmaceutical consulting firm who committed last year to a 7,500-square-foot space. Due to confidentiality constraints, McIntyre didn't name other prospects, but said that "letters of intent are signed, and at this point, we are negotiating with enough tenants to finish the office building."
McIntyre spoke last year to the difficulty in attracting restaurants to its retail space, as many prospective suitors were uncertain about what shape their post-pandemic business models might take. Today, he said, those concerns have been resolved.
"I wanted to have restaurants in place by the time we opened this year, but because of COVID, that wasn't in the cards," said McIntyre. "People wanted to be able to see and touch the spaces before committing. Restaurants, especially franchised ones that have been in the industry for a while, realize they have to either change their business model or adapt. And, people are starting to understand the asset we've built."
McIntyre said lease negotiations were underway with a regional eatery that's a "higher-end sports bar and family restaurant with a great children's menu, so families visiting Cascades Park don't have to get in their car and drive elsewhere to eat." There are also letters of intent signed for a coffee shop and an ice cream/smoothie parlor.
Cascades recently received the go-ahead to begin Phase II construction, which will add two more residential buildings and another 150 living units available for rent. Buildout will take about two years.
"Phase II will help create the downtown neighborhood people have been asking for and plays to the 'live, work, stay, play' cliché from the planner's handbook," McIntyre said. "Looking back at the city's original request for proposal, I think we've fulfilled the promises we made and the desire for an 18-hour downtown with multiple uses."
McIntyre said that early on, a city planner did a study projecting the amount of urban density generated by a hotel, retail center, public parking lot, office building and McIntyre's goal of over 300 apartment units. If built to suburban code, Cascades would have consumed 112 acres of land.
"We did it in five," McIntyre said. "That just shows what urban density can do. We could have created a sprawling community, which is typical suburbia, but we instead created the urban environment and definition of a city."