Capital City Goes Coastal
Bank develops Bay County office and commits to one in South Walton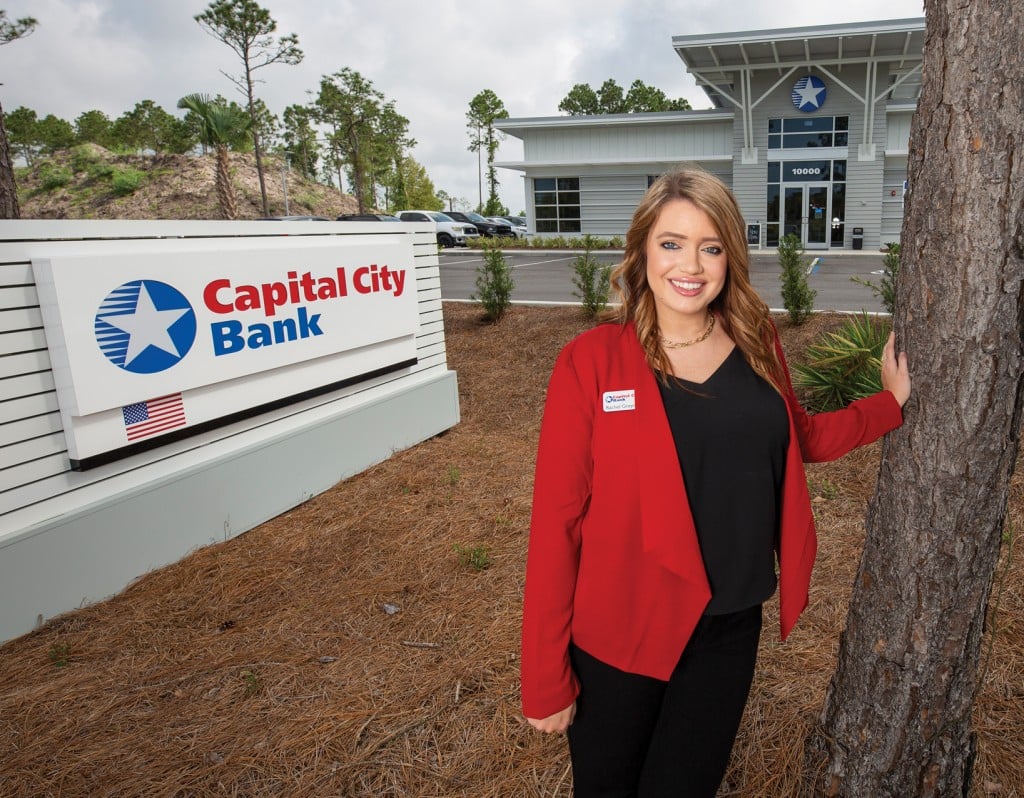 An hour after the federal government rolled out its Paycheck Protection Program, extending forgivable loans to help small businesses make payroll during the COVID-ı9 epidemic, Capital City Bank mobilized.
"Bank leadership jumped on it immediately, discussing how we were going to integrate the program and exactly what we were going to do," said Ryan Davis, the bank's Bay County market president. "We recognized that our clients were relying on us in their time of need, and it wasn't going to matter to us if we worked 20 hours a day for three weeks. It was going to be all hands on deck, and we were going to get those loans approved, processed and funded as quickly as we could."
Working at home, Davis was among bank officers who saw loans from application through to funding for clients in his market and in locations including Tallahassee, Gainesville and Macon, Georgia.
"This was not an opportunity for the bank to make money," Davis said. "We want our business clients to stay in business, and we want their employees to have jobs."
PPP, then, was an activity wholly consistent with what chairman Bill Smith emphasizes as a fundamental tenet of the bank's philosophy: Build a strong community, and you build a strong bank. And it was the kind of activity that makes Davis proud of his association with Capital City.
Capital City is new to Bay County, having opened its first banking office at the St. Joe Company's Breakfast Point development on May ı — it had previously established a Panama City Beach toehold in the form of a loan production office. But for Davis, Bay County is the only home he has ever known, save for his years as a student at Florida State University's main campus.
Late in 20ı7, Ed Canup, a co-chief operating officer at Capital City and Ramsay Sims, the executive for metro banking, contacted Davis in the course of looking for the right person to lead the bank in Bay County.
"The cornerstone of the bank is relationship banking," Canup said. "A lot of people use that phrase, but what that means to us is that we are really there to take care of our clients' needs, and we are committed to our communities."
Canup said that in assessing potential new markets for Capital City, the bank looks for communities that will embrace its business approach.
"We quickly determined that Bay County and the Emerald Coast were such communities," Canup said. "The market in Bay and Walton counties is so vibrant. The impression is that only older, retired people move there, but that's really not the case. Many newcomers are people who can live and do their jobs or run their businesses wherever they want to, and they have chosen Northwest Florida."
In Davis, Canup and Sims had their man. He is a community guy in extremis and subscribes wholeheartedly to Capital City's quest for relationships that move beyond transactions.
Davis has served as a Panama City Beach Chamber of Commerce board member and, in 20ı7, was board chairman. He is currently serving his second three-year term on the board of the Bay County Chamber of Commerce. He is an Ascension Sacred Heart Bay hospital trustee; sits on the FSU Panama City Development Board; and is on the executive leadership team for the American Heart Association Heart Walk in Bay County.
His wife of 23 years, Kara Davis, is a mortgage consultant for Capital City Bank subsidiary Capital City Home Loans, and is located along with her husband at the Breakfast Point office.
Prior to joining Capital City, Davis worked for Wachovia Bank, before it merged with Wells Fargo, and for Regions Bank, where he was a senior commercial relationship manager and then Bay County market president. He handpicked Rachel Greynolds, with whom he had worked previously, to serve as the client experience manager at Breakfast Point.
"Throughout 20ı8, we looked all along Highway 98 in Panama City Beach for a site and felt that Breakfast Point was the right place," Canup said. "About a month after Hurricane Michael, (St. Joe CEO) Jorge Gonzalez and I talked and he said the community needed for us to get started quickly. Two months later, construction was underway."
The Great Recession claimed several Bay County community banks as victims, including Peoples First Community Bank, Vision Bank and Coastal Community Bank. By contrast, Capital City, now ı25 years old, made it through the downturn without laying off any employees, without accepting Troubled Asset Relief Program (TARP) assistance all while continuing to lend money to customers including builders.
Capital City, which exited the recession with more capital than it had when the real estate bubble burst, was the only Florida chartered bank not to receive TARP funds.
"That's important, because when you go in and talk to somebody — a builder, a developer or an auto dealer — we can tell them we never exited the business," Canup said. "That's a powerful relationship statement."
The Breakfast Point office, including its four Interactive Teller Machines (ITMs) providing for face-to-face exchanges between clients and Call Center personnel, represents a significant capital investment.
"It's a manageable space," Davis said, noting that banks are getting away from large brick-and-mortar edifices. "I have the space that I need and little more. As a market president who needs to balance the balance sheet, I don't want to have to pay for a big building."
Technology, he said, equates to convenience, and ITMs preserve a human element.
Davis said the customers visiting ITMs can make deposits, make payments, cash checks, change addresses on accounts, transfer funds, place stop-payment orders, reset online banking passwords — almost everything other than opening an account.
Canup manages the lending and wealth management sides of the bank and said he is seeing strong loan demand, a testament, he finds, to the confidence that people have in the economy of Bay and Walton counties.
Davis concurred.
"We are heavily invested in several large acquisition and development projects," he said, "and there is nothing that we are not willing to look at. If it's the right client and the right opportunity and it makes sense, we'll do it. Once we engage, we're extremely competitive."
Capital City, with assets of more than $3 billion, is not done with its westward expansion. Already, it has established a Capital City Home Loans and private banking shop next to Dune Lakes Elementary School in Santa Rosa Beach, and it has signed a land lease with St. Joe with plans to develop a full-service banking office at the Watersound Origins development. Canup said that branch will be a duplicate of the Breakfast Point office and will be located directly in front of a future Publix supermarket.
Both Canup and Davis noted contributions made by Bay County resident, former Florida speaker of the House and bank board member Allan Bense to establishing Capital City in the Bay County market.
"He has been extremely influential in helping me and opening doors," Davis said. "I'm a familiar face, but he's a really familiar face. I am thankful that he has lent his name to our bank. A lot of people wouldn't do that. This is not his day job, but I can't count the number of hours that he and I have spent together brainstorming, strategizing and identifying who we want to bank.
"This community will never know all that Allan Bense has done for people and organizations anonymously."