Call It A Little Downtown Resuscitation
Main Street organizations are working to breathe life into communities' centers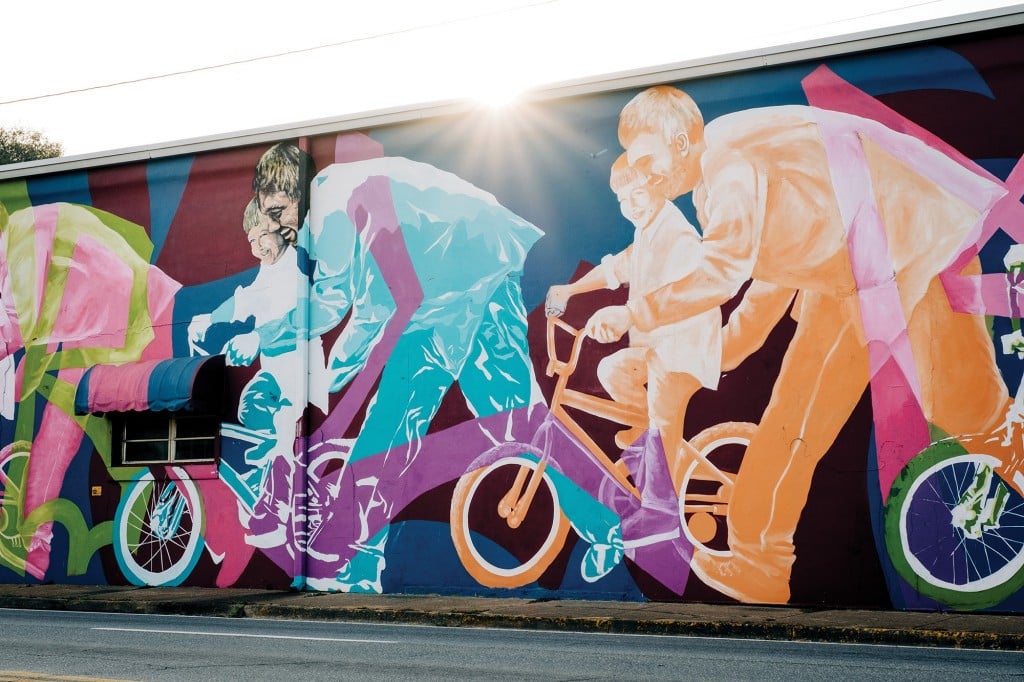 Penny O'Connell tells a story about a gentleman from Los Angeles who, sight unseen, purchased a building in Quincy's historic downtown and visited the property for the first time in December.
He was impressed, so much so that he likened Quincy to Napa Valley in its
early days.
"He said he'd like to park a DeLorean (like those featured in "Back to the Future" movies) in front of his building and get a picture of it and our courthouse," O'Connell said. "He told me, 'You don't know what you've got here.' "
Well, O'Connell, for one, sees great potential in Quincy.
In November of last year, she became the first full-time director in the history of the city's Main Street program. In so doing, she filled a job that had been vacant for almost a year.
"Five years from now, it will be an entirely different ballgame in Quincy," O'Connell said.
"There are opportunities for people to buy a building here, lease it and later turn around and sell it at a big profit. If I didn't believe in this place passionately, I wouldn't be in my job."
Like Main Street programs elsewhere, the Quincy initiative's budget comprises, roughly in thirds, private donations, grants and support from local government — at least for now.
At this writing, O'Connell said, the city is considering withdrawing its support for Main Street and taking ownership of events such as Quincyfest and Porchfest that the nonprofit has conducted in the past with the city's financial assistance.
Regardless, O'Connell said, "I'm happy. If we don't get funding from the city, we will go forward. It just means that our schedule will change and our events won't be as big and showy."
Those more modest events include Food Truck Fridays.
Generally, O'Connell said, she is striving to provide activities that will lead people to visit Quincy's nine-block historic district and to get downtown buildings occupied, ideally with attractive shops and restaurants.
"We are trying to match owners with renters who are good fits," O'Connell said. "We are working with code enforcement to ensure that buildings are being taken care of.
"I believe that when you have a thriving downtown that is active with places to eat and shop, money will spread through the whole county. Downtown is the heart and the veins run out from there. And, when downtown does well, that will make the development of businesses outside the city's core more feasible."
O'Connell said people from around the country own buildings in Quincy's historic district and conceded that absentee owners are not always the city's best friends, especially when they are content to sit on properties and wait for their value to increase when they come to be surrounded by the activities of others.
She is optimistic, however, that her lessor-lessee matchmaking activity and "the consistency of someone actively working full time downtown is going to make a difference."
She takes nothing away from the restaurants and accommodations businesses already situated downtown — Odells restaurant, Damfino's Café, the White Squirrel Inn, the McFarlin House bed and breakfast and the Allison House Inn.
"They're great," she said. "We just need more options. I've met people staying at our inns in Quincy who were having dinner at Rutabaga's in Chattahoochee 30 miles away."
Dean Mitchell, an artist with a national reputation who grew up in poverty in Quincy, would seem to have done as McConnell would have him do.
Mitchell, who is black, acquired a building on the "African American side of the square" downtown, restored it and made it the home of the Marie Brooks Gallery, named for his grandmother.
In that way, Mitchell was a pioneer, a role that he is familiar with.
He committed to life as an artist long before African American art was recognized as a genre. For as many as 20 years, he attended art shows where he was the only black person present.
Mitchell has held shows of his work at the Gadsden Art Center, shows that were well attended, but that support has not thus far extended to his business on the square.
Mitchell lives in Tampa but visits his hometown and family there six to eight times a year.
"People complain about folks from small towns who do well that they never come back," Mitchell said.
"I wanted to go back and be part of the renaissance that they were trying to bring about in Quincy. And, I'm trying to hang on to my gallery, but I am looking at possibly moving it to Tampa."
Mitchell believes that people may see his business as taking away from the Art Center. Some have accused him of gentrification.
"But I came back to try to benefit everybody by creating something that would bring people to town," Mitchell said.
"I came back to remind people that you can emerge from poverty if you choose a path and work hard.
"But, as anybody knows, no matter what you're are selling, be it automobiles or hamburgers, you need the local community to support you."
Still, Mitchell remains hopeful that he will be able to stabilize the gallery, begin to more heavily promote it, hire an employee and then maybe buy another building and open a restaurant.
"I sold an expensive piece to a library in Brookhaven, Mississippi," Mitchell said. He later visited the city of some 12,000 people.
"It is booming in the middle of nowhere," he said. "They renovate a warehouse in Brookhaven, and it is occupied right away. The same thing could happen here. We're right next door to the state capital."
Rallying around the bank
Tony Lombardo retired in 1999 at the age of 57 as a vice president from BellSouth, where he served as a regulatory liaison with the state Public Service Commission.
Eighteen years later, he went back to work as the executive director of Havana Main Street.
He has been in that job since August 2017, when the non-profit was chartered.
While he lives in Tallahassee, Lombardo, along with his daughter, has owned a store in Havana for 27 years.
For most of its existence, it sold international craft items. Following the Great Recession, when business dropped off by half, it evolved to become a seller of furniture, home accessories and jewelry. Two years ago, he opened a second business, a coffee shop.
"Downtown is built on the fortunes of the merchants, be they good or bad," Lombardo said.
"When they lost their disposable income, the economy plummeted. I was approached three years ago by people who asked me if I would help revitalize downtown. When I got the job, I thought it was a lark and I would be able to turn things around in a year, but it has become a very, very big undertaking."
Havana Main Street relies on membership revenue, municipal support and grants.
In 2019, it received a state historic preservation grant of $50,000 that will be used to complete a survey of 250 structures that are at least 50 years old. Down the road, Lombardo and others hope Havana will be established as a National Historic District.
That designation, or "brand," as Lombardo called it, would serve as a tourist draw and open avenues for additional grants.
Perhaps the most prominent historic structure in town is the Havana State Bank building, constructed in 1906 at Havana's main intersection — 7th Avenue and Main Street.
Havana Main Street acquired the building after an anonymous donor supplied the organization with enough money to buy it, and Main Street is now conducting a capital campaign aimed at raising enough money to thoroughly restore the structure.
As of January, $48,000 had been raised, enough to replace the building's roof and arrest its deterioration due to the elements.
"The building was the only bank in town for over 100 years, so it played a big part in the lives of a lot of people," Lombardo said.
"Among families with history in Havana, no one wants to see it torn down."
Havana Main Street has four standing committees — Design, Promotion and Events, Economic Revitalization and Organization — per an organizational template established by the national Main Street organization. All are active.
In 2019, Havana Main Street absorbed a 35-year-old merchant's association and, with it, events the that group had conducted.
As a result, Main Street's event list is long and includes activities ranging from a Pinewood Derby to an AirStream Rally and a Quilt Show to a Pumpkin Fest.
The AirStream Rally, which overtakes the streets of downtown, is scheduled this year for March 26–29.
A popular open house, which affords the public an opportunity to inspect interiors of the trailers, will take place on Saturday, March 28, from 1 to 5 p.m.
Havana Main Street priorities, Lombardo said, include making the Main Street (Highway 27) entrance to downtown more inviting and attractive and giving downtown a facelift with the addition of murals, decorative signage, façade improvements and restoration of the bank building.
In addition, Havana Main Street plans to enhance its marketing outreach through social media, television and other media outlets.
"Downtown Havana will never fulfill its potential unless we convince the greater Havana community to fully embrace their downtown," Lombardo said.
"Somehow, over the years, we have lost the sense of pride and proprietorship the community once had for their downtown. We are channeling much of our effort to rebuild a partnership with the community, its businesses and the town's government."
Park redevelopment
In Chattahoochee, said Robert Presnell, the Main Street program and the city collaborated in securing a National Park Service planning grant, resulting in a blueprint for redevelopment of a city-owned RV park on the Apalachicola River.
Presnell, formerly Gadsden County manager, was coaxed out of retirement following Hurricane Michael and, as city manager, is working to help rehabilitate Chattahoochee.
He was highly complimentary of Park Service personnel from Atlanta who conducted public meetings, notified stakeholders, prepared maps and arrived at a park redevelopment plan.
The city has now applied to the state for funds to cover engineering costs related to the project.
Presnell said that the city will be receiving from the state 140 acres that are contiguous to the park and will provide enough room for the installation of bicycle trails.
Federal New Market Tax Credit funds totaling $2.6 million, Presnell said, will be used for park construction and to acquire and fix up dilapidated buildings and install sidewalks and other amenities downtown.
Presnell credited Chattahoochee Main Street and its director, Pam Medley, with conducting foot traffic-generating events, including a Christmas in the Park celebration, a Business Recognition Day and Final Friday activities featuring food vendors and bands.