Business News- Sound Bytes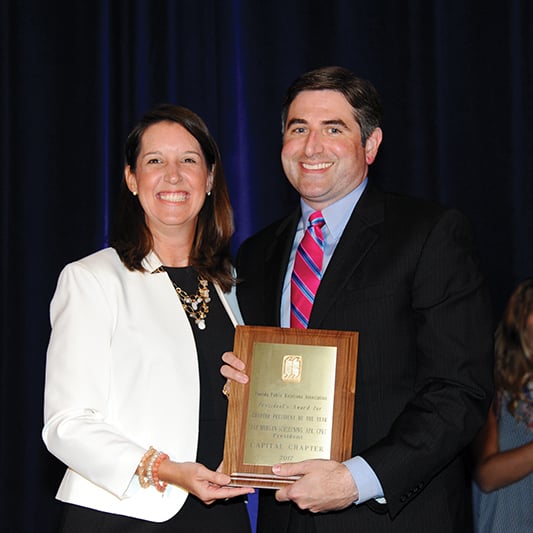 STATEWIDE
STATEWIDE HAPPENINGS
» Florida insurance companies are providing a record level of support for the Florida Insurance Industry Scholarship Program, helping low-income families across the state send their children to schools best suited to their needs. To date in 2017, Florida insurance companies have committed $61.2 million to fund 9,380 scholarships. Peter Corrigan, president of Florida Family Insurance Co. and chairman of the Florida Insurance Industry Scholarship Program, said the industry is on track to double its contributions to the program this year. Step Up for Students is the nonprofit organization that manages the scholarship program, which in turn helps manage the needs-based Florida Tax Credit Scholarship Program. Step Up For Students recently enrolled the program's 100,000th student.
CAPITAL
APPOINTED BY THE GOVERNOR
» Danielle Alvarez of Crawfordville was appointed to the state's Technology Advisory Council, and Peter Butler of Tallahassee was reappointed. Alvarez is the cyber security strategist for Hayes e-Government Resources and is the Technology Advisory Council's former chief information security officer. She succeeds Kenneth Fountain. Butler is the director of the technology sector for National Strategies, LLC. Butler and Alvarez are scheduled to serve through
June 30, 2020.
» Tallahassee resident Mark Kruse and four others were appointed to the state Task Force on Affordable Housing. Kruse, the policy coordinator for the Governor's Office of Policy and Budget, received his juris doctorate from the Florida State University College of Law. He fills a vacant seat for a term ending Jan. 1.
» Ben Gibson, of Tallahassee, former Deputy General Counsel in the Executive Office of the Governor and currently an attorney at Benjamin J. Gibson, P.A., has been appointed to the State Board of Education. Gibson succeeds John Padget and is appointed for a term that began July 14, 2017 and will end December 31, 2020.
» Casey Reed, of Tallahassee, Florida state director of legislative affairs for AT&T, was appointed Aug. 4 to fill a vacant seat on the E911 Board for a term ending Oct. 28.
LOCAL HAPPENINGS
» In celebration of its 10th anniversary in Tallahassee, OliverSperry Renovation & Construction, an active supporter of regional non-profit campaigns and programs, recently committed to donating $40,000 to more than 30 local organizations in 2018.
LOCAL HONORS
» Scott Asher, M.D. has become a Diplomat of the American Board of Facial Plastic and Reconstructive Surgery. Asher is the director of The Facial Plastic and Reconstructive Center, a division of Tallahassee Ear, Nose and Throat, and is the only ABFPRS certified physician in the Big Bend area.
» Inc. Magazine's annual recognition of the 5,000 fastest-growing private companies in America includes these companies in the Tallahassee metro area: Auto Data Direct (ranked 1,314), Mad Dog Construction (3,615), Advanced Systems Design (3,807), MCCi (3,839), Altrua Global Solutions (4,103), Tal Search Group (4,153), Asker Distributors (4,293), Bowstern (4,485), Moore Communications Group (4,744) and Diverse Computing (4,902).
» Aaron Calhoun was recently named local owner and operator of the Tallahassee Chuy's, an Austin-based Tex-Mex restaurant, located at 904 E. Lafayette St. During his five years with Chuy's, Calhoun served as a bar manager, kitchen manager, assistant general manager and now local owner and operator.
» In its fifth year of operation, FL Aviation Center is now among the limited number of flight schools nationally certified by the FAA under Title 14 Part 141 to provide a structured flight-training curriculum endorsed by the Federal Aviation Administration. Earlier this year, the Aircraft Owners and Pilots Association (AOPA) placed the flight school on the Flight Training Excellence Awards Honor Roll.
» The Florida Association of the American Institute of Architects (AIA Florida) recently presented Patrick E. Hoy and James "Monty" Stark III, the founders of Hoy + Stark, with the Firm of the Year award at the 2017 AIA Florida Annual Convention in Naples.
» Inside Public Accounting named James Moore & Co., a tax accounting, wealth management and consulting firm with offices in Daytona Beach, Gainesville and Tallahassee, among the nation's top 200 accounting firms. The annual IPA rankings are considered a gold standard for assessing the state of the accounting profession today.
» The Florida Society of Association Executives recently honored the Florida Dental Association, headquartered in Tallahassee, with the 2017 Association of the Year Award. The award, given in recognition of the FDA's efforts to support the dental profession and advocate for Florida's oral health, was presented at the FSAE's annual conference in West Palm Beach.
» Thomas Howell Ferguson P.A. CPAs, a professional accounting, assurance and tax services firm, recently announced that CPA Brian Walgamott was named one of CPA Practice Advisor's "40 Under 40."
» Jay Morgan-Schleuning, outgoing president of the Florida Public Relations Association (FPRA) Capital Chapter, was named Chapter President of the Year by the association. The award was announced at the FPRA's annual conference in Orlando. Under Morgan-Schleuning's leadership, the FPRA Capital Chapter membership grew to 140 individuals, making it the largest chapter in the state.
EMERALD COAST
LOCAL HAPPENINGS
» Members of the community, disguised as celebrities from the arts and entertainment industry, gathered with the public at Bonefish Grill for a special event benefitting the Mattie Kelly Arts Foundation's (MKAF) community outreach program. The "celebrities" raised more than $8,000. Participants included Dion Moniz (Harrison Sale McCloy/Emerald Coast Title Services), Mindy Moniz (Premier Property Group), Leslie Sullivan and Jacqui Luberto (Century 21/Blue Marlin Realty), Brian and Jessi Beauchamp (Beauchamp Commercial), Lisa K. and Chris Kellogg (Coast 93.3 Morning Show), Caroline Majure and Ron Todd (Deja' Vu Band), Tracy Wood (NextHome Cornerstone Realty) and Alan Wood (CCB Community Bank).
» For its fifth anniversary, Emerald Coast Theatre Company (ECTC) received its largest donation ever — a sum of $10,000 — from isidro dunbar Modern Interiors (idMI), a Miramar Beach business that specializes in modern interior design and furnishings. Presenting the donation were idMI owners Todd D. Reeves and Jorge I. Saiz. Reeves also serves on the ECTC Board of Directors.
» Several Keller Williams Emerald Coast Realty (KWEC) agents were recently named to the 2017 REAL Trends America's Best Real Estate Agents national rankings. These agents include Cindy Cole and Tosha Corrigan, the At The Beach Team led by John Moran, Heather Blatz, Rima Cole and the Meghan Hall Team. The KWEC franchise was also ranked in the top 500 for buyer/seller transactions.
» Britt Landrum Jr. , former CEO of LandrumHR, has announced that his son, H. Britt Landrum III, is the new CEO of the Pensacola company, which provides professional employer services.
» Local orthodontist Casi Stubbs recently presented Chelsea Fox of Emerald Coast Children's Advocacy Center a check for $1,425. The funds were the proceeds of a recent raffle for a BOTE Board.
» Volunteer Florida recently coordinated with Pensacola business Two Men and a Truck on a nonperishable item drive for victims of Hurricane Harvey, which wreaked havoc on east Texas and Louisiana in late August and early September. The business volunteered its own storage facility to assemble donations until was possible to make the trip to the damaged areas, and drivers volunteered to use their trucks and donate their time to make the trip.
BAY
BEGINNINGS
» Bay Medical Sacred Heart Primary Care welcomes geriatric specialist Dr. Alan Woolery as a new primary care doctor at the facility, located next to the ER at 11111 Panama City Beach Parkway.
» The Florida Department of Transportation (FDOT) is widening and improving State Road 390 (St. Andrews Boulevard) from Baldwin Road to Jenks Avenue in Panama City. The project, estimated to cost $17.1 million, will transform the road from two lanes to six lanes with bike lanes and sidewalks. The project should be finished by early 2020. Road closures, when necessary, will occur between 8:30 p.m. and 6 a.m.
» Instacart, a new grocery delivery service, recently launched in Bay County. The service has partnered with Publix, ABC Fine Wine & Spirits and Whole Foods to supply fresh fruits, vegetables, meats and more.
» Panama City Beach businesses that have opened their doors since July include New York Pizza & Grill, Back Beach Barbecue, Teleperformance PCB, Softub, The Arc of the Bay, Shrimp Boat Restaurant, Active Healing Massage & Wellness, Emerald Coast Dental Spa & Sleep Medicine, Girls Inc. of Bay County–PCB, Bayside Design & Photography and Diego's Burrito Factory.
LOCAL HONORS
» The Bay County Chamber of Commerce recently honored their president/CEO Carol Roberts for 40 years of service to the Chamber and to Bay County in general.
FORGOTTEN COAST
BEGINNINGS
» PanCare's newest clinic, located in Marianna, is now open to schedule new patients. This location offers medical, dental and behavioral health services.
LOCAL HAPPENINGS
» The Gulf County Chamber of Commerce recently hosted six-time New York Times' best-selling author Michael Lister to speak at a Chamber event. Lister discussed how he used social media to promote his work.
» The Haughty Heron, in Port St. Joe, hosted a benefit event for the victims of Hurricane Harvey. All donations, whether monetary or of non-perishable goods, were donated directly to those who were affected by the late August hurricane.
» In October 2015, the City of Carrabelle was awarded a Florida Recreation Development Assistance Program (FRDAP) grant for improvement phases 2 and 3 at Sands Park on U.S. 98. The project includes the completion of an asphalt multi-modal path and a new parking lot.
LOCAL HONORS
» Ameris Bank was recently named Title Sponsor of the 2017 Wakulla County Chamber of Commerce Business Excellence Awards. Ameris Bank headquarters are in Moultrie, Ga., and the bank has branches in Tallahassee and Crawfordville.
» Natasha Pennycuff, a first-grade teacher at the Franklin County School, was recently named Franklin County Teacher of the Year and was honored with the Governor's Shine Award.
» For the third year in a row, Golf Advisor named the golf course at St. James Bay Golf Club, in Carrabelle, a Top 20 Public Golf Course in Florida. The award stems from positive customer reviews of Florida golf courses.
I-10
APPOINTED BY THE GOVERNOR
» James "Jim" Dean, City Manager of Marianna, was appointed to the Chipola College District Board of Trustees. Dean, who previously served in the U.S. Marine Corps, succeeds Virginia Stuart and is appointed for a term ending May 31, 2021.
» James Jefferson Goodman Jr., of Bonifay, was appointed to the 14th Judicial Circuit Court. Goodman previously served as an Assistant State Attorney for the circuit and was a litigation associate for Balch & Bingham, LLP. He fills the vacancy created by the resignation of Judge Hentz McClellan.
LOCAL HAPPENINGS
» Whiskey Bravo owners Skip and Victoria Moore announced that their restaurant raised more than $28,000 for the Emerald Coast Children's Advocacy Center's (ECCAC) Pierce Family Children's Center in Defuniak Springs.
LOCAL HONORS
» The Cottondale FFA Chapter recently received the highest rating from the National FFA Organization: the Three-Star National Chapter Award. Only 144 chapters out of 7,859 received the award; in Florida, only 16 chapters were awarded out of 325 FFA chapters in the state.
» The Jackson County Chamber of Commerce's ninth annual ANCHOR Awards were held Aug. 9 at Pelican Landing Conference Center in Moss Point. The ANCHOR Awards honor the achievements of outstanding small businesses and non-profit organizations in the community. The 2017 recipients are Compton Engineering Inc., Community Bank, Whimsy Books & Toys LLC and Feeding the Gulf Coast.
—Compiled by Kim Harris Thacker