Business Developer, Tourism Promoter
Newman-Dailey's Wampler builds relationships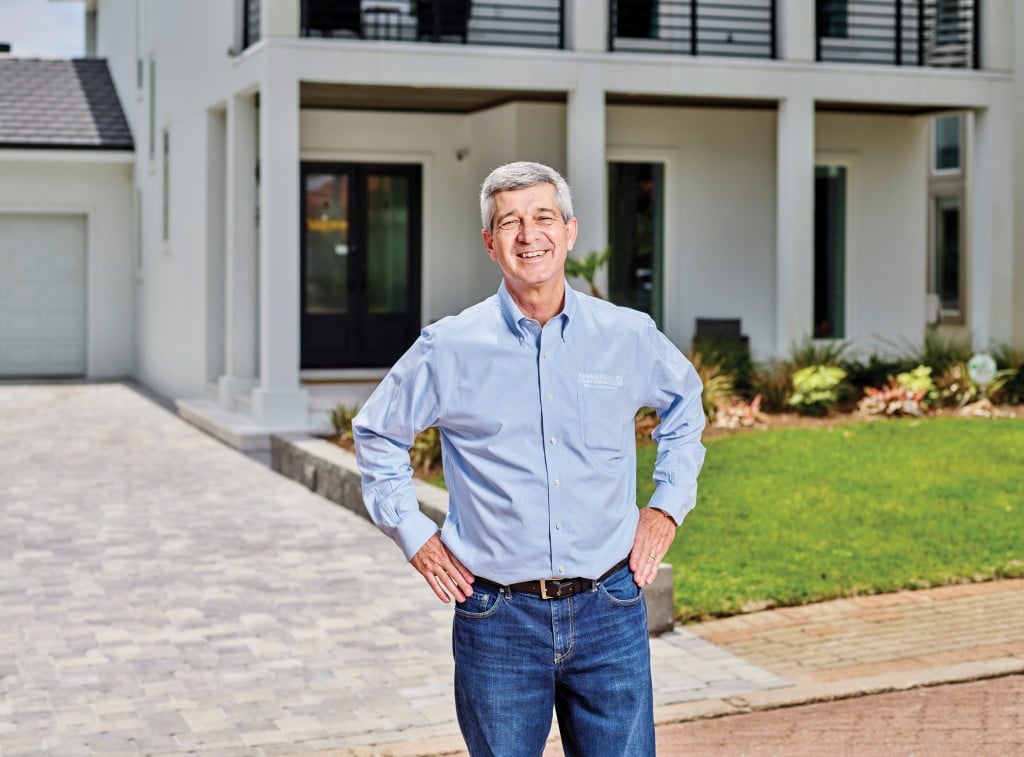 For someone who was born in Northeastern Maine just a few miles from where I-95 begins, Ken Wampler has seen a lot of Florida.
After receiving his bachelor's degree in recreation services and mathematics from the University of Maine, Wampler went on to earn an MBA from the University of North Florida in Jacksonville. Over the next few decades, he sojourned from Amelia Island Plantation to the Palm Coast Golf Resort and the Bay Hill Golf Club & Lodge in Orlando, performing various professional and managerial duties.
Some 20 years ago, he and his family made their way to the Panhandle, where Wampler led successful start-up, turnaround, and high-growth club and resort operations. In 2009, the Newman-Dailey Resort Properties Group asked him to head up its business development department.
Today, Destin is home, and Wampler is Newman-Dailey's president.
"We do vacation rentals, association management, as well as real estate sales and services, and long-term leasing," Wampler said. "Our footprint goes from Inlet Beach, just west of Panama City, all the way to Fort Walton Beach in vacation rental and association management. Long-term leasing goes a little bit further than that, as does real estate sales. We have, roughly, 300 short-term vacation rental units, over 500 long-term leasing units and 66 different associations that we manage containing about 3,000 individual units. When I joined Newman-Dailey, we had ı7 associations; we have 66 now. The staff across all business units is about 75."
Not content to be just a successful businessman, Wampler has served on and chaired many local committees and county initiatives over the years. He was named the 202ı Destin Chamber of Commerce's Business Person of the Year and currently leads the Okaloosa County Tourist Development Council, a quasi-governmental organization. The TDC comprises volunteers from the lodging industry, their hospitality partners and elected officials.
"It's funded through the tourist development tax," Wampler explained. "When you stay at a hotel, motel, campsite or short-term vacation rental, you pay a bed tax that goes to the Tourist Development District. It is an optional tax that a county can levy with a citizen's referendum. The individual lodging partners are responsible for charging, collecting and remitting the bed tax to the county. Last year, bed tax revenue totaled $33 million."
According to Wampler, the TDC is limited by statute to authorizing spending on marketing and sales efforts; beach nourishment and improvements to the natural environment; and capital acquisition and improvement.
With "Little Adventures," a marketing initiative carried out in the midst of the COVID-ı9 pandemic, the TDC encouraged parents with young children to enjoy various outdoor activities such as sailing, fishing, water sports and tide pool exploration.
"We were promoting the quality of life," Wampler said. "While there were restrictions, you could still enjoy the outdoors. The TDC partnered with a lot of hospitality businesses that provided those forms of entertainment, and we promoted Little Adventures. It took off like wildfire."
Wampler applauds decisions made by the TDCs in both Okaloosa County and South Walton to buy beachfront property to provide for greater public access to the sand and the Gulf.
"A lot of people think that the beach is public, and in reality, it's not," Wampler said. "That creates a lot of angst with locals and with people staying here on vacation but not at a beachfront property. So, both counties have taken an aggressive approach to use part of that money to go out and acquire beachfront property to improve the environment for all. I think that's a good effort."
In Okaloosa County, the Emerald Coast Convention Center was funded as a way to foster more convention and group business.
"The hotel industry calls them SMERFs: social, military, educational, religious and fraternal get-togethers," Wampler said. "There was no large meeting space for golf groups, weddings, reunions, so that's what spawned the idea of the Emerald Coast Convention Center. It's funded by the Okaloosa County tourist development tax collected from the lodging partners."
Last October, the voters of Okaloosa County voted to expand the tourist development tax district to the entire county; it had been limited to the southern part of the county.
"What we added in Okaloosa County was a lot of outdoor arts and recreation possibilities," Wampler said. "Now, we need to leverage the new part of the bed tax district for the benefit of the lodging partners as well as the other hospitality businesses because it's important to me that we're all in this together. It's important to me that we generate relationships for a lifetime. I don't plan on going anywhere, and I'm actively involved in the community for that very reason."