Building the Team
Wave of new physicians reflects TMH's commitment to excellence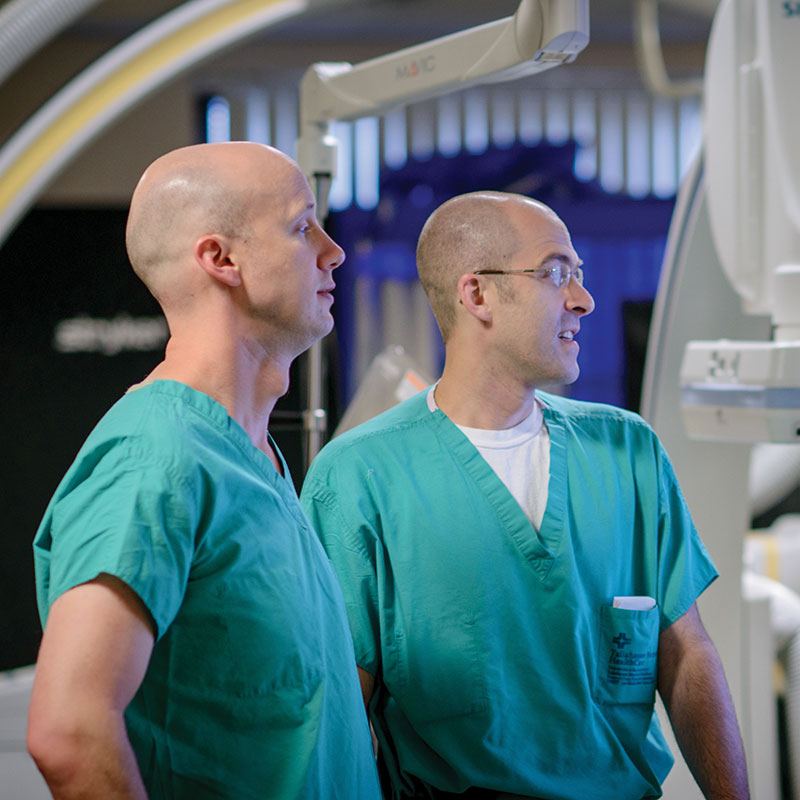 The call came in during a shift change.
At 5 in the morning on July 2, a bus carrying migrant farm workers and members of their families sailed through a blinking red light at the Woodville Highway's intersection with U.S. Highway 98 and slammed into a tractor-trailer rig carrying a load of munitions. Wakulla County and Leon County ambulances carrying a dozen seriously injured persons would be arriving soon at the Bixler Emergency and Trauma Center on the Tallahassee Memorial HealthCare campus at Magnolia Drive and Miccosukee Road.
Personnel who were about to depart for the day were ordered to stay, ensuring that the center would have double the usual complement of nurses and technicians on hand to address an emergency of a sort that is often addressed in faux catastrophe exercises, but is not often real.
Dr. Devin Bustin, 31 and two years removed from his residency at the Carolinas Medical Center in Charlotte, was on duty when it became clear that the Bixler ER was about to become a M.A.S.H. unit.
Bustin took a call from the senior manager at Leon County EMS. Immediately, he recognized the voice. Steve Suarez and Bustin attended the same high school in South Florida.
In short bursts, Suarez told Bustin what he knew about the accident scene to which he was hurtling.
"Sixty to 70 people on the bus. Fire. No seat belts. It's a mess. No one speaks English. Expect at least 20 traumas."
In response, Bustin initiated TMH's mass casualty protocol.
"It brings in resources from the rest of the hospital," Bustin explained. "We called all the residents down. We called the ER doc who was due in at 6 and told her to get her butt up; we needed her. We called in the trauma medical director, Dr. Jeffrey Crooms; a trauma surgeon, Dr. (Shelby) Blank; a neurosurgeon, Dr. (Adam) Oliver; an orthopedic surgeon, Dr. (Hector) Mejia. Everyone was a on a short leash."
Before the first patient arrived, a system was in place. Bustin would triage cases as they came in through the ambulance bay, determining if they needed immediate attention or could wait 10 or 20 minutes and directing them where they needed to go.
Residents performed procedures including sewing up lacerations. The orthopedist went from room to room setting fractured bones.
"An anesthesiologist came down and put a breathing tube in one of my patients because I was doing a chest tube in another room," Bustin recalled.
It was, Bustin said, controlled chaos.
"But a lot of things went right," Bustin said. "We even had four people close at hand who speak Creole — a cleaning lady, a registration tech, a Red Cross volunteer and a trauma resident who had started with us just a day earlier."
The Wakulla collision occurred less than a month after the massacre at the Pulse nightclub in Orlando, an event that led Bustin to ask himself how TMH would do in response to a similar situation.
"Everyone got appropriate care," Bustin reflected. "No one had a bad outcome due to something being neglected or missed, and that is remarkable when you have that kind of an influx. I mean, we had a plan in place, but that doesn't guarantee that things are going to go well. I was pleased."
Tested, the community that is TMH came together in service to the larger community in a way that validated decisions made by talented young physicians to make Tallahassee their home. Four of those physicians are profiled here.
---
---
Devin Bustin, M.D.
For Devin Bustin, who completed undergraduate studies (psychology) and attended medical school at the University of Florida, Tallahassee always had been enemy territory.
So it was that Bustin, when he learned that Tallahassee Memorial HealthCare had an opening for an emergency room physician, decided to interview for the job "just for the experience."
That experience, however, would sell him on TMH.
Bustin had completed his residency at the Carolina Medical Center, one of the top-five busiest trauma centers in the country and home to doctors who "wrote the books on emergency medicine."
"I could have gone anywhere," Bustin said.
He began to consider TMH seriously when he found himself interviewing not just with a doctor or two, but with the hospital's CEO and chief medical officer. He was impressed by their pledge to stay out of physicians' way and let them "do the right thing." And he was excited by their willingness to help him establish at the hospital an ultrasonography program — "basically, it's using an ultrasound machine at bedside to rapidly obtain information to guide your case management."
Bustin recognizes about TMH that "we're not a big academic center, so we're not going to be as cutting edge as Shands (in Gainesville) might be, but that's OK.
"What cutting edge facilities do best is cutting-edge stuff. A doctor treats you for a condition that he discovered and named. We do the bread-and-butter stuff and more very well, and meanwhile we're very close to the cutting edge. When we have that rare bone tumor, we'll transfer you to Shands, but otherwise, we're all you could ask for in a community hospital."
---
---
Matthew Lawson, M.D.
Dr. Matthew Lawson displayed a device that essentially resembles a miniaturized plumber's snake.
Called a microcatheter, it is actually a delivery device that is inserted in the femoral artery in a thigh and run up into the brain. Upon arrival there, it is used to place tiny platinum coils in unruptured aneurisms. Several coils may be delivered, forming concentric circles that cause an aneurism to clot off.
The procedure, developed in the 1990s, has through recent years mostly replaced the earlier practice of entering the brain through the skull and clipping aneurisms. Repeated studies have established that coiling consistently produces better outcomes than clipping.
Coiling was introduced to Tallahassee in 2012 thanks largely due to the efforts of Lawson, an endovascular neurosurgeon.
Practicing in Gainesville, where he had attended medical school and completed his residency and fellowship, Lawson, now 39, found that many of his candidates for coiling were North Florida residents. On that basis, he perceived the need for his subspecialty in Tallahassee and began discussions with the neurological clinic here and with Tallahassee Memorial HealthCare.
"I met with (TMH CEO) Mark O'Bryant and he assured me that the hospital was interested in building a room for endovascular work," Lawson said. "So, the hospital wanted to do it and the clinic wanted to do it and, while I didn't have anything in writing and we're talking about a $3 million project, I committed to moving here and Mr. O'Bryant lived up to his word."
Lawson regards Tallahassee as a big little town when it comes to medicine.
"New techniques and new producers come along and most community hospitals are slow adopters, but that's not true at TMH," Lawson said. "We recently became licensed as the only comprehensive stroke center in the region. We're incredibly busy and we're doing good things for people from Pensacola to Dothan to half of the way to Jacksonville."
---
---
Adam Oliver, M.D.
As a student of history, Dr. Adam Oliver — at this writing, he is reading a large tome on the lives and times of the Apalachee Indians — may have been especially susceptible to a parallel offered him by a neurologist he met while attending the medical school at Louisiana State University.
For Oliver, 37, who grew up as the son of a physician, the language of doctoring has been part of his vernacular since childhood. Medicine always has been approachable; he never considered that it was something he could not do and, for a long while, he assumed he would be a family-practice doctor, just like dad. (Whit Oliver practiced in Blountstown when Adam was in elementary school and continues to practice in Tallahassee.)
Oliver, however, was to become fascinated with neuroscience when he observed at LSU a Parkinson's patient undergoing deep brain stimulation, a procedure that had the effect of restoring the patient's ability to speak.
"I saw that and I said, 'That's what I want to do,'" Oliver recalls.
But the prospect of neurosurgery was intimidating. He was warned that the specialty is so consuming that "you won't see your family, you will wind up divorced, you won't have a life."
Dr. Jose Bermudez, who Oliver counts as a chief mentor along with his father, would cure the student's reluctance with a story about Cortez.
"Cortez's troops were so diseased and sick and afraid of the Indians that they were going to mutiny," Oliver began to repeat Bermudez's story.
"He was on the beaches at Vera Cruz and they were going to start their march to Mexico City and there were some Indians who were willing to help them. But the troops were afraid they were going to die there and wanted to return to Spain. So Cortez got up in the middle of the night and he burned his own ships.
"If you want to become a neurosurgeon, burn your ships."
That, Oliver said, is some of the best advice he ever received. "Faced with adversity, you don't dig trenches that you can fall back into," he said.
---
---
Dr. Greg Hartlage​
Dr. Greg Hartlage is an image maker, not that he has anything to do with public relations.
Rather, he works in cardiovascular imaging, a specialty that may prevent the need for cardiac procedures and ensures that surgeries, when they do become necessary, are a lot less invasive than they used to be.
Hartlage, 35, is a Tallahassee native whose father, a family practice physician here, encouraged his son to go to law school. But Hartlage always has been of a mind to defy his father's wishes, even if that meant following in dad's footsteps. For his rebellious nature, his patients might well be grateful.
The tools of Hartlage's trade are cardiac magnetic resonance imaging, computed tomography and ultrasound machines.
He turned to CT to illustrate what imaging can do for patients and their doctors.
CT, he said, largely has eliminated the need for invasive cardiac catheterization. Now, it's possible to assess plaque buildups without having to admit a patient to the hospital and run a tube into his heart.
"We just put an IV in the arm, you lay on the scanner, we inject some dye and, in 30 to 45 minutes, you're gone and we can look at the whole heart, inside and out — and we'll have more information than a heart cath would supply," Hartlage explained.
Lots of people, Hartlage said, may experience symptoms that they fear may be attributable to heart disease — or they may result from acid reflux or a pulled muscle.
"CT is a good way to prove that either a person has nothing to worry about or that he has plaque levels that have advanced to a point where preventive measures — diet, lifestyle, exercise, cholesterol medicine, aspirin — are warranted," Hartlage said. "People need to know."
In asymptomatic patients, Hartlage employs a screen that looks for calcium, a marker for plaque.
"A calcium score of zero puts you at an exceedingly low risk of developing any cardiac problems over the next five to 10 years," Hartlage explained.
In working with the structural heart team at TMH, Hartlage uses CT to precisely determine the size of a value that needs replacing. No longer is it necessary for a surgeon to cut through the chest, open the heart, remove the bad valve and take measurements.
"That's pretty cool," Hartlage said with characteristic reserve.
But he does not disguise his enthusiasm for TMH, its relationship with his employer, the Southern Medical Group, and its commitment to supplying doctors with the best tools available.
"For a city of its size, Tallahassee is an exceptionally advanced place and TMH has put a lot of resources into keeping it that way with a 'build it and they will come' philosophy," Hartlage said.
"We get patients referred here from Gainesville."
---
---