Building a Workforce
GCSC, FSU-PC and Haney Technical anticipate employers' needs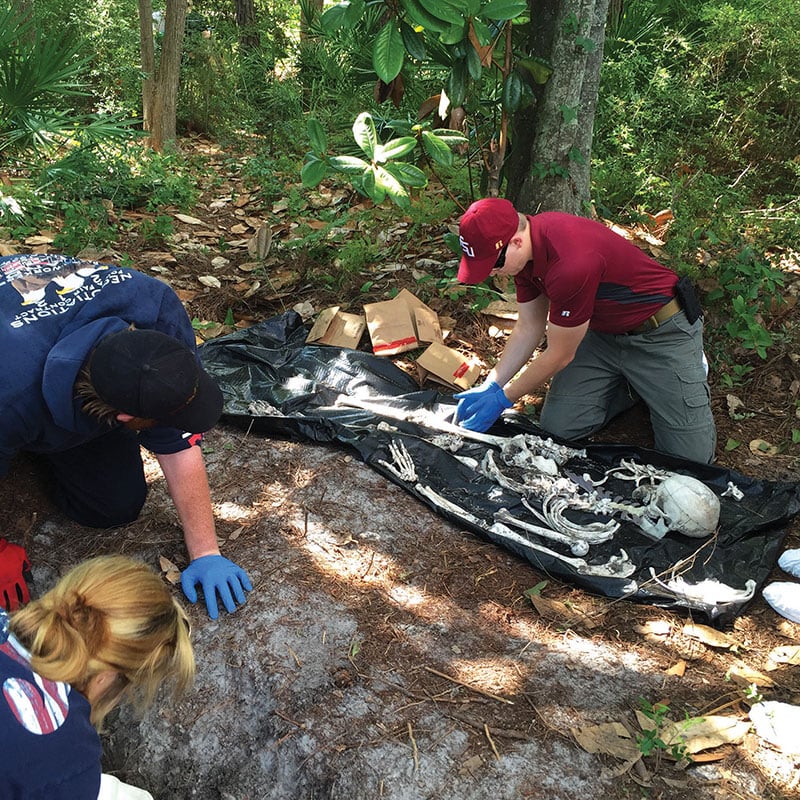 John Holdnak ruminates about programs that Gulf Coast State College is adding at its Advanced Technology Center, and he finds himself reflecting on the Tom Swift adventure novels he read as a boy.
Tom, the boy inventor, was into science, technology, engineering and math long before STEM education became cool and his creators, the writers who contributed volumes to the Tom Swift collection from 1910 to 2007, have proved startlingly prescient.
Remarkably, "Tom Swift and His Photo Telephone" was published in 1912.
Today, Gulf Coast has received the necessary accreditation and sign-offs from the Southern Association of Colleges and Schools and is adding associate degree programs in unmanned vehicle systems and additive manufacturing, essentially 3-D printing.
"I recently met a 19-year-old entrepreneur who was making a good living with his aerial photography business, but his mother felt that he should pursue college," Holdnak said. "When he became aware of FAA (Federal Aviation Administration) requirements for drones and the fines for non-compliance, he decided that our UVS program might be a good idea."
The program, which is the first in Florida, will address unmanned vehicles suited for air, land and sea. Students, Holdnak said, will learn how to program and use the vehicles and to outfit them with cameras and various sensors. Applications include search-and-rescue operations, wildfire suppression, identifying navigation hazards, SWAT team exercises and "finding things that fall off ships."
So it is that GCSC is working with law enforcement agencies, the Department of Defense, the Army Corps of Engineers and other entities in creating and refining the program, which enrolled its first students this fall.
Unmanned vehicle systems, Holdnak believes, have the potential to be transformational, as "disruptive" as smartphones have been.
The Additive Manufacturing Program is part of an effort, Holdnak said, to ensure that Bay County is geared up to provide employees equipped to work for high-tech manufacturers known to be coming to town. Haney Technical Center and Florida State University-Panama City will be part of the same effort.
"The 3-D printers we have in place at the ATC are baby steps compared to what's coming," Holdnak said. "We're talking about equipment that can produce airplane parts. What's next is an ability to print with polymers and metal at the same time. It will be possible to print and engine with all the wiring in place making them lighter and providing for greater efficiency. This seems like science fiction, but it's real. We intend that Bay County become a hub for additive manufacturing innovation."
Gone soon will be the days when manufacturers had to retool. Instead, they will find themselves simply keying in another set of codes.
Across Collegiate Drive from GCSC, Florida State University, too, has new degree programs including Nurse Anesthesia and Crime Scene Investigation.
Charla Perdue, who heads up the CSI program, is not just a resident faculty member — one of the more than 40 that FSU-PC now employs — but is as homegrown as they come. She graduated Bay High School, earned an associate's degree at Gulf Coast State College, then collected a certificate in underwater crime scene investigation, a bachelor's degree (criminology) and a master's degree (criminal justice studies) at FSU-PC.
Perdue refers to a FARO Focus 3-D Laser Scanner as casually as most might mention a microwave. FSU owns such a device, which, Perdue explains, "takes a 360-degree picture of everything it sees." The tool is used to precisely document and measure crime scenes and to produce animated presentations for use in court proceedings.
Bay County area law enforcement agencies lacking FARO Focus know to call on Perdue, who meets their documentation needs as a public service. In such a way, she has gotten to know police departments and sheriff's offices that today supply her with many of her students. The CSI program, she said, attracts both officers looking to burnish their credentials and students looking to enter the field of law enforcement.
CSI students complete their book learning remotely and take five labs on campus or in the field. Activities include investigating a shooting scene, viewing an autopsy, excavating a burial site and cataloging skeletal remains.
In all of that, Perdue impresses upon her students the words of forensic scientist — and Manhattan Project participant — Paul L. Kirk, who found that "physical evidence cannot be wrong, cannot perjure itself and cannot be wholly absent. Only human failure to find it, study it and diminish it can diminish its value."
The addition of a highly specialized major such as CSI and master's degree studies in nurse anesthesia at FSU-PC has influenced recruiting efforts because the programs are capable of drawing students from around the country, said Erica Martin, a campus marketing coordinator. And the programs have influenced the campus to commit to the construction of its first dormitory, expected to be ready for students in 2018. Launched along with CSI in 2015, the nurse anesthesia program, in its first year, attracted students from Alabama, Arizona, Georgia, Texas and Washington, D.C.
FSU-PC's status as a four-year institution, effective with the fall 2013 semester, has led recruiters to spend more time on high school campuses. "We don't have a larger freshman class, but our freshmen are of an extremely high caliber and they come here knowing exactly what they want to achieve," Martin said.
At Haney Technical Center, too, nursing is a factor in growing enrollment. In March,
Gov. Rick Scott signed a budget that included $1 million for the expansion of Haney's licensed practical nursing (LPN) program. The money will be used to renovate an existing campus building to add LPN classrooms and labs and double enrollment in the program to 100. Demand for the program is high. Currently, 60 percent of applicants are turned away due to limited space.
Haney also is tuning up its aviation academy. In August 2015, the campus took delivery of a retired F15-C Eagle from Tyndall Air Force Base; the aircraft is being used as a teaching tool for aviation students. In December of last year, Haney renovated an old welding classroom, transforming it into a new airframe lab. And in June, Haney and Embry Riddle signed an articulation agreement that will grant college credit to Haney students completing FAA certified airframe and power plant certificate programs.
The investment in aviation, said Haney Director Ann Leonard, reflects the anticipated arrival in Bay County of employers in the aerospace industry.
A rapidly changing world, said Holdnak, led GCSC to establish a Navigator Program, which will place career counselors employed by the college on five Bay County high school campuses and in Gulf and Franklin counties.
The counselors will work with high school students and middle school students and their parents to "help our young people figure out what they want to do when they graduate high school," said Holdnak. "If you're serious about a career in science, medicine or technology, you need to make sure in middle school that you are taking the right sequence of math courses."
In some cases, preparing for such careers starts even earlier.
Holdnak stopped by a summer STEM camp conducted at GCSC and listened to a student who would be entering the fourth grade in August speak about what he took away from the experience.
"He used terms like buoyancy and displacement — and he used them correctly," Holdnak said. "The only prompt he needed was to speak louder so that the parents in the back could hear him."
And learn something.