Buffalo, Rice and a Dog Named Blue
Bay County business working to promote canine health.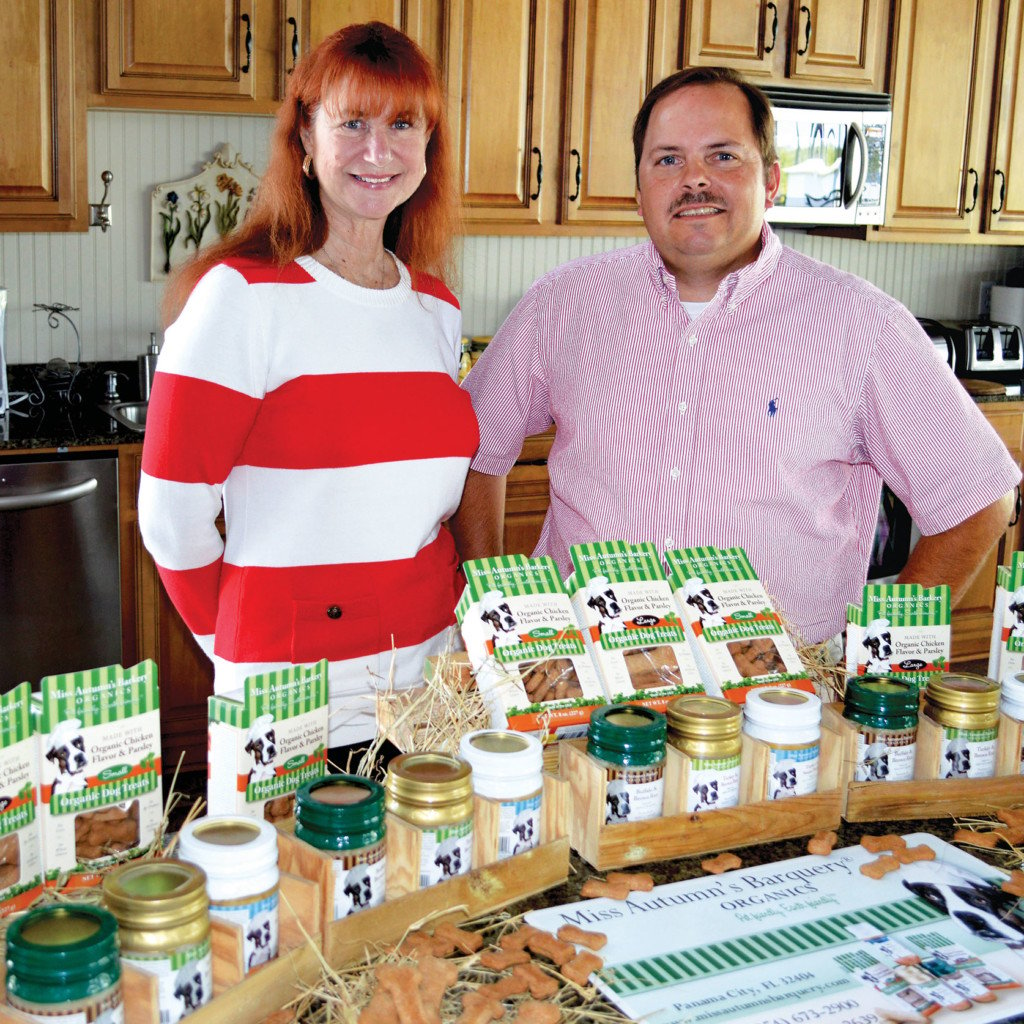 When an autopsy revealed a carcinogen traceable to the food that Cheyenne, her prized English Staffordshire terrier, had been eating, Victoria McDowell was unhinged.
She confronted the veterinarian who had recommended the food, and he apologized. And McDowell resolved to never again feed a dog food she did not make herself.
She has remained true to that pledge. And a year ago, she introduced to the marketplace the same home cooking that Missy, her bugg (a cross between a pug and a Boston terrier), thrives on.
Miss Autumn's Barquery dog foods are produced in the kitchen of McDowell's home in rural Bay County. At this writing, three foods are available in Bay, Walton and Okaloosa counties and in a few other locations scattered around the country. Soon, jars of a food specially designed to promote cardiovascular and renal health will be seen on shelves next to the established Turkey/Brown Rice, Turkey/Sweet Potato and Buffalo/Brown Rice varieties.
While not a veterinarian, McDowell has drawn upon her extensive experience working with animals, including some of the most highly valued and pampered specimens in the world, in developing her products.
Originally from Hollywood, Florida, McDowell "grew up on racetracks" –— Calder, Hialeah, Gulfstream — where she started working with thoroughbreds as a groomer. Over the course of five years, she worked toward and acquired her trainer's license. She worked alongside some of the best veterinarians money can buy and obtained an equine science certification from the University of Edinburgh.
Today, she owns two off-the-track thoroughbreds including one sired by the Kentucky Derby winner Monarchos. But it was her passion for animals canine versus equine that launched her business.
"Today, a lot of people are choosing to cook for their dogs to ensure that they know what their pets are eating," said Jim Maciborski, McDowell's partner in business and Miss Autumn's chief operating officer. "They hear about product recalls and class action lawsuits filed against big dog-food companies, and they have a hard time trusting what they are buying. They are tired of being deceived by marketing that insists Brand X is great for their dog when they know otherwise."
Miss Autumn's does the cooking for those pet owners who are inclined to whip up dishes for their dogs but may lack the time to do so.
"The inclination to make your own food is a good one," McDowell said, "but there is no way that whatever you serve your dog has been analyzed and balanced the way our foods have been. We add 76 vitamins, minerals, antioxidants and probiotics to our products."
McDowell emphasized that all Miss Autumn's food is cooked in small batches with processes governed by strict procedures that Maciborski, who was a quality assurance officer in the Air Force for 20 years, has developed consistent with recommendations from Dr. Olga Padilla-Zakour of Cornell University.
"Our food is not frozen or raw; it's not dehydrated," McDowell said. "We have sent samples to Cornell University, whose laboratories verified that we use outstanding processes. We spend a boatload of money on ingredients. If you ever worried about a child getting into your dog's food, you don't have to in the case of our products. They are perfectly safe for human consumption. We are not afraid to say that we are a higher-end food (about 5 bucks a jar) because of the quality of what you are getting."
Believers include Dr. Carla Hubbard, a Panama City veterinarian whose clients include McDowell and to whom she turned when her office was presented with a badly emaciated, stray Australian Shepherd about 9 years old.
"Blue" had lost all of its hair and had ceased eating, but nonetheless was an adorable dog, Hubbard said. When tests revealed that Blue had severe food allergies, Hubbard contacted McDowell, who prepared foods that did not contain the allergens that had affected the animal.
"Blue responded immediately," Hubbard said. "She regained the weight she had lost, and her coat came back."
Said McDowell, Blue just bloomed.
The story had a happy ending when Blue was adopted as a rescue.
"There is no such thing as a drug that will cure cancer in any animal," McDowell said, recalling Cheyenne. "But, that being said, there are foods that will support your dog's immune system, vascular system, renal system, kidneys, spleen and gall bladder and keep the dog healthy enough to give it a fighting chance if it were to develop cancer or another serious illness."
McDowell, who was married to a heart surgeon and followed him from career stop to career stop for 20 years, was living in Missouri when she was approached by then Gov. Jay Nixon, who was aware of her nascent dog-food business and asked her to put together a proposal for funding to build a large-scale plant.
Millions of dollars were appropriated for the project, McDowell said, but were later diverted for use in refurbishing state office buildings. McDowell, given that experience, has had an easy time turning away later approaches made by Tyson Foods and Hormel.
McDowell departed Missouri for Panama City, and when her husband later decided to move yet again, she decided to stay. The couple divorced and McDowell and Maciborski were introduced to one another by a mutual friend. Maciborski, by then retired from the Air Force with the rank of master sergeant, happened to be in Panama City working as a consultant on an unmanned minesweeping project for the Navy.
"We don't have to go to the Shark Tank," Maciborski said. "The big boys are coming to us. They know we have a good product."
But he and McDowell are committed to growing their business slowly and maintaining close supervision over its operations. Their plans call for the addition of a commercial kitchen at their property — and employees.
"Jim and I have complementary skills," McDowell said. "I am fortunate to have him as part of the business. Given his background, he is the perfect person to see to our product quality."
Maciborski inspected C-130 airframes in the Air Force and tested and evaluated GPS-guided parachutes used to deliver supplies to precise locations. He completed tours in both Iraq and Afghanistan.
"The military is all about adherence to regulations and standards, and we will establish best practices here to ensure that we never have a recall," Maciborski said. "Even as the demand for our products increases and our operations grow, we will maintain meticulous attention to detail.
"We know that everything we produce is going to someone's prized pet."
McDowell and Maciborski have shipped food to Barack Obama, Oprah Winfrey and military bases in Guam and Hawaii. A California woman who frequently flies in to Destin on a private jet picks up about $800 of Miss Autumn's food whenever she is in town.
"We are discovering the demand for our products, and we are finding that it's global," McDowell said.
Miss Autumn's Barquery dog foods are available at the For the Health of It organic grocery in Santa Rosa Beach, Modica Market in Seaside, Doggy Bag pet supply in Destin, Suncoast Pets in Panama City Beach and Miramar Beach, and EarthWise pet supply in Panama City.