Bringing More Tourism to The Rivers
Northwest Florida is waiting to be explored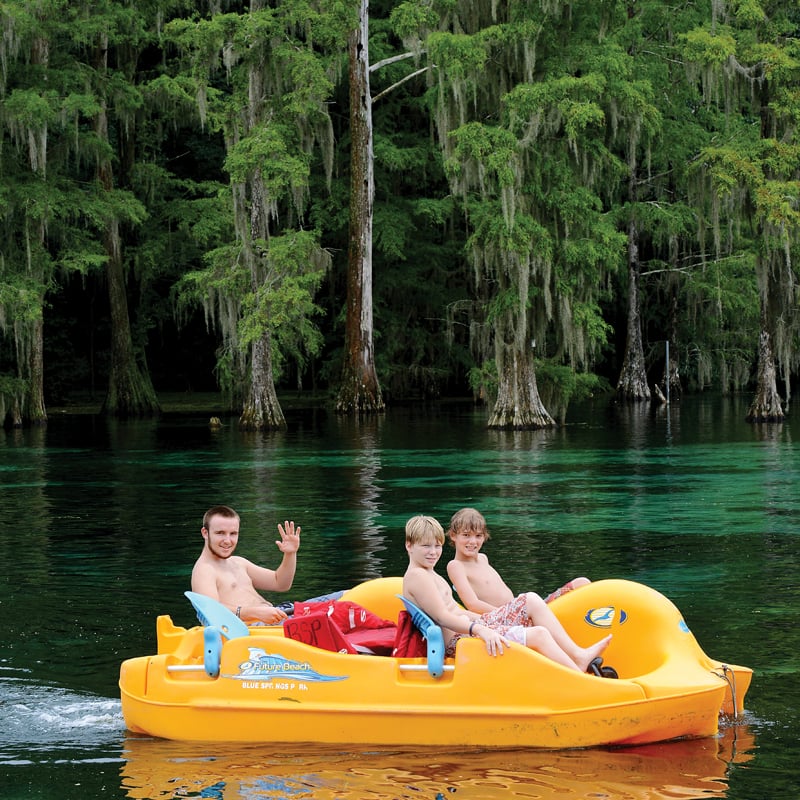 COLIN HACKLEY/Visit Florida
Let's face it. It was pretty doggone cold up North last winter. That meant more snowbirds were heading south to Florida than ever before, and visitation numbers began hitting 100 million for the first time ever. Despite the traffic and population headaches this may cause for certain parts of the state, this is actually good news for the less-travelled regions like the Apalachicola and Choctawhatchee rivers. These are places far from the theme parks, shops and concert venues and appeal to a new wave of tourists eager to reconnect with nature.
The Panhandle is an alluring world, and it begs to be explored. The storied Apalachicola River basin alone hosts a wide variety of outdoor opportunities for the ecotourist, from hiking and trekking to fishing, boating and biking. There's the Big Bend Scenic Byway (220 miles of roads through Franklin, Wakulla and parts of Leon counties), the Florida Trail (a meandering 1,400-mile-long hiking tour of the entire state), the Panhandle Pioneer Settlement and Blountstown's Sam Atkins Park ("One of the best hidden gems in Calhoun County," according to Blountstown Fire Chief Ben Hall), M&B Railroad Depot Museum and Blountstown Greenway, the Dead Lakes Recreational Area near Wewahitchka, Crooked River Lighthouse and Keepers House Museum & Park, St. George Island (which has famous and consistently top-rated beaches) and Historic Apalachicola (home to the Apalachicola Maritime Museum).
COLIN HACKLEY/Visit Florida
Gift Shop Manager Laurel Newman walks to shut the door of the Crooked River Lighthouse as climbing hours come to a close. Crooked River Lighthouse keepers followed daily work and record-keeping procedures so the light would always function.
New, combined efforts are underway to attract these visitors to places far and away from the theme parks, shops and concert venues. Promoting Northwest Florida's treasure trove of rural tourism possibilities is so important that eight counties have joined forces to do just that with
RiverWay South Apalachicola Choctawhatchee.
RiverWay South AC is a rural tourism promotion organization born out of a tri-state coalition of watershed counties in Georgia, Florida and Alabama. The Florida spin-off of this coalition was established in 2010 and is now comprised of eight rural riparian counties — Calhoun, Franklin, Gadsden, Gulf, Holmes, Jackson, Liberty and Washington — along the Apalachicola and Choctawhatchee rivers. The partnership provides many services designed to best promote and encourage economic development through rural, cultural and natural resource tourism in the two Northwest Florida river basins.
"RiverWay South strives to offer services that expand and complement the counties' work in tourism," said Director Pam Portwood, adding the group is very proactive.
Andrew Wardlow/Visit Florida
The Panhandle Pioneer Settlement in Blountstown has 18 buildings of historical significance, as well as many exhibits and collections
"This year alone we have developed an intrinsic resource database and an image library. We have provided leadership training and scholarships to educational programs such as the Southeast Tourism Society's Marketing College," she said. "We held a fall media tour where we brought in some travel writers to the regions and got some great articles out of that. We have developed tear-off maps … that really show off and promote the incredible resources we have in this region."
Other projects currently in the hopper include some self-guided itineraries that will be showcased on the organization's website and promoted via welcome centers. The idea is to get people to get away from Interstate 10 to explore the lesser-traveled paths throughout the river basins.
"And then last but not least we held a highly successful agritourism workshop, where we brought in a nationally recognized expert," Portwood said. "There is lot of interest in agritourism in this region."
Already, folks from the far corners of the nation have decided to not just visit here, but take up permanent residence as well. Homer Hirt, president of RiverWay South AC, recalled that a few years back he talked to a cave diver from Montana who was traveling down to Central Florida to cave dive. Apparently, the diver didn't like what he saw down south, so he came to Jackson County to dive in its springs. That was all it took, Hirt said.
"He went back home, sold his business and came back and bought a home — and he is probably the top cave diver in the country. One year he had someone from each state in the Union come through here, and 15 foreign countries. He had people from Germany coming in for two or three weeks at a time. Now that's a destination tourism spot if there ever was one. That indicates what we have here, and I'm very proud of that," he said.
The whole idea of a multi-county approach to promoting tourism is that the rural tourism doesn't start, or end, with any one county, according to Pam Fuqua, executive director of the Jackson County Tourist Development Council.
"We say, 'If you go to the beach, cool off at Florida Caverns.' We want to enhance visitors' stay because visitors don't know boundaries," she said. "And you know we have so much culture and heritage and tourism, and we want people to see that this is part of Florida, too. Florida is not just about the beaches."
Fuqua said all of the county partners have learned a great deal about promoting rural tourism, and each will have its own strategy. She said Jackson County's officials plan to increase digital advertising, conduct more market research into where visitors are coming from and target advertising efforts in those areas.
Jackson officials are also very excited to be the first county in Florida to host a traveling exhibit titled "Florida Before Statehood." Sponsored by the Museum of Florida History, the display consists of 11 panels that discuss European exploration and journeys for the past 500 years. The display will be set up at the historic Russ House in Marianna.
"It ties in with the Viva Florida program, and we're so excited to have it because Jackson County is launching the Spanish Heritage Trail," she said.
In general, rural tourism is all about showcasing rural life, which is great, but the ultimate goal is putting "heads in beds," according to advertising guru Judy Randall.
Andrew Wardlow/Visit Florida
The cobbler shop is packed with interesting historical items at the Panhandle Pioneer Settlement
.
"Isn't that why we do this? We love Northwest Florida, but we have to make money, too," said Randall, president and CEO of Randall Travel Marketing Inc., a company whose primary focus is travel and tourism industry research.
Promoting rural tourism is going to have the same challenges as any other "conventional" form of tourism, Randall said. The No. 1 challenge of rural tourism is carrying capacity. Is there enough signage? Parking? Bathrooms? Places to eat and drink? The second challenge has to do with getting the locals to buy in to your plans. In order to do that, you have to discover what their "sacred places" are and keep them "pure." Concentrate instead on promoting other areas that aren't quite as cherished, she said.
"Don't prostitute your sacred places," she said. "But, what are the places that you do want to show off?"
Another challenge is orientation. Visitors new to the area need to know where they can find these places. They need to know where the rivers are, the outfitters, the boat ramps. When it's not entirely clear how to get somewhere, that's a detriment to promoting rural tourism.
"Millions of people flow through I-10 in Northwest Florida every year. You have to get them off the Interstate. Cast your net. Get those people," she said.