Bring the Bling with your Customized Golf Cart
Big Boy Toys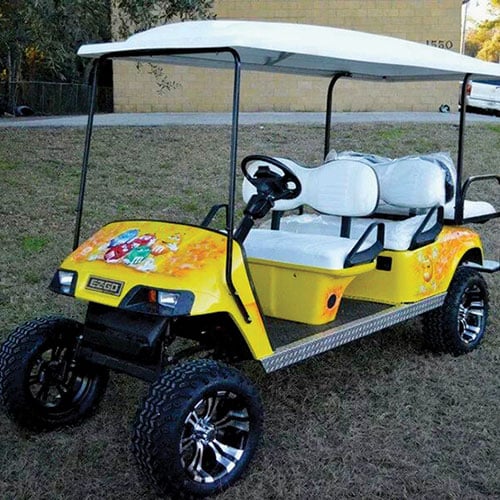 Golf carts are no longer relegated to the task of moving golfers and their clubs around 18 holes. They're practical, easy to use and can be highly customized to fit any need or personal taste. This means you can now find them down on the farm or hunting lease, tooling around the neighborhood, or anywhere people might need a more convenient mode of transportation.
According to a 2015 report on Golfcartsforsale.com, a website devoted to all things golf cart, the global market for the electrical variants in 2012 was a staggering $83.5 billion. North America had 38.3 percent of that market. So it's a safe bet they're here to stay.
In Tallahassee, José Mateo, 48, owner of B and V Custom Carts, does a booming business in golf cart repair and customization — something he has built a reputation for since he opened his shop in 2008.
The success of the business hasn't ceased to amaze the former South Florida resident.
"It's taken off a little bit," Mateo said in an understated manner. "Customers like all the little extra stuff like the stereos, remote-control stereos, remote-control neon lights, stuff like that, and it's just taken off. The repairs keep us going between customizing jobs, so I'm thankful for that."
B and V offers custom paint, engines, rims, wheels, dashboards, lights and can even fit the oversized customer behind the wheel. Mateo has found that burly professional football players, for example, have a hard time squeezing into the confines of a standard golf cart. Not a problem for this shop.
"You can get a football player who is 6 feet, 7 inches and 350 pounds, and he doesn't fit behind the steering wheel. So you have to actually cut the golf cart and stretch it seven or eight inches," he said. "We do that type of customizing, and it's been really good for us."
Mateo's custom cart clientele runs the gamut from average people to NBA players and rap stars. The quality of his work travels by word of mouth in those higher circles.
"Everybody wants to compete with each other, and so it's like 'Hey, Jim got a golf cart and he's 6-foot-7, 375 pounds, and he fits! He went down to Tallahassee and had this guy do his golf cart.' So it's spread by word of mouth among the guys," Mateo said.
But he also has a number of clients closer to home in Tallahassee and surrounding communities. College and beach themes are popular around here, but it could be anything else, including M&M characters. If you can dream it, he can do it.
"We do the custom seats and the paint job and all the little gadgets, so we do a lot of themes," he said. "We do a lot of beach themes for the beach communities. They might want a little Margaritaville-type of theme, and we do stuff like that."
Mateo's custom work isn't limited to fanciful artistic creations. Many customers turn to him to modify their carts into something akin to work trucks. People who have big properties use them to check the mailbox, carry animal feed or haul landscape tools. They've become workhorses.
"They're getting real popular among the hunters now, too," he said. "Because they're quieter, there are less fumes, and they get the job done. They can go up to their tree stands and stuff like that. Most of the hunters require a lifted chassis. They don't need all the pretty paint jobs or the pretty rims or nothing like that. They just need a lifted (frame), you know, with a back seat on it or a bed so they can carry their tree stands or guns and lunchboxes and just get out there."
Perhaps the most obvious places to find them today are golf cart-friendly communities, where golf carts are becoming the new family car. Just downsized a bit.
"The 5 o'clock walk now is the 5 o'clock golf cart drive. The family jumps on and goes for a little neighborhood drive," Mateo said. "You would not think that it would be a necessity to have one. But once you own one, and it breaks down, they call me saying, 'Hey, you've got to come get it and fix it right away.' It becomes a 'got to have' once you own one."
When Mateo first came to Tallahassee, he worked for a company that sold golf carts, horse trailers and other vehicles. At the time, the golf cart business seemed an unlikely bet. But he said he liked the "golf cart aspect" of the job, took a chance and created a niche for himself with his own business. It has paid off over time as more and more people are buying the handy buggies — and personalizing them.
"In 10 or 12 years, I've seen an explosion and it's like, wow," he said. "I still stay shocked sometimes. Where the heck did all these golf carts come from? It's a constant flow of golf carts, and they just keep coming in and coming in. It's good for business, but you'd be shocked, you know, where are all these golf carts coming from? It's a pretty wild business."
Mateo and his two-man crew work on about 30 to 40 golf cart repairs any given week. But they only receive two or three custom projects a month.
"They're very time-consuming," he said. "You have maybe 200 hours in them. We strip them down to the bare chassis. Then we start building from the chassis on up. You know, a lot of guys like to tinker around in their garage on the weekends, and we're actually, I guess, privileged, that we get to tinker around every day on these toys. 'Cause they're big-boy toys. Every day is a different scenario, a different story, different project … you never know."
Work has been so lucrative that B and V will soon move from its current rental space on Tallahassee's Capital Circle Southwest to its own facility in nearby Crawfordville.