Brief, Execute, Debrief
Blue Angels train executives at full throttle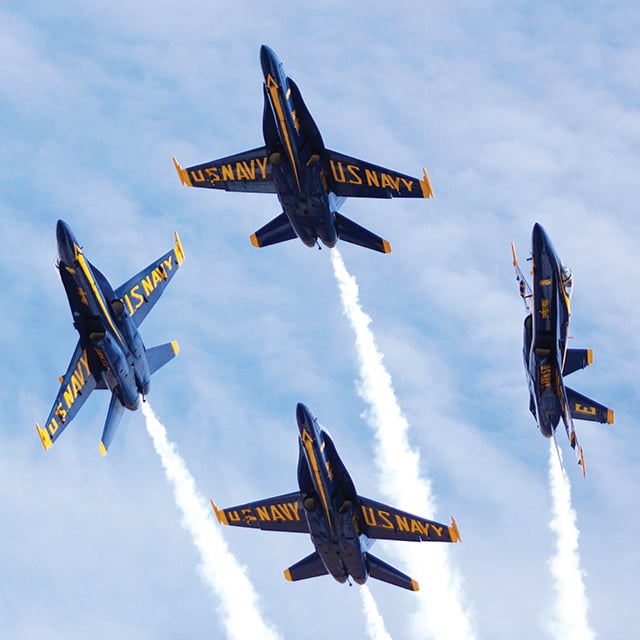 The senior leadership of a Fortune 100 company showed up for a corporate training in Pensacola in February. Some had put in decades at the company and now held top positions, and they may have questioned what they could learn about leadership in a matter of days. The 37 executives assumed they would unpack their business attire in comfortable hotel rooms and listen to two days' worth of presentations on leadership.
The Blue Angels Foundation had something else in mind.
They issued the executives flight suits with squadron patches, informing the group that for the next 48 hours, they'd be living aboard a simulated aircraft carrier at the National Flight Academy. The executives would listen to presentations, but they'd also work together to reproduce flight missions just like those performed by Navy fighter pilots.
"They went through the National Flight Academy syllabus, which is really a teamwork and communication drill," said Mike Campbell, president of the Blue Angels Foundation (BAF). In small groups, two executives flew a jet flight simulator, while two others provided navigation assistance over the radios from the ship's command center.
The first day didn't go very well.
The second day went better, with executives learning to apply the Blue Angels' ideas about mission planning, preflight briefing, and candid, honest reflection and accountability in post-flight debriefs after their simulated missions.
By the end of the training, leaders were able to faithfully abide by the procedure followed by the Blue Angels for any operation: brief, execute, and debrief.
"If you follow that model, you are guaranteed to improve, no matter what the execution," Campbell said, noting that often companies skip debriefing and move on to the next project. "It was interesting to see all of these senior executives say, to a person, 'We need to slow down.'"
Getting it right is a lesson that the Blue Angels know well, with lives on the line every time they fly.
Mission Over Ego
This is why Blue Angels debrief after every single flight, said George Dom, who spoke at the Pensacola training along with fellow BAF board members Rob Ffield and Cliff Skelton. He acknowledged it can be challenging to debrief in an environment where egos are involved.
"We put [the executives] on an aircraft carrier and conducted missions where there was no ego attached to it," Dom said. "The key was to have them experience something and then evaluate their own performance and experience what that feels like, that level of honesty with each other. They can take that skill back to the office and develop it with their teams."
Campbell remembered the head of the Fortune 100 company acknowledging three or four things that he had to work on while leading the debrief at the conclusion of the Pensacola event. "That was pretty powerful," he said. "They were working on some tough things. The leader put his ego aside and asked people for their support. That showed us he got it."
"I believe (this experience) will materially change the course and trajectory of our team for the positive," the senior executive present in Pensacola said following the program, noting that the lessons learned by his team were "foundational to achieving sustained success."
The idea of immersive leadership training is not new. "A lot of programs are oriented around team building, and this program does that for leaders, but it also stretches their comfort level and accelerates their learning curve," said Ffield. "Immersion training achieves a concentrated return on investment."
Dom added, "The typical assignment for a Blue Angel is only two years; there's 50 percent turnover every year in the six-jet formation. With that velocity of personnel change, we've figured out how to bring people together quickly and develop teamwork." For active Blue Angels, that means heading to winter training in Southern California to focus on the mission. Immersion training mirrors this approach by eliminating distractions so that participants can concentrate on improving their culture.
"One of the fundamental ingredients in the Blue Angels' culture is an extraordinary level of trust in each other. That doesn't happen by itself. We talk to companies about what it takes to develop that level of cohesiveness," Dom said. "The two-day immersion program gives them a chance to really look at their culture. There's quite a bit of facing the truth, where they have to look at how they treat each other and what their culture is about."
According to Ffield, the immersion program is an opportunity to share with the business world what team members learned from the Blue Angels about organizational culture and leadership. Both he and Dom are former flight leaders and commanding officers of the Blue Angels and now run companies involved in corporate leadership training.
Wounded Veterans
The Blue Angels Foundation's immersion program also doubles as a way to fund programs for wounded veterans, the foundation's mission.
"Since 9/11 we've lost about 6,200 service men and women in the battlefield. There were 52,000 that were wounded. We're losing 8,000 a year to wounded veteran suicide. A half-million veterans suffer from PTSD (Post-Traumatic Stress Disorder). The point is that the line is long and the need is great," said Campbell.
Several veterans were put through PTSD protocol as a result of the February training, Campbell noted. The foundation also supports programs for transition housing, education, and employment for wounded veterans.
Bernie Willett, board member and honorary Blue Angel, said the foundation's leadership program has evolved over the past year, from Dom and Ffield visiting companies to provide keynote addresses to longer opportunities in which trainings are held offsite. Last October, the Blue Angels Foundation organized a one-day event for 100 participants hosted by the USS Midway Museum in San Diego.
The USS Midway program led to an inquiry from an audience member, part of the senior team at the company that later booked the two-day program at the National Flight Academy. "We put together a 48-hour syllabus, and they covered their costs and also made a donation to the foundation," said Campbell.
He acknowledges that the Blue Angels Foundation's immersion program is young, but it's clear that interest is there. "Every single day of the year, companies invite people like George [Dom] and Rob [Ffield] to talk about leadership. I don't know how it will evolve, but corporate America is hungry for the content we deliver."
Campbell added, "I think that when companies hear about our mission, they want to help. We are all volunteers. One hundred percent of what we earn, we turn around and help the wounded veteran community. The sky's the limit."