Breath Work
Amid pivots and a pandemic, Panama City startup ATOR Labs finds its rhythm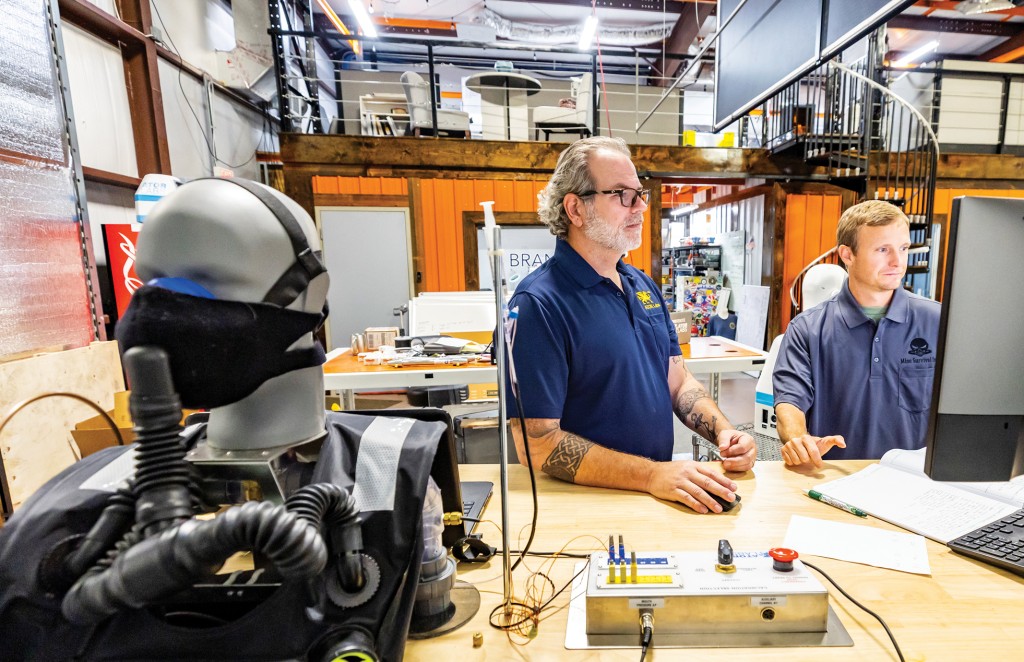 A lot of business owners have struggled to catch their breath these last few years. The pandemic and its aftermath forced many to shut their doors and even more to shift their business models to survive.
For Panama City startup ATOR Labs, the problem of breathing is more than a metaphor though. It's their mainstay.
ATOR's parent company — Mine Survival, Inc. — was started in 20ı4 to help coal miners breathe more easily in the event of a catastrophe. As the pandemic hastened the decline of the United States coal industry, though, the company's founders decided to pivot.
Now, ATOR Labs is one in a handful of firms manufacturing machines that are used to test the masks and other respiratory protective devices with which we've all become so familiar. The company's founders are hoping that the newfound rigor with which these devices are regulated post-pandemic will propel their company to new heights.
A Minefield
Like many Gulf Coast companies, ATOR Labs has military roots.
Founders Dave Cowgill and Rob Moran both trained at the U.S. Navy Dive School. It was there that Cowgill developed the wearable rebreather device that would become the focus of their partnership.
Initially, the pair intended to market the product for military use. Cowgill had heard soldiers returning from the Middle East complain that their standard-issue gas masks made it difficult to breathe. His idea was to use the closed-circuit design common in diving to improve on existing military technology.
While Cowgill and Moran were perfecting their design, however, a researcher at the federal Mine Safety and Health Administration learned of their work and asked if they might be interested in repurposing the technology for miners, instead.
Mine workers often use a device called a "self-rescuer" that contains an emergency oxygen supply they can tap should the surrounding atmosphere become inhospitable. The devices, though potentially lifesaving, tend to run very hot and can burn miners' mouths and throats.
Cowgill's lighter, cooler device had an edge over competing products. The technology was promising enough that he and Moran were able to secure seed funding from the Florida Institute for the Commercialization of Public Research. This progress was halted, however, when the market for coal began to erode.
"We shelved the Mine Survivor during the certification process simply because coal crashed," Moran said.
A Breath of Fresh Air
Though their early efforts in the mining sector were thwarted, Cowgill and Moran quickly identified a pivot strategy.
Cowgill had sat previously on the International Standards Organization board that develops design guidelines for respiratory protective devices globally. This background made him uniquely qualified to understand the ISO requirements.
In the course of preparing the Mine Survivor for testing and certification, Cowgill had built a breathing and metabolic simulator — a device that simulates the human respiratory system — that was fully compliant with these rules.
"Come to find out we were the only folks in the world to have built such a machine," Moran said.
Seeing an opportunity, Moran and Cowgill settled on a new strategy. They set up ATOR Labs as a subsidiary of Mine Survival, with the goal of making the company the world's leading provider of respiratory protective device certification machines.
They've made steady progress toward this goal in the intervening months.
One of their machines is currently being used by the U.S. Centers for Disease Control and Prevention. Moran said they were in the process of building another for the South African government.
"We have interest coming out of Australia, Germany and France, as well," he said.
The market for the machines themselves is not huge. Moran said he hoped to build 50 in the next 20 years at a unit cost of $250,000 to $450,000. This manufacturing revenue is supplemented, though, by consulting and testing fees, which can be ample.
"We'd much rather be the testing and certification guys than just another player in a crowded marketplace," Moran said.
Future Directions
While ATOR Labs and the testing and certification business have become the team's main focus in recent years, Moran said they planned to continue their research and development work through Mine Survival, Inc., as well.
The company recently received a $ı.5 million contract from the Department of Defense to develop a specialized rebreather for military use.
"We're coming up on our first delivery of product to them in September," Moran said. "Our expectation is that they will sign the follow-on contract in October, which would take us into soldier testing. After that, hopefully, we would become a program of record for the DOD."
They also hope to revive their mining-focused product line in the future.
"In another year, we'll push it out to the European market and see what kind of traction we get there," Moran said. "The Germans are starting to consume coal again, and we expect that trend to spread throughout Europe. It will take a while for them to spin back up, but we expect there to be a buying spree of safety equipment within a couple of years."