Breaking Records at Port Panama City
Business is Good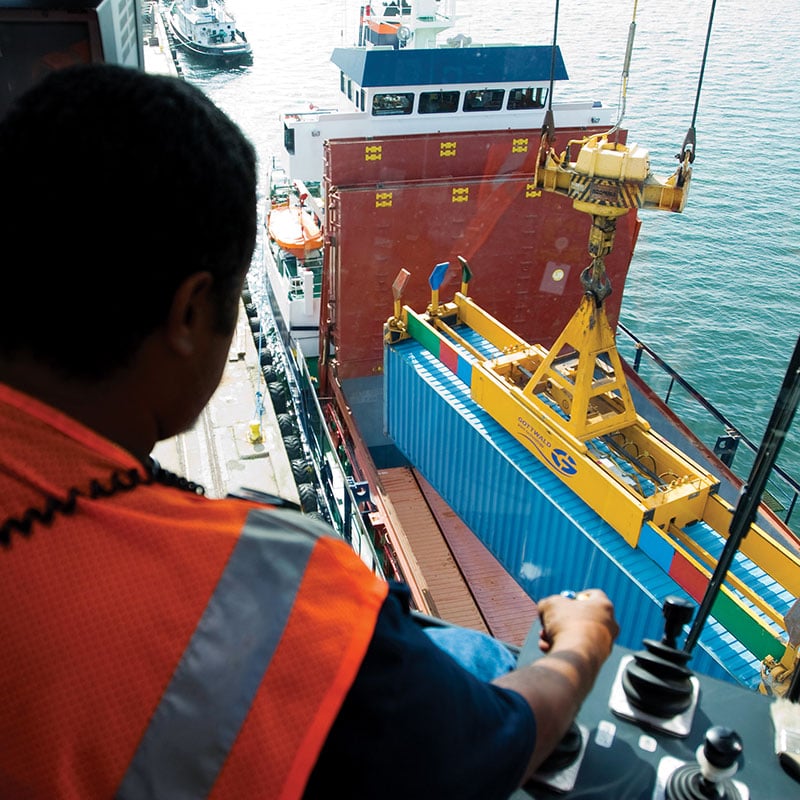 The shipping news is all good at Port Panama City these days. Tonnage is up, and two very important on-site companies are driving continual growth.
"We've never been busier than we are now," said port director Wayne Stubbs. "Our tonnage is up 30 percent in the amount of cargo being handled. We think we'll break 2 million tons of cargo this year, and we've never done that. We've been at 1.7 million before, but never close to 2 million tons before."
Overall, if you look back historically and especially in the context of the last 15 years, there's been a yearly growth rate of 8 percent on average, Stubbs said. The port's warehouses are full of imported aluminum ingots, copper plates and wire, steel and pipe. Meanwhile, tons of wood pellets milled in Cottondale await export every week to European ports.
"That's the headline for us. Generally, we've had an increase across the board in commodities, and copper imports have increased, forest-products exports have increased and the export of wood pellets has increased," Stubbs said.
However, the largest contributor is imported steel by Cargill Steel & Wire and Berg Steel Pipe Corporation. Combined, the two companies have moved 400,000 tons this year, Stubbs said. As far as new business goes, there's been "organic growth" driven by Oceaneering International and Berg Steel. Oceaneering is a global provider of engineered services and products, mostly for the offshore oil and gas industry and deepwater applications. The company has more than 200 employees in Panama City and is a major contributor to the port's $1 billion annual economic impact. Berg Steel specializes in pipe production for the oil and gas sector. Its mill in Panama City has a capacity of 240,000 tons per year and has more than 280 employees.
"Both have made significant investments in plants, and both this year have had historically large orders," he said. "My understanding is they both have production committed out for the next couple of years at this point. Our biggest growth, or strongest economic impact, is based on their business."
In other news, a new carrier, additional containerized cargo capacity and an expanded distribution center are in the works.
Seaboard Marine, a leading cargo transportation company that operates a fleet of more than 30 vessels between the United States and South America, will start coming here in January, Stubbs said.
"They carry copper, but they also have capacity to handle containers, and we're hoping to add some container traffic to the copper," he said.
The port, meanwhile, is getting ready to handle more container cargo by building new infrastructure in the yard to accommodate racks for the stacking of refrigerated containers. Inland, the Port Panama City Intermodal Distribution Center located on U.S. Highway 231 is looking to grow its warehouse by 100,000 square feet, and a bulk rail transfer facility will be added to the facility to transfer cargo between rail cars and shipping containers. Stubbs said they've also finished improvements on a 50-acre certified industrial site in partnership with the city. The site recently became the fourth in the region to receive certification through Gulf Power's Florida First Sites program, which seeks to bring new industry to the area. All told, the Port Authority owns 250 acres at the Intermodal Distribution Center.
Finally, the port is working with the Army Corps of Engineers on a project to deepen the east channel, which provides access to terminal facilities on the east side of Panama City.
"That's an effort to keep those facilities active as vessels get bigger. The channels need to be deeper. It requires very little dredging," he said. "We're talking about going to 36 feet. Historically it's been operational at 32 feet, but a couple of high spots have developed that restrain it to 31 feet right now. So we need to take out a few high spots to ensure continued service for the next few decades."
The port authority has invested $75 million in facilities over the past decade, and that's paid off in terms of helping attract and retain key customers.
Newsflash
Oceaneering International, as part of a consortium with GE Oil & Gas, recently secured a contract that added more than $100 million to its Subsea Products backlog. All of this product manufacturing is expected to be completed in the fourth quarter of 2017.
"Given the overall condition of the oil and gas industry globally, driven by the current price per barrel of oil, securing a contract award of this magnitude provides the Panama City facility with a level of stability over the next two years that will help us weather the uncertainties we face in the global oil and gas markets," said Nuno Sousa, general manager of the Panama City facility.