Bob Sikes Airport is Making the Panhandle Economy Take Off
A Gem Among Airports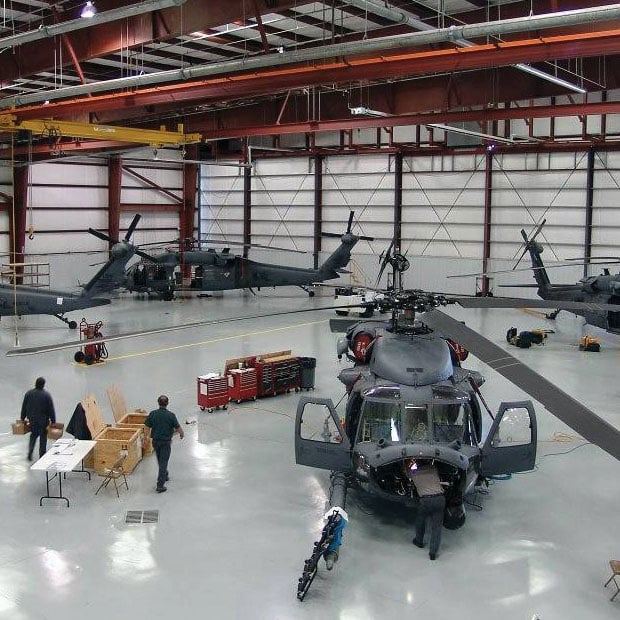 Airports are a vital part of the Florida Panhandle's economy, and Bob Sikes Airport is no different. Nestled near Crestview inside one of the busiest aviation zones in the state, the airfield sports an 8,000-foot runway, an instrument landing system and hundreds of acres that are ready for development. Eight aerospace companies call Bob Sikes Airport home, and more than 2,700 people work there with a total payroll of $108,208,000.
But there's more to come as Okaloosa County invests millions of dollars in hopes of landing more business opportunities.
Mike Stenson, deputy director of Okaloosa County Airports, said recently that the airport has made, and continues to make, significant improvements to maintain a competitive economic edge. He even describes it as a brand-new airport with plenty to offer potential tenants. The runway, taxiways and other connectors were all recently resurfaced, and Emerald Coast Aviation — the airport's operator — recently completed a new terminal building.
"It's a great location for any company looking to grow," Stenson said. "We've got a world-class airfield in the center of the aerospace corridor for the region. You will be hard-pressed to find something like it with the size and capability we have with the space available. We've worked close with the Florida DOT and FAA to secure millions of dollars in grant funding to build a world-class airport suitable for any aerospace company looking to grow."
Indeed, there is a lot of elbow room at the airport. Only about 500 of the facility's 1,100 acres have been developed. In addition, some available land is already site-certified and ready to go. At the nearby Okaloosa County Industrial Air Park, for example, 135 acres were recently classified as "shovel-ready" through Gulf Power's Florida First Sites site certification program, according to Nathan Sparks, executive director of the Okaloosa Economic Development Council.
"This prestigious designation was awarded in March 2015 by McCallum Sweeney Consulting, a premier site-location advisory firm," Sparks said. "Achieving the certification required the completion of exhaustive due-diligence studies, including wetlands surveys, soil studies, utility verifications and cultural-resource studies. Now these parcels provide prospective purchasers with the certainty that development can occur quickly and with minimal front-end expense."
"It is one of the few airport sites that is essentially shovel-ready and pre-permitted," he said. "The stormwater master plan is already completed, so any company looking to relocate wouldn't have to go through that process. It's already been done. If a company comes in to construct hangars, they would literally cut months of time off the schedule."
Meanwhile, one project in particular could provide an even greater incentive for businesses to set up shop. Fairchild Road, currently a clay road leading into the airport, will soon be paved. The new, industrial-grade road will be called Foy Shaw Industrial Boulevard and will provide a much-improved link to U.S. Highway 90. Stenson said the new road ought to be an attractive feature for businesses looking to locate there, as well as provide a better commute. Officials said in April that the contract for the paving has been awarded and the road should be paved in six months.
"It will be a dramatic upgrade for people transitioning to and from the airport," Stenson said.
Named in honor of U.S. Rep. Bob Sikes, the airport opened in the early 1960s, and Stenson said it was used as a repair station for battle-damaged aircraft during the Vietnam War. The military connection still figures prominently in the work done there in flight testing and aircraft conversion and modification. One such company, L-3 Crestview Aerospace, has been very happy there.
"When the Crestview Aerospace facility at Bob Sikes Airport was established in 1964 by Fairchild, it was primarily used for Air Force maintenance and modification," said Woody Tignor, vice president and general manager of the company. "L-3 purchased the facility in 2006, and it has grown and diversified over the decades to include a substantial volume of manufacturing and fabrication work. Today, we create a number of aerostructures, assemblies and parts for aircraft manufacturers, while still performing the aircraft modification that has always been done at the L-3 Crestview Aerospace facility."
Tignor said the company has benefited greatly from the support shown by Okaloosa County.
"The workforce in Okaloosa County is very talented, and that's a result of our proximity to military facilities, as well as a commitment by local leaders to providing training opportunities for potential and current employees," he said. "There has always been tremendous support in this community for our customers and work — including local, regional and state assistance for growth and workforce development. There is a keen interest in this community to ensure our military and the aerospace community are supported."