Turbine Business Boosts Activity at Port of Pensacola
You could say it has a wind in it's sails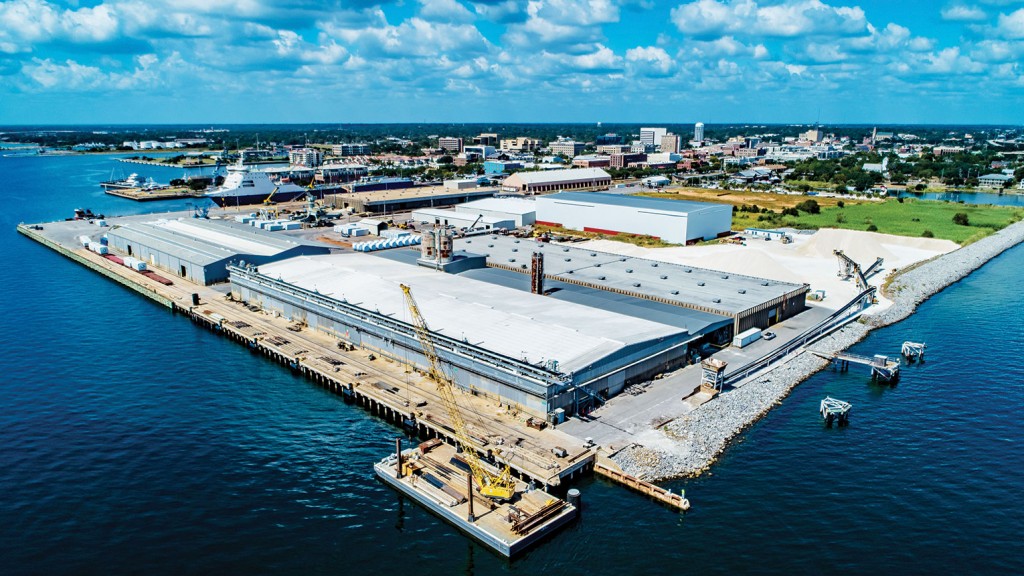 The Port of Pensacola is not a place where cruise ships berth. It is not a big container port. Because of its size, Pensacola is not a destination comparable to Tampa, Mobile or Houston.
But the Port of Pensacola has a significant role to play in connecting small businesses and multinational corporations to global trade routes — from China and Brazil to the Bahamas and Israel.
Still, everyone from the mayor to port officials to businesses with deep roots in Pensacola have weighed in on a fundamental question: Where should the port focus its efforts?
"We do want to be a viable deep-water port," said Clark Merritt, the deputy port director. "And we do support local and regional businesses in the importing and exporting of products and materials."
Despite it modest size, the Port of Pensacola has seen phenomenal growth in the last year. Wind turbine components have helped fuel the port's surge.
Ports make money on cargo handling and dockage, Merritt said. The Port of Pensacola has been able to diversify, finding multiple avenues to increase cargo and vessel days in port. And revenues have jumped, from $ı.26 million in 20ı8 to $2.4ı million in 20ı9 and $2.97 million in 2020.
"We're an enterprise," Merritt said. "We don't take any general tax revenues that come to the city; we are supposed to be completely self-sufficient. And so additionally we carry no long-term debt and haven't for years."
The port has been a key player in Pensacola's business infrastructure, connecting with CSX rail lines, Interstate ı0 and the international airport to distribute a variety of products. Multinational companies like GE Wind Systems, International Paper and Georgia Pacific have been major players, with the port connecting those businesses to customers and suppliers around the world. The port also has a variety of tenants, from Cemex to Offshore Inland Marine & Oilfield Services and Blue Origin.
From its beginnings in the ı740s when ships exited the port with loads of lumber and wooden ship masts, the Port of Pensacola has reinvented itself. The 55-acre facility has eight berths, seven warehouses and more than 250,000 square feet of available storage area.
In recent years, wind energy has led to the port's boom. GE's wind energy plant is less than ı0 miles from the port.
"Offshore wind energy components have been our primary cargo for the past 2 ı/2 years," Merritt said. "We handle a majority of their large components through the port, either to be stored here and dropped off by truck or handled by one of our tenants."
In conversations with GE, Merritt said port officials pointed out the advantages of having wind-energy components from Asia come to Pensacola instead of going to Houston where they were loaded onto ı8-wheelers for a 525-mile trek to the east.
"Anything further away costs more diesel, more truck time," Merritt said. "The wind energy line of business across the world is skyrocketing. It's a trend everywhere."
Port tenant Blue Origin, a company created by Amazon founder Jeff Bezos, employs between 60 and ı25 people at various times on a 637-foot cargo vessel that works in the recovery of rockets launched from Cape Canaveral or Houston. The port is also home to an oyster farming facility that improves Pensacola Bay's water quality.
Streamline Boats will also be redesigning a ı00,000-square-foot warehouse at the port and preparing for the manufacture of high-end boats. And port officials look to strengthen existing maritime repair business.
The Port of Pensacola's strategic location in the Gulf, availability of warehouses, skilled workforce and economic development incentives have helped spark a boom. Even during the pandemic, it remained active — more so than any prior year — with the port buzzing with full-time and contract employees.
The vision for the decade ahead continues to develop and is bright.
"Our 2020 numbers are really good," Merritt said. "Even with COVID, we've been very fortunate as a port to have a great year."