Blended Communities
St. Joe developments are attracting buyers from across the country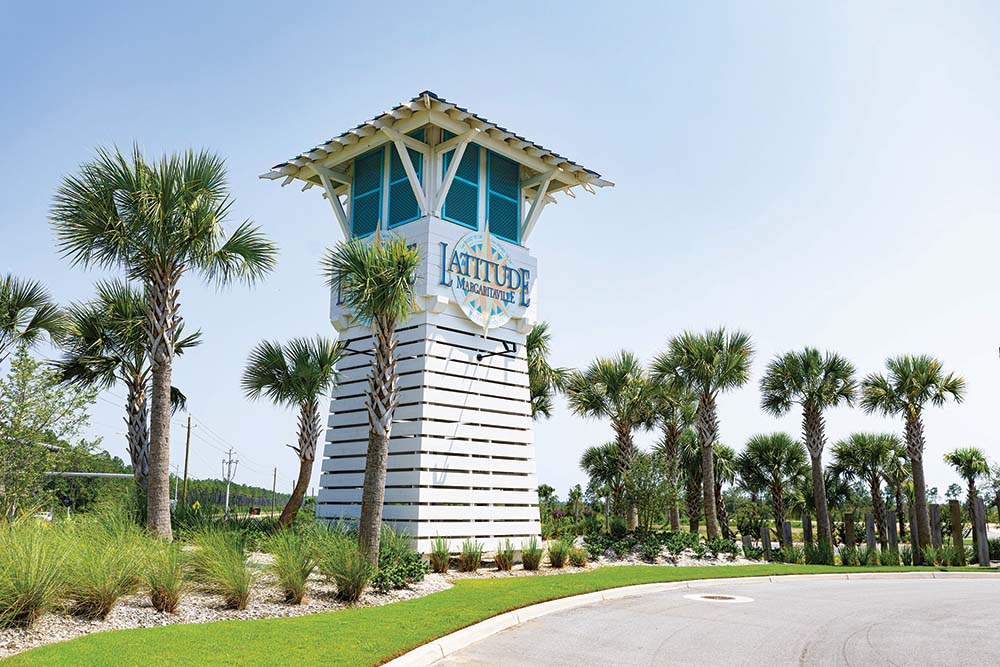 Since moving from New Orleans into the new Latitude Margaritaville Watersound community, Bill and Janet Niles have made more than a few friends from more than a few places.
There are Joey and Trina from Tennessee, Cliff and Janice from Texas, Blake and Teri from Canada, and Barb and Ed from Ohio. And don't forget Jackie from England and Leo who lives across the street. Leo moved from Denver but is originally from Switzerland.
Welcome to the new "Melting Pot," or maybe in this new tech-driven world, we should call it "Melting Pot 2.0."
History remembers the melting pot theory with affection. Immigrants from all over the world came to America to settle. Their food, music, religion and distinct cultures would slowly merge to form the American culture we have today.
New communities in Bay and Walton counties are replicating the melting pot at a frenzied pace. Neighborhoods like Watersound Origins and Latitude Margaritaville are attracting new residents from just about everywhere.
The Latitudes community has attracted buyers from 49 states so far, according to Rhea Goff, senior vice president and chief administrative officer for The St. Joe Company. "The Origins community has brought in new residents from 26 states through May."
Who's missing from Latitudes you might wonder? "We're only missing Oregon," Goff said.
The St. Joe Company is the developer for the Origins project and a partner with Minto Communities USA and Margaritaville Holdings for Latitudes. Goff says that Origins started sales in 2007 and is planned for over 1,500 units in the first phase. The Latitudes community has sold over 1,000 homes since sales started in 2021 with plans for 3,500 homes in the first phase. Both communities have plans for even more homes in the future.
Historically, Goff notes that most people moving into new Northwest Florida communities were primarily from the Southeast. She first noticed people moving to the area from all corners of the country as a side effect of the COVID-19 pandemic. Goff also credits other factors like the weather and beautiful natural surroundings.
"With these communities in particular, we really create a whole ecosystem that supports the lifestyle that these people are looking for," Goff said.
These ecosystems offer miles of trails, abundant green spaces, entertainment venues and activities like movie nights. The new Town Center opened in June at Latitude with indoor and outdoor pools, a fitness center and restaurants all overlooking the Intracoastal waterway. The Beach Club is one of the popular attractions at Origins.
The new communities are designed so that pretty much everything you need is within walking or golf cart distance.
When Cameron Hemphill moved his family of four from Utah last year, his arrival at Origins was partly COVID-inflicted and partly a lucky left turn.
Hemphill, 38, was looking for a beach vacation destination with his wife and two young daughters. He said COVID-19 restrictions in California and Hawaii, his usual choices, caused him to consider the Florida Panhandle as an alternative.
"We started Googling 'best beaches in the United States,' and this area kept popping up," he said.
"We came down to check it out, and when we found (Scenic Highway) 30A, we were like, wow!" Hemphill said the beaches, the restaurants and the people were nothing like they had experienced before.
"It might be cool to live here," he thought.
So Hemphill, who played golf in college, said he took a left onto Watersound Parkway and passed the Camp Creek golf course. His next stop was the Origins sales office where they bought a lot.
"If I didn't take that left, I probably wouldn't be here," he laughed.
Hemphill said his first year in the community has been special. "This is a different world," he said, noting that in Salt Lake City, they were surrounded by people they had known their entire lives.
"Here, it's different," he said. "Everyone has moved here and most very recently."
He said the cool thing is that it's very easy to get injected into the community because people are trying to meet people, find kids for their kids to play with and people with whom they have hobbies in common.
"It was really easy to find like-minded people who are fun to hang out with," Hemphill said. "If you move to Utah and try to break in, good luck. The cliques are already established."
For Bill and Janet Niles, the sense of community sprung up fast. Theirs was the 14th home built in Latitude, and Janet said they made friends quickly. They had the third golf cart in the community. Everywhere you drive, people wave at each other. Their golf cart is champagne colored.
"I tell everyone I have a champagne golf cart on a beer budget," Bill said.
Fifty people attended the first party that the Niles threw at their new home. They play euchre with their Canadian neighbor.
"When he comes to our house, we play American rules, and at his house we play Canadian," he said with a chuckle.
Bill said Latitude residents share an outlook.
"We all came here to do things, not just sit on the couch and watch television all the time." Janet was quick to add, "It's a bunch of old people here acting like they are 15." — Bill Niles
And yes, Janet and Bill are Parrotheads.
The devoted followers of performer Jimmy Buffet, whose song Margaritaville is the inspiration behind Latitude Margaritaville, are everywhere.
"I've been a Parrothead since Day 1," Janet said. When she moved from New Orleans to Latitude, she brought along signed posters of Louis Armstrong and Fats Domino. But her prized possession is one signed by Buffet. It now hangs in her living room.
Count Joey and Linda Guillot, both 66, as Parrothead Club members, too. The couple moved to Latitude in December from Mauriceville, Texas, and they are proud to be Buffet fans.
"We go way back to the '70s," Joey said. Linda recalls first seeing Buffet in a concert with the Eagles in Houston. The couple named their new Latitude cottage "Stars on the Water" after a song recorded by both Buffet and George Strait, a popular Texas performer.
The Guillots first vacationed along Panama City Beach in 1986. Joey said when they saw the Latitude community being built, they decided to make a move after living 43 years in Texas.
"No one seemed to come around the house anymore, and the kids had moved out so we decided to go to where we loved being all time," Joey said.
At their first neighborhood party, Joey made up a boudin dip from Texas to go along with Linda's Texas accent. The couple counts people from California, Tennessee, Chicago and of course, Texas as new friends.
"You just go outside, and you are going to see someone you haven't met yet," Joey said. "All it takes is a wave, and next thing you know you are carrying on a conversation."
At the opening of the new Town Center, the Guillots and their new friends kept repeating the same words in describing their new resort-style lives. Next to the new Texas-sized, zero-entry pool with Tiki huts and waterfalls, Linda kept saying over and over in disbelief, "We live here."
"We live here."