Big Sports Attraction in Bay County
Diamonds are Panama City Beach's best friends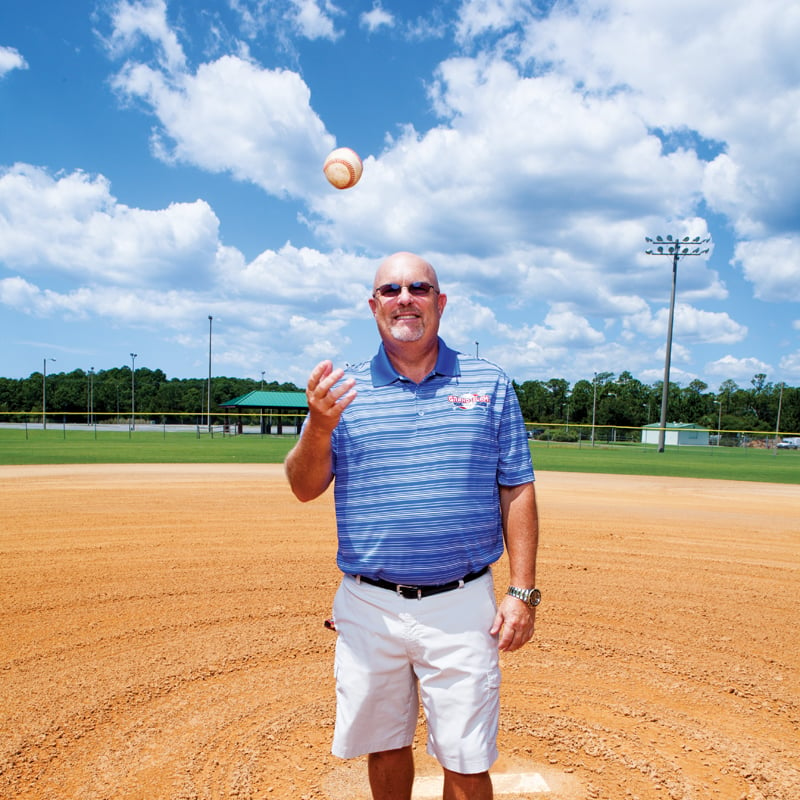 Baseball officials are concerned that youths are becoming increasingly disinterested in the National Pastime. The game is too slow, they fear, for children growing up in a world built increasingly on instantaneity, not waiting on a good pitch to hit.
Matt burke
Larry Thompson came to Bay County for the grassy fields, not the beach.
Hall of Famer Joe Torre, Major League Baseball's executive vice president for baseball operations, considers that finding ways to engage young people will be new baseball commissioner Rob Manfred's greatest challenge when he relieves Bud Selig in January.
Maybe he should call Larry Thompson.
Thompson, the owner of Grand Slam Sports, makes his living promoting, organizing and hosting youth baseball tournaments in divisions ranging from "8-and-Under" to "18-and-Under." He founded his business in Columbus, Georgia, 10 years ago, before moving to Panama City Beach early in 2013.
Thompson didn't yield to a hydrotropism in moving to the Gulf. Rather, it was the dirt infields and grassy outfields of Frank Brown Park that brought him to Bay County.
A few years after the park, located near the intersection of U.S. 98 and Highway 79, was expanded in 1998 and 1999 to include five new ballfields, Thompson approached Panama City Beach's Parks and Recreation Department seeking permission to hold a "Grand Slam World Series of Baseball" at the facility.
First held in 2003, Thompson's World Series attracted 62 boys' baseball teams and was conducted in a week. This year's series was held over four weeks and involved 500 teams from 20 states.
The growing youth baseball business in the Southeast is recession proof, Thompson has found. And hurricane and oil spill proof.
"We experienced no drop-off from the BP scare," Thompson says. "It's a priority for parents to provide their boys with a competitive baseball experience in a tournament atmosphere. And Panama City Beach gives folks an opportunity to make the baseball games part of a family vacation."
Thompson conducts 250 tournaments across the Southeast each year, eight of them at Frank Brown Park. Most serve as Grand Slam World Series qualifier events.
"Frank Brown Park is a diamond in the rough," Thompson says, unaware of his wordplay. "It's a top-notch multi-purpose facility with fields that can accommodate softball, baseball, soccer and lacrosse."
Too, the park includes an aquatic center, tennis courts, a 20-acre festival ground and a Miracle League plastic-turf field reserved for disabled youths, including children in wheelchairs.
"The only way I know to make Frank Brown better is to make it bigger — add more fields," Thompson says.
As it happens, the Panama City Beach Convention and Visitors Bureau has plans to do just that. It is actively looking for land for park expansion and has squirreled away BP money for that purpose. In addition, the CVB has banked $1 million in excess bed tax revenues the last two years.
"We've got about $7 or $8 million in total in a capital improvements fund, and more fields is our top priority," says Richard Sanders, the CVB's vice president for sports and events. "Without them, we're turning away 300 youth teams a year."
Sports will result in more than 100,000 room nights and $60 million in direct spending in Panama City Beach this year. Activities held at Frank Brown Park will account for 60 percent of that total, according to Sanders. Spending is calculated using a formula devised by the Florida Sports Foundation, a part of Enterprise Florida Inc. That formula assumes spending by adults of $150 per day and $75 daily by children.
Girls' fast-pitch softball is the top draw at the park followed by boys' baseball and youth soccer. Lacrosse is on its way. The park hosted the first lacrosse tournament in its history in July. Sixteen teams traveled to Bay County from Atlanta, Pensacola and several Louisiana locales. Frank Brown for years hosted lacrosse spring training for dozens of teams from northern colleges and universities, but the activity outgrew the park and moved to West Palm Beach.
"Lacrosse is what's next," Sanders predicts. "The Panama City Beach Parks and Recreation Department is going to pilot a lacrosse program this fall. Arnold High School (in Panama City Beach) is looking at adding it as a club sport."
Sanders attends annual conventions, including those held by the National Association of Sports Commissions and Travel, Events and Management in Sports (TEAM), where he meets with event right holders and may land business for Frank Brown.
But he emphasizes the importance of homegrown, locally based activities whose presence can be counted on from year to year.
"You go to a convention, you bid on an event and you may win the bid this year but next year it goes up for bids again," Sanders notes.
In addition to adding fields to Frank Brown, the CVB has an indoor special events center on its white board. Conceptual conversation about that project has become serious, according to Sanders. The center would be designed to accommodate basketball, gymnastics, cheerleading, dance and volleyball competitions and would include space for sports medicine practitioners. It could handle trade and boat shows. Sanders anticipates that it may result from a private/public partnership.
"The center would make us a year-round sports destination," Sanders enthuses. "Right now, we lack an appropriate venue for winter sports. A basketball tournament may require that we use five different gyms from across the county."
Sanders would much rather see bed tax dollars invested in an events center than a minor league baseball park, an idea that seemingly surfaces in Bay County every few years.
"Minor league baseball might be a good thing for the community, something we could rally around, but it's not the best use of tourist dollars," Sanders said. "A minor league team would play a 71-game home season and generate about 1,500 to 2,000 room nights in total. You're looking at $30 million for a stadium and that's a lot to spend for that kind of return.
"We host numerous events that generate more room nights in a weekend, and we don't have a dime invested in them."
Sanders says that Thompson helped him realize in 2004 or so that the softball and baseball game had changed. No longer were families devoting weekend after weekend to traveling to tournaments in locations that didn't have much to offer beyond the action on the field.
"We realized that you had to put on tournaments in places where people could make a vacation out of their trip, and Panama City Beach was the perfect model for that," Sanders says. "We promote our events by encouraging people to make an extended stay out of them, and a lot of businesses benefit."
Sports activity provides a big boost to amusement parks, retailers, restaurants and hoteliers. Traveling teams each tend to have unique pins. Like Olympic athletes, players gather at venues including Rocket Lanes to trade them.
Does Sanders share the concern of those who fear that youths aren't embracing sports as they once did?
"I'm concerned about technology," he concedes. "We need to get our kids off the sofa and onto the grass and dirt. When I was a boy, I dragged bats for my daddy's church league softball team. That's where it starts."