Beach Closures
Local governments take action to put the sand off limits to many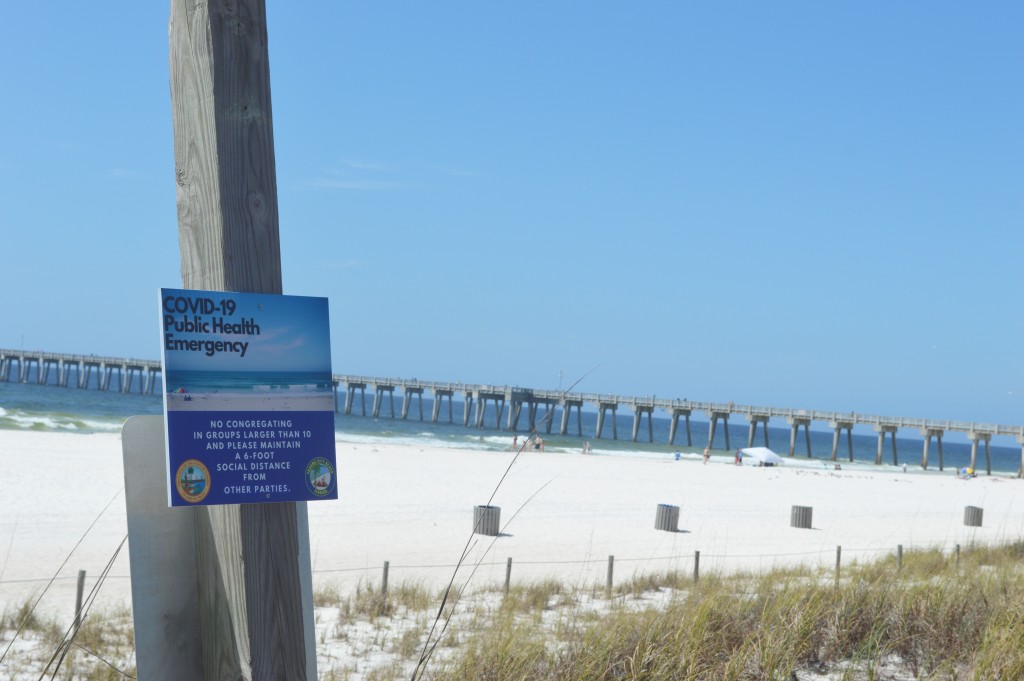 The Panama City Beach City Council, with expressed reluctance, voted unanimously Friday, during its second emergency meeting held this week, to close its sandy beach and beach access points and to revisit the issue next Thursday.
Okaloosa and Walton counties made similar moves a day earlier.
"We have an obligation to do what we can to slow down the spread of the virus," said Panama City Beach City Councilman Paul Casto. "We've got to do our part to flatten the curve."
Casto said he was "in denial" about the severity of the virus until recently, when conversations with "independent medical practitioners" influenced his outlook.
He likened the COVID-19 pandemic to a Category 5 hurricane and said the City of Panama City Beach is likely to be hit especially hard because it is without a property tax and relies on a 1 percent tax on retailers' gross receipts — paid largely by visitors.
Mayor Mike Thomas expressed regret that photos of spring breakers concentrated along a small stretch of Panama City Beach have been widely circulated by news outlets and on social media. In some of those photos, he said, police officers could be seen "sitting on four-wheelers" in the midst of the crowd.
Thomas said the pressure to close the beaches might not have been as great, given enforcement of Gov. Ron DeSantis's executive order, issued earlier this week, banning gatherings of more than 10 people.
He said law enforcement during Spring Break has been historically inadequate, and he noted that the Panama City Beach Police Department rejected for years offers of help from the Bay County Sheriff's Office.
City Councilman Hector Solis agreed with Thomas's assessment of enforcement efforts. He said he spent three hours on Thursday watching crowds of young people on the beach through binoculars and giving "play-by-play reports" to City Manager Tony O'Rourke.
Solis estimated that "80 percent" of crowd members were drinking alcoholic beverages from YETI or red Solo cups and that police did nothing to interfere with that activity.
Thomas predicted that in a week's time, "there won't be anybody left on this beach."
City Attorney Amy Myers said police would be encouraged to exercise discretion regarding the beach ban where beachfront property owners are concerned.
Unanimous votes cast Thursday in emergency meetings by Okaloosa and Walton county commissioners activated 30-day closures of public beaches.
The Walton County ordinance was made effective immediately. Okaloosa County will begin enforcement on Saturday.
In a prepared statement, Okaloosa County Commission Chairman Trey Goodwin said the closure is intended to "to protect citizens and visitors."
"We hope this pandemic ends soon, but want to be prepared for the worst," he said. "It is our hope that by doing this we can save the lives of friends and family. This will end, and our beaches will be open again, once we are certain it is safe."
The Okaloosa County ordinance specifies the following public properties and facilities are to be closed:
Public beaches
Public beach access ways
Parking areas solely for public beaches
County beachfront parks
The Okaloosa County Pier (except for those who are fishing)
Okaloosa County Beach and Crab Island vending permits were suspended.
The Walton County ordinance makes it "unlawful for members of the public to access the beaches within Walton County."
Walton County Sherriff Michael Adkinson said violations will be treated as a misdemeanor offense.
Vacation property owner Youssef Haddad said he has watched his rental inquiries go from 15 per day to none.
"I've got a family of four coming this Saturday, and I don't know what I'm supposed to tell them," he said. "The only reason people come here is to go to the beach."
"The entire country is suffering financially," said Walton County Commissioner Chairman Bill Chapman, "and businesses are suffering, too. The intent (of the ordinance) is to keep (COVID-19) from getting blown out like it did in China and other locations in the world."
The Walton and Okaloosa ordinances do not apply to private beachfront property owners.
"I attempted to apply the declaration to all of the beaches in Okaloosa County, not just the public ones," Okaloosa County Commissioner Nathan Boyles said in a press release. "Technically, the beaches behind a number of condos and hotels remain open, meaning that nine spring breakers from LSU can go enjoy a day at the beach in violation of recommendations to avoid discretionary travel, but you, our local tax-paying constituent, may not."
Walton County Attorney Sidney Noyles said the county lacks authority to prevent beachfront property owners from utilizing their private land.
"This will seem unfair to a lot of people, and I understand," said Noyles. "If there are beachfront property owners out there who plan on renting their houses and inviting more tourists, we can't necessarily stop that. But that's on them and their conscience."