Bay County's Tourism Summer Fling Turned Love Affair
Bay County's tourism industry has grown from a fleeting summer fling to a year-round love affair — with millions to show for itself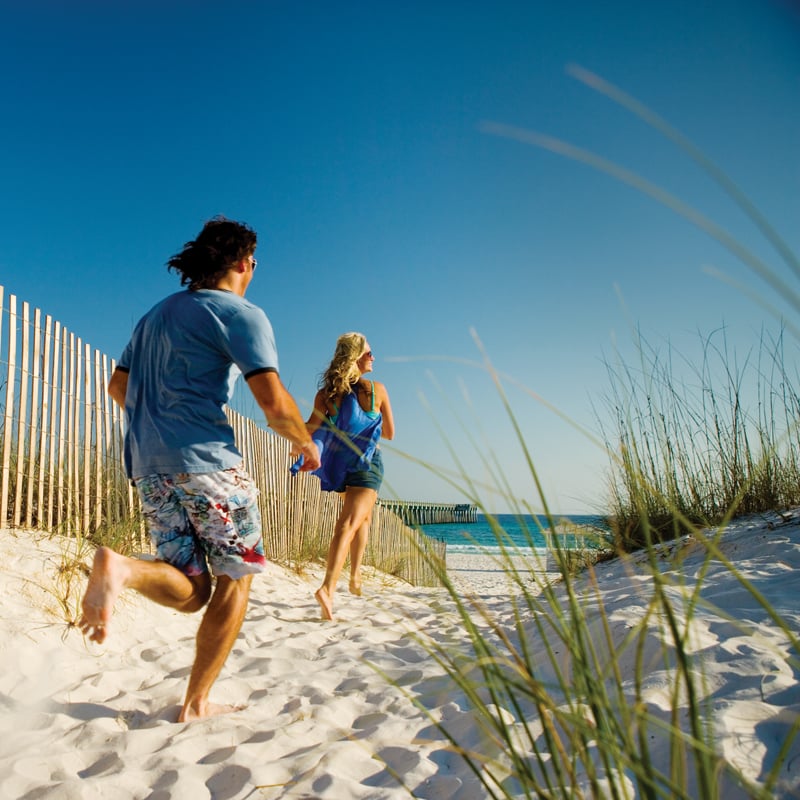 A respite during the sweltering summer months, Bay County's impressive 27-mile stretch of crystal clear coastline has been attracting seasonal visitors for decades. A longtime summer destination for those living in the Southeastern United States, the county's most alluring attraction has always been its breathtaking natural resources — namely, the world-renowned Panama City Beach.
While vacationers gush over the county's beautiful vistas and vibe on its classic, true American beach-town atmosphere, when it comes to the local economy, visitors' enduring (and profitable) presence can only mean one thing: in Bay County, tourism is king.
And the king's reign is expanding.
"We do recognize that it is our No. 1 industry in Bay County," stated Carol Roberts, the president and CEO of the Bay County Chamber of Commerce. "We certainly respect that."
To help show its support, the Chamber has successfully upgraded National Tourism Week — celebrated annually during the first week of May — to an entire month of fun-filled festivities. Of course, their admiration has been dutifully earned, with the total amount of visitor spending reaching well over $1 billion (at an average of $3,112,676 per day) in 2013 alone.
Overcoming a series of economic hardships, including the Great Recession and the infamous BP oil spill, wasn't easy — but Bay County tourism has managed to endure.
Sources say, they're stronger than ever before.
"We weathered the storm better than most," explained Dan Rowe, president and CEO at Panama City Beach Convention & Visitors Bureau. "During the Great Recession, we saw an increase in our Tourist Development Tax collection, which is a direct reflection of an increase in lodging revenues. We were one of two communities that I'm aware of in the state of Florida that saw positive growth during 2009, the other one being the Florida Keys."
The Tourist Development Tax, commonly referred to as "bed tax," funds the marketing activities of the Panama City Beach Convention & Visitors Bureau; and is also used for beach cleaning and grooming, product improvement and beach renourishment. In 2013, nearly $16 million was collected.
PCB Tourism
By the Numbers in 2013
Total visitor spending was $1,135126,851 — a 7.3 percent increase from 2012.

The average visitor's daily spending was $79 in the winter season, $86 in the spring, $94 in the summer and $71 in the fall.

2,306,800 rooms were sold — a 4.6 percent increase over 2012.

84 percent of visitors planned on returning within one calendar year. 59 percent had been to PCB.

Panama City Beach Tourist Development Tax collected $15,734,252 , compared to $14,526,264 in 2012.
As of July, numbers for 2014 are up. Way up.
According to Rowe, it was the loyalty of vacationers from far and wide that kept the county afloat during the darkest of days. On more than one occasion in the midst of 2010's Deepwater Horizon oil spill, Rowe says visitors took to social media to refute claims that oil was "lapping up" on Florida's Emerald Coast.
Their accolades encouraged fellow travelers to check out the beach for themselves.
"People doubled down on Panama City Beach," shared Rowe. "What we heard from our visitors was that 'this is our beach, too.' "
With the national economy finally gaining upward traction, so too has Bay County's chief moneymaker. In 2013, sleeping room sales climbed to 2,306,800 — an increase from 2012 of
4.6 percent. First time visitor sales were up, too: 4.7 percent in winter, 17.2 percent for spring, 9.8 percent during the summer and a whopping 24 percent during the fall season.
All this newfound attention has transformed Panama City Beach from the summer destination of yesteryear and a spring breaker's paradise, to a year-round hotspot. Many Canadian retirees have found over-wintering in the county an attractive option for their quick Florida-fix to the cold weather of the North.
For local business owners, their continued patronage has made all the difference.
"There were times, I recall, after Labor Day, people closed up shop on Panama City Beach," reminisced Roberts, who's been a part of the business scene in Bay County for 37 years. "You could go, and this is probably an exaggeration, for (what seemed like) hours and not have a car on Front Beach Road."
Those days appear to be long gone, though. Experts are optimistic as to where the county's tourism industry is headed — and what the bump in revenue could potentially mean for the local economy.
"We're very excited about the future," enthused Rowe. "There's a lot of opportunity here for the residents. Restaurants and shopping opportunities, the bay … our best days are definitely in front of us."