Bay County's International Airport And Seaport Stand Tall For New Business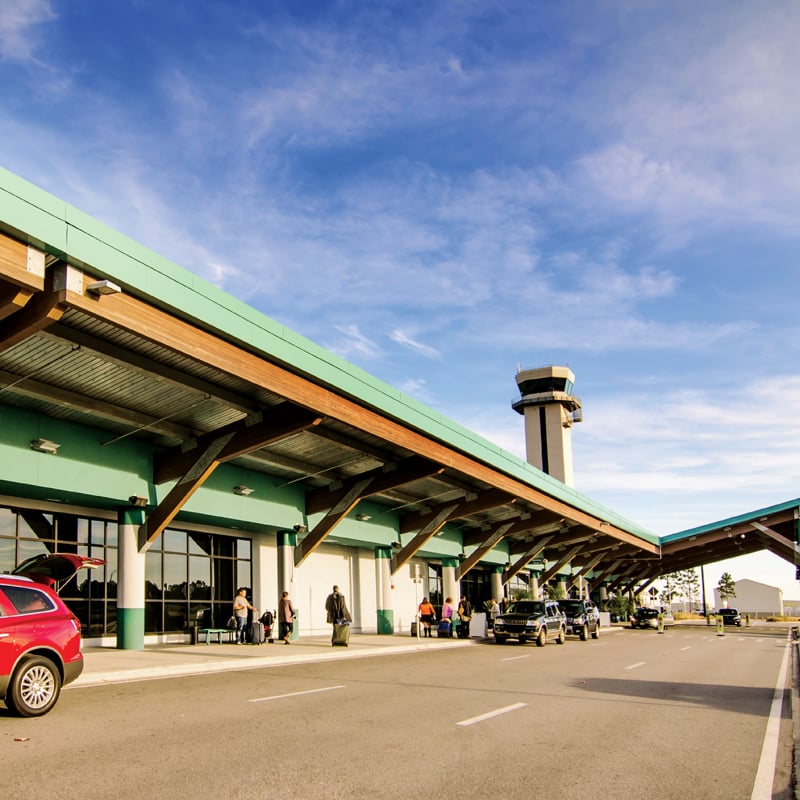 It has a long name, but officials are hoping the economic reach of Northwest Florida Beaches International Airport is even longer.
Since the airport opened in May 2010, nearly three times more passengers have shuttled through its concourse than did at the old airport, Panama City-Bay County International Airport, which was located near North Bay. This makes the "new" airport a blossoming economic power. It's also been designed to be the first LEED-certified terminal facility in the nation.
"I think we have become a regional asset as compared to a downtown Panama City asset, and we're continuing to enhance our product with the addition of new airlines, increased passenger and improved air carrier service as well as being a greenfield for development," said Parker W. McClellan Jr., airport executive director. "We have land available to those who want close proximity to the airport. I think the airport and the community are poised and set and ready for growth. The airport is excited about being a part of the region's economic development."
NWFL Beaches International
By the Numbers
10,000-foot

runway expandable to

12,000 feet
20,000-square-foot

state-of-the-art terminal

1,400 acres

industrial land

On-demand Customs and Immigration Services

Unencumbered air space

Free Trade Zone ready

Opened

May 23, 2010

Plans call for a

5,000-foot

crosswind runway

100-ton gantry crane
300-ton fixed crane
Six berths
4,200 feet of deep-water berthing
Six acres of onsite storage
Mean water depth of 36 feet
80,000-square-foot multi-bulk terminal
250,000 square feet of protected space for bulk and break-bulk commodities
Source: Bay County Economic Development Alliance
Beaches became the first international airport built from scratch in the United States in more than 10 years. Located in West Bay, near Panama City and Panama City Beach, the airport serves Delta and Southwest Airlines, which provide a host of daily domestic flights, some to U.S. cities that serve as international gateways. Delta offers daily nonstop flights to and from Atlanta with connecting service to international destinations and, due to strong passenger growth, Delta now considers Beaches a Mainline Station. Southwest continues to provide nonstop service to Nashville, Houston and Baltimore as well as seasonal nonstop flights to St. Louis, and connections to the expanding Southwest's international destinations. Recently, Southwest announced non-stop service to Dallas Love Field beginning in early 2015, after a federal law restricting direct flights out of Dallas Love Field, known as the Wright Amendment, expires. Southern Airways Express, operating from the airport's Fixed Base Operator, offers nonstop flights to cities throughout the South.
The airport works closely with the local municipalities, the Bay County Economic Development Alliance, the Bay County Tourist Development Council and the Panama City Beach Convention & Visitors Bureau to encourage the growth of both tourism and business, McClelland said. "That's one of the things that we as a community are looking at, is ways to improve education and to train so that we have a workforce that is prepared and ready to go to work," McClellan said.
The airport is a great way for tourists and business travelers to go to and fro, but that's only part of the economic engine in this part of Bay County. West Bay, a regional economic center and master planned community by The St. Joe Company, surrounds the airport with millions of square feet standing ready to accommodate industrial, commercial and retail uses as well as homes and 900 marina slips. Additionally, there are more than 1,000 acres of "through the fence" land that will give access to the airport runway.
Appropriately enough, the first tenant to set up shop here will be The St. Joe Company itself, which is moving its headquarters from Jacksonville to VentureCrossings Enterprise Centre at West Bay, a 1,000-acre development. The new four-story, 72,000-square foot multi-tenant office building has additional office space for lease right in the heart of an important aerospace and defense corridor. Tyndall Air Force Base and Eglin Air Force base are nearby, making this an excellent location for defense-related businesses to set up shop.
Port Panama City
International commerce is the watchword at Port Panama City, a small but bustling harbor that annually handles some 1.7 million tons of cargo that's valued at $3.34 billion. In fact, a recent report indicates that Port Panama City is in the top five Florida ports for cargo value.
The port's warehouses are full of imported aluminum ingots, copper plates and wire, steel and pipe. Meanwhile, tons of wood pellets milled by Green Circle Bio Energy's plant in Cottondale await export every week to European ports.
Scott Holstein
Copper Capital — 50 percent of the copper that comes into the U.S. arrives through Port Panama City.
The Panama City Port Authority is focused on two priorities: supporting industrial development in Bay County and developing modern seaport facilities to promote trade. A number of key investments were made to meet those purposes, and in 2003 the port was dredged four feet to a depth of 36 feet — which makes it more attractive to new customers, particularly in the copper trade. But it also opened the door for the wood pellet export business.
Over the last 10 years the port authority invested $75 million in facilities, and that's paid off in terms of helping attract and retain key customers. For example, a container operator moved to Port Panama City from Katrina-stricken New Orleans. In fact, since 2005, Port Panama City has developed the most active container trade business with Mexico of any U.S. port. It doesn't end there; the copper import business was something Port Panama City really focused on winning from places like New Orleans and Mobile. The container trade tonnage has also steadily increased over time. In 2001, the port handled 400,000 tons, and in 2013 it was looking at 1.7 million tons. Port officials say that over the next five years cargo tonnage will increase to an annual level of approximately 2.1 to 2.4 million tons, and the port has committed to another $35 million in improvements. The investments in the port were made possible as the state of Florida became more aggressive in offering significant financial aid through matching grants over the past decade.
Despite some economic slowdowns in years past, the port has the vision to ensure longevity. Port Authority officials say the facility has worked very hard over the past 10 or 12 years to diversify and grow its cargo base because cargo activity shrank in the 1990s — a combination of the shifting of cargo from break bulk ports on the Gulf Coast to East Coast container ports and a decline in export markets for forest products.
But for any port you see, ships are only one part of a larger equation. The other half of that formula involves trucks and railways, getting goods to market faster and more efficiently. With this purpose in mind came the development of the Port Panama City Intermodal Distribution Center about 15 miles north of town. A 150,000-square-foot warehouse was recently built for transferring dry and liquid bulk products between rail and trucks. Rail sidings have been added, and work continues to improve the 250-acre site with the hope that new manufacturing can be brought to the area. Actually, it's larger than that, because an additional 50-acre site is being prepared for use.
Courtesy of the Bay County Chamber of Commerece
Gov. Rick Scott last year announced that the $1.9 million distribution center project would get a $900,000 grant from the Florida Department of Transportation. At the time of the announcement, Florida DOT Secretary Ananth Prasad said, "The Intermodal Logistics Center Infrastructure Support Program is an important part of the department's commitment to support freight growth in Florida. By enhancing our trade and logistics infrastructure we will create job opportunities and strengthen Florida's economy."
Port of Panama City Executive Port Director Wayne Stubbs said, "The bulk transfer facility is a key component of the Port's Intermodal Distribution Center. The ability to transfer dry and liquid bulk products between rail and truck provides additional transportation efficiency for the Port and for the region."
Meanwhile, the port itself continues to support the industries that exist on site, which include long-time tenants like Berg Steel Pipe (a major employer in Bay County that makes large-diameter steel pipe) and newcomer Oceaneering International Inc., which arrived at the port in 2004. Oceaneering invested about $50 million in facilities when it first set up business and just committed to spend another $15 million on more capital projects. Oceaneering makes large-scale underwater cable systems called umbilicals.
Port Panama City might be one of Florida's smaller ports, but Florida DOT officials say it has certainly made a mark for itself and is improving itself all the time to broaden its ability to handle goods and services.
"When you look at the Panhandle area, in Panama City for example, you have a port that brings in 50 percent of the copper that comes in through the U.S.," said DOT district spokesman Ian Satter. "We're improving these ports so they become more attractive to people bringing in these goods."
Port Panama City Success Through Diversity
Port Panama City includes the core 138-acre port located on Dyers Point, just off U.S. Highway 98 at the southwestern boundary of Panama City, and the 250-acre Intermodal Distribution Center on U.S. Highway 231.
On-site rail is provided by the Bay Line Railroad, which connects to the port's Intermodal Distribution Center. This 250-acre pad-ready inland industrial park features a 150,000-square-foot distribution warehouse. The Gulf Intracoastal Waterway, a 1,050-mile inland navigable waterway from Carrabelle, Florida, to Brownsville, Texas, is located nearby and provides access to the Mississip

pi River and many southeastern ports.

Port Panama City is situated on the Gulf Intracoastal Waterway, which bisects St. Andrew Bay. The Port accesses the Gulf of Mexico via an 8.9-mile channel that runs from St. Andrew Pass (known as the West Pass) to the port.
10,863 jobs in Florida and the Panhandle area are in some way related to the cargo activity at Port Panama City.
Approximately $467.8 million in wages and salaries were generated by Port Panama City's cargo activity in 2012.
The 2012 cargo activity at Port Panama City generated $1.4 billion in economic value to the State of Florida and the U.S.
Local businesses and suppliers to the marine cargo industry at Port Panama City made $51.7 million worth of local purchases.
$43.0 million of state and local taxes were generated by activity at the cargo terminals, including $24.0 million generated by the related users throughout the state and U.S.
Source: Port Panama City; "The Local and Regional Economic Impacts of Port Panama City Final Report," April 5, 2013.