Bay County's Appeal Outweighs Potential for Storms
More about the prospects making landfall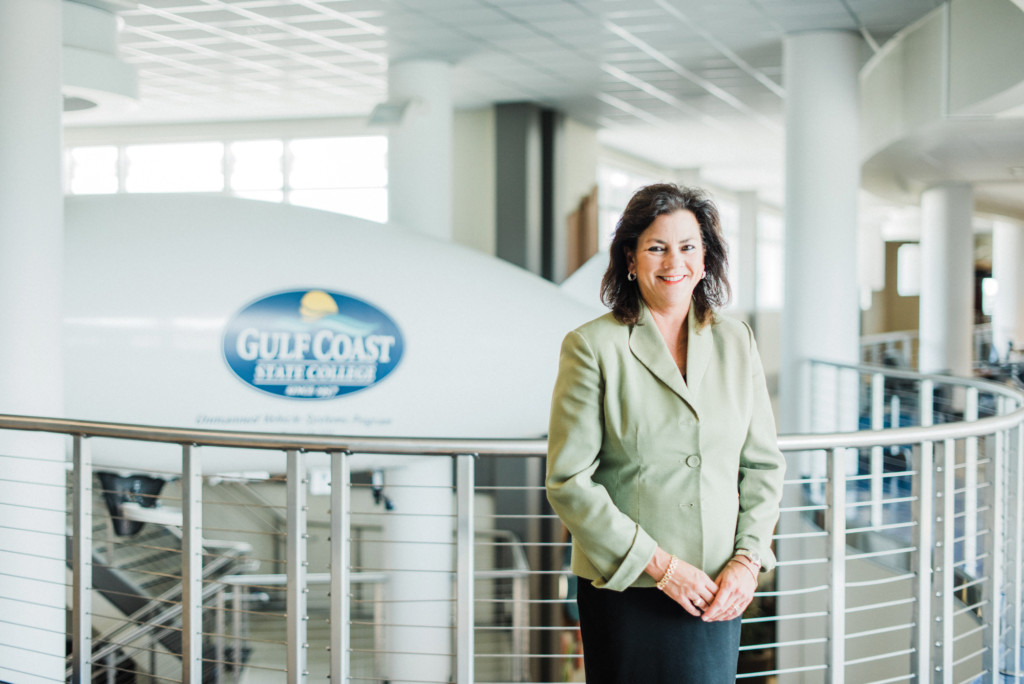 It seems counterintuitive, but the Bay County Economic Development Alliance and its president, Becca Hardin, have been busier since Hurricane Michael blew through the county than before the storm arrived.
Hardin found that the potential for hurricanes frequently surfaced as a topic of conversation with prospective new businesses pre-Michael, but fears were easily allayed.
"It's a point of discussion, but we were able to tell people that it had been almost 40 years since a hurricane had directly hit Panama City," she said.
That comfort was destroyed by Michael, leaving Hardin to assure prospects that "if there can be a good thing about a natural disaster, you would rather have a hurricane than a tornado or a forest fire or an earthquake, because at least you have some time to prepare. You have the chance to get things stabilized and secure and then evacuate in advance of the storm."
Hardin was pleased to report in late November that she had been visited by prospects every week since landfall.
Hardin was fresh from a meeting held in Panama City with an international prospect.
"It's a very big project, and we really hope that we can push it across the finish line," Hardin said. "The meeting was a chance for us to tell them what we need from them so that we can more particularly furnish them with information about what we have to offer the company."
Hardin said she is confident that the EDA will be making significant project announcements throughout 2019.
Meanwhile, companies that recently set up shop in Bay County are undeterred.
"They are all focused on rebuilding and they are committed to staying, even the company from Mexico," Hardin said.
That company, Air Temp, Inc., announced in May 2018 that it would be establishing a manufacturing facility in the old Boyd Brothers Printing location.
Air Temp produces automotive parts that include condensers, radiators, heat exchangers, evaporators and other components. It is a leading supplier to Volkswagen, Nissan, Ford, Peugeot and other original equipment manufacturers — and has been named as the Volkswagen supplier of the year five times.
Air Temp's plans included a capital investment of approximately $6 million and the creation of 50 jobs for skilled employees. Air Temp's worldwide headquarters is located in Panama City's sister city, Mérida, Yucatán, Mexico.
"We have found Bay County to be the ideal location to expand our company and establish our U.S. operations," Air Temp's Jorge Habib said, discussing those plans. "By working closely with Bay EDA, Port Panama City, CareerSource Gulf Coast, local governments and many other entities, we are confident that Bay County is the best location for our new manufacturing operation."
There are no meteorologists present when Hardin entertains prospects. But, she said, the Bay County delegation always includes John Holdnak, president of Gulf Coast State College; Dean Randy Hanna of Florida State University, Panama City; and Kim Bodine, the executive director of CareerSource Gulf Coast. Bodine heads up an organization whose mission is to assist institutions and agencies in tailoring their training and workforce services to meet the economic development and employment needs of Bay and nearby counties.
Hardin said many people have the mistaken idea that economic development work primarily involves providing companies with financial assistance and tax incentives as enticements.
"That's really not the case," Hardin said. "You have to have the total package. Incentives are nice, but incentives don't close deals. You have to be able to prove that you have a workforce capable of supporting a project, and your community has to be one that affords people a good quality of life."
Hardin said she was dealing with a company for whom quality of life was a prime consideration "because they are intensely employee focused and they would be recruiting people from outside the area to come to Panama City.
"Here, you can work during the week and go to the beach on the weekend. You can enjoy activities outside year-round, and that's one of the main reasons they were interested in us."
Hardin stressed, too, that economic developers have to demonstrate that their community has educational resources capable of filling a company's pipeline with future employees.
The Bay EDA has long had a close relationship with Gulf Coast State College; its offices were at one time located on the GCSC campus. FSU PC recently added engineering degree programs with employer needs in mind.
Educational resources, Hardin said, "were the main reason we got the GKN Aerospace project. We were able to answer the workforce question and, today, GKN is our greatest salesperson. They talk about EDA's relationship with CareerSource and the school district and our post-secondary schools and they have been very, very pleased with what those relationships are delivering."
GKN Aerospace is the world's leading multi-technology Tier 1 aerospace supplier and has 50 manufacturing locations in 14 countries. In Bay County, it built a manufacturing facility at the Venture Crossings Industrial Park near Bay County's Airport. It serves, according to its website, more than 90 percent of the world's aircraft and engine manufacturers.
"The silver lining to the storm," Hardin said, "is that we will be seeing a lot of new and refurbished stuff."
For example, the Panama City Mall, excluding the buildings owned there by anchor stores, will be demolished and redeveloped.
"They are going to go with an open-air concept like Destin Commons," Panama City Mayor Greg Brudnicki said. "And they are confident that they can attract new national tenants."
Meanwhile, the St. Joe Company, Hardin said, will be developing hotels at the airport and at Panama City's downtown marina and will be introducing spec buildings to industrial parks at the airport and in Panama City Beach and Cedar Grove.
"They are investing in us and building products," Hardin said. "It's great that we have them in our community. (St. Joe CEO) Jorge Gonzalez told me that the marina hotel,despite the storm, will be bigger and better than initially planned."