Banks Are Reborn As Doctors' Offices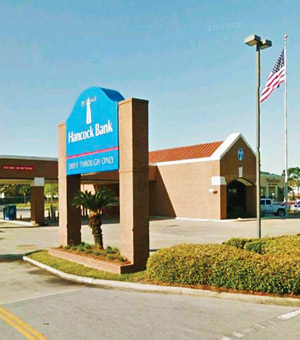 Quick Look
Address: 3123 E. 23rd St.,
Panama City Beach
List Price: $675,000
Sale price: $540,000
Square Footage: 2,376 (heated and cooled)
Contact: Patrick Jones, NAI Talcor, (850) 814-587
---
Address: 9001 Front Beach Rd., Panama City Beach
List Price: $705,000
Sale price: $625,000
Square Footage: 2,526 (heated and cooled)
Contact: Patrick Jones, NAI Talcor, (850) 814-5878
Former bank branches provide an interesting option for buyers, as the space can be used for a vast array of purposes. As an example, buyers recently snatched up two Hancock Bank branches, located in Panama City Beach, for the opportunity to utilize the existing segmented layouts. The first property, located at 3123 E. 23rd St., closed the first week of June and was purchased by a medical user for $540,000.
"Some types of bank branches can easily be converted into other types of offices, which makes these listings appealing," said Patrick Jones, principal with NAI Talcor's West Florida division. "For instance, the vault naturally lends itself to an x-ray room and the smaller offices are easily converted into exam rooms."
The 23rd Street branch was a natural fit for the buyer as it offered an opportunity for this doctor to consolidate his practices, says Jones. It was a great chance to get more visibility and to add some square footage to a space with a layout that worked well for his needs.
The second former Hancock Bank property is located at 9001 Front Beach Rd. in Panama City Beach and was also purchased by a medical professional looking to expand the space of his facility. This property closed in April for $625,000. It is unique in that it came with additional exterior acreage to allow for expansion as needed.