Baby Boomers Bring Entrepreneurial Spirit & Economic gold
Choose Tallahassee Courts Retiring Northerners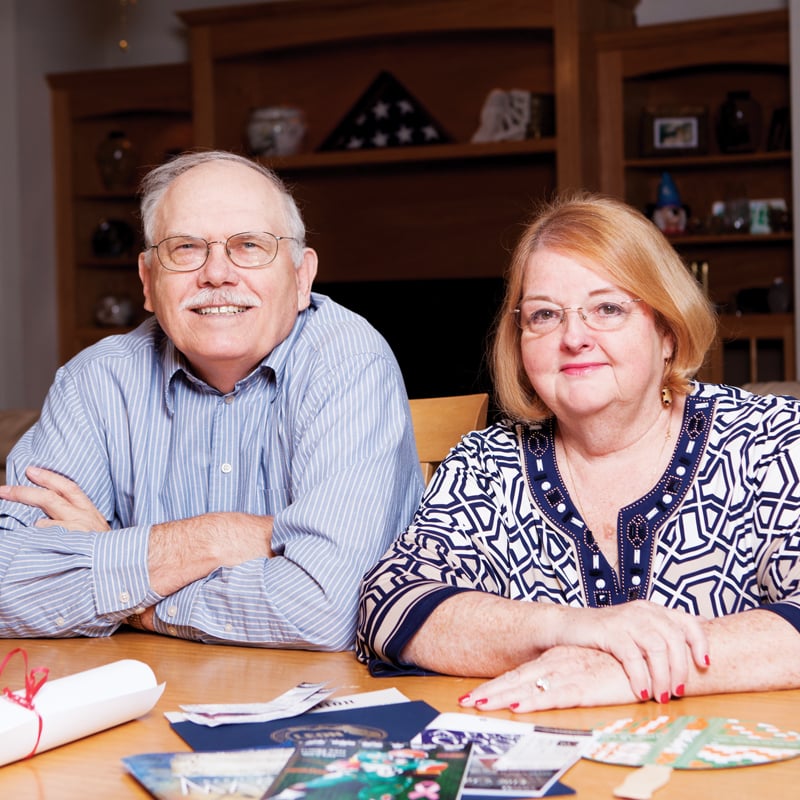 Cathy Campbell was at the pharmacy when her cell phone rang with the area code 850. Breathless with excitement, she ran to her car to answer. So she was staring at a 14-foot snowbank when she learned she'd be moving to Tallahassee.
"It was very exciting," she said later. "I really didn't want to be looking at that snowbank anymore."
It's official: The winners of Choose Tallahassee's "Home Free" contest, Bill and Cathy Campbell, formerly of New Boston, New Hampshire, have traded their snow shovel for sunshine.
The Campbells moved into their Betton Hills home in August, 11 months after Choose Tallahassee launched its first-in-the-nation contest.
The Campbells weren't new to the South. They'd lived for 18 years in Atlanta, where husband Bill worked for The Weather Channel. But they'd been living in New Hampshire long enough that they were ready to trade in that snow shovel. "I have nothing against New Hampshire — it's just cold," Cathy says. "Sometimes we live our lives, and we're just breathing. I want to be 'breathless' with activities."
Did she ever get her wish. Not only did the family move to Tallahassee in August, they also hosted their younger daughter's wedding here on her first weekend. Was it exhausting? "I don't think I got out of bed for two days after everyone left," Cathy says with a laugh.
Her daughter chose Maclay Gardens on the strength of a glowing recommendation from Cathy and Bill, plus the fact that family members were in Tallahassee anyway to help with the move. In classic Tallahassee style, their daughter was married beneath a giant moss-draped live oak.
Fran Buhler, associate pastor at First Baptist Church, volunteered to conduct the wedding and Choose Tallahassee volunteers helped with other aspects of the happy occasion.
Helping newcomers get settled here is a role that Choose Tallahassee's Red Carpet Task Force specializes in. Among Boomer relocation initiatives nationally, only Choose Tallahassee offers volunteer hosts to connect newcomers to community resources, information and those insider tips that smooth anyone's move to a new town. "If you need someone to call to ask a question, that's very important — especially if you haven't moved in years," Cathy says.
The last few months have been a whirlwind of activity, as the Campbells have settled in. As winners, the Campbells received $2,000 a month toward their housing expenses, plus dozens of other prizes: a one-year family membership to a local golf club, tickets to both Florida State and FAMU college football and basketball games, meals at Tallahassee restaurants, season tickets to the Tallahassee Symphony Orchestra and membership to the Osher Lifelong Learning Institute.
"It gets us up and moving, which is great. I love to be active, and so does Bill. There are so many things in Tallahassee, it's just amazing," Cathy says. Even the August heat felt welcoming. "When you have a 14-foot pile of snow in front of you, you kind of appreciate the hot weather."
Recruiting relocating Boomers is catching on in states and communities across the nation, and for obvious reasons: Gray is the new gold. A new AARP study shows that the 50-plus population sustains $429 billion in direct, indirect and induced impact on the Florida economy.
Relocating Boomers also can bring entrepreneurial spirit. The same AARP study shows that about 15 percent of Floridians ages 50-64 are small-business entrepreneurs, compared to 11 percent of the 25-49 age group.
While Florida has no organized statewide effort to recruit relocating Boomers, other states are cashing in, including Tennessee and North Carolina. On the other end of the issue, New York business and state leaders are so worried about their older residents moving south that they've started a concerted effort to keep them in the Empire State.
The Campbells may be the only Boomers in America to have won so big. Organizers say they know of no other Boomer-relocation contest anywhere in the nation on a similar scale.
"The idea is simple: Tallahassee is a very welcoming and hospitable place. The contest is a way to sum all of that up in a few words — a free year of retirement," said Ken Boutwell, co-chair of the Choose Tallahassee initiative.
If the idea was simple, implementation took work. Led by Rick Minor, former chief of staff for Tallahassee Mayor John Marks, volunteers put in hundreds of hours to create and conduct the "Home Free" contest. They wrote and obtained legal review of contest rules, organized judging panels, set up social-media campaigns to publicize the contest, sought out media coverage, took in more than 200 entries and managed a three-stage selection process.
And for the contest winners, "it's a dream come true," says Cathy.
For more information, go to choosetallahassee.com.