Author Gloria Skinner turns romance into big literary bucks
New York Times best-selling author shares how she did it, what she learned and how new authors can get published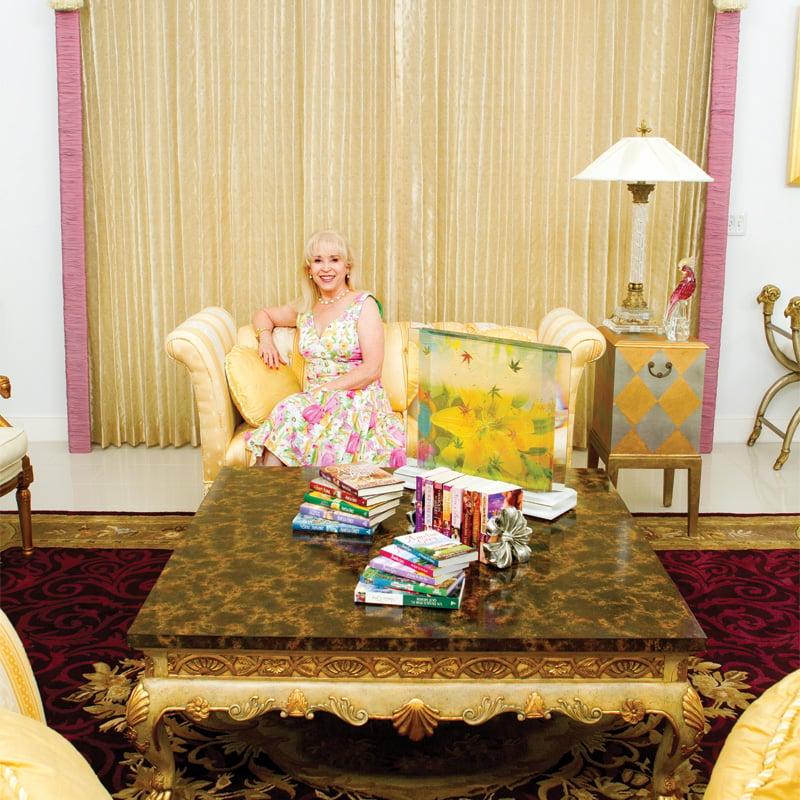 Her colorful characters have names like Lady Rosabelle, daughter of the Duke of Windergreen; Viscount Judson Allan Brentwood; and Harrison, Duke of Thornwick. She writes of British nobles — barons, earls and dukes, and uses a captivating mix of passion, suspense and a touch of mystery.
True to the romance genre, she follows the fairytale formula of boy meets girl. They fall in love, they break up and then get back together. In each of her books, the tried and true element of conflict occurs. Ultimately, the couple must overcome obstacles to reach a happily ever after.
The most popular genre of fiction in American publishing, romance novels account for over half of all paperback fiction books sold in the U.S. and generate more than $1.5 billion dollars annually. Best selling author Gloria Skinner says romance fiction never goes out of style, and the insatiable appetite for this type of fiction means that even in a dire economy, romance sells.
"It's easy to throw it in the shopping cart in the drug store or grocery store," Skinner says. "Many are only $4.95, so it's easy to include it in your weekly budget, unlike a $25 hard cover. And now some e-books are even cheaper."
Skinner, known by her nom de plume Amelia Grey, has published 24 romance novels under both signatures, and made quite a name for herself in the genre, earning the 2012 Best Regency Romance Award from the Golden Quill Contest and the 2012 Booksellers Best Award. Both are internationally recognized published authors' contests held by Romance Writers of America. When people learn of her successful career in romance fiction, their own story pitches come flying at her. "At almost every cocktail party I attend, someone will say to me, 'I've always wanted to write a book.' "
Those people don't usually have the time or discipline to sit at a desk for six to eight hours to write that book, she guesses. "But so many more people are writing now," she says. "Because they can easily publish and upload their book themselves on e-readers."
As the morning sunlight lazily drifts through the large window in her cheery office, with its soft white walls and shelves, plush chairs and light wood furniture, there's a romantic air about the room, reflecting the light and delicate physical traits of the author who spends her days writing about love during the English Regency period, a short time period spanning from 1811 to 1821. The switch in subgenres from American History to Regency catapulted her career into high gear, and prompted her editor to suggest a more British sounding pen name — Amelia Grey.
"The artwork on the covers is completely up to the publisher; the authors have very little say on the cover," she says. "Years ago when I started, they had models and would actually paint the covers, but now they only take pictures of the models and build the scenery around it with graphic design."
Switching subgenres entailed a lot of additional work, including extensive research on clothing styles, names, customs and common language of the Regency period. "My last 11 books have been in only that time period, so I've done a lot of research from that period." For "A Gentleman Never Tells," Grey (a name Skinner now prefers to use) chose two dogs to play prominent roles in the book. "So I had to research the types of dog breeds that were popular from that time period," she says. "For 'A Gentleman Says I Do,' I wanted to write about the daughter of a poet, so I referenced poets of that period."
But she admits to using creative grammatical license for the sake of the modern reader. "You can't make the writing stilted," Grey explains. "People don't like to read the way they spoke back then, very proper and with few contractions." Her readers are savvy and quick to point out any factual errors. "I get letters from fans when I make mistakes and they catch them," she laughs. "Sometimes they don't catch them."
Like most successful writers, Grey's first manuscript was rejected again and again. "When I finished my first book, I didn't know that I didn't know how to write, so I sent it to publishers and was promptly rejected. I got a lot of rejection letters," she says. Meantime, she attended every workshop and conference within driving distance, and five years after finishing her first attempt at writing, she landed her break. She won first place in a writing contest and was spotted by an agent while accepting the award. "And that launched my career."
A firm believer in entering contests to get published, Grey recommends that unpublished authors take advantage of them for exposure. "Writing organizations have many national conferences, workshops and contests where the agents and editors are the judges," she explains. "If you're unpublished, they're probably going to want to see the full book first. But once you're published, you can send a query to agents and editors." To her editor, Grey now only writes a brief explanation in a couple of paragraphs on what each book is about.
Alas, Grey doesn't choose the lustful heart-stopping male models or come-hither ladies who are forever locked in an impassioned, hungry embrace on her book covers.
"The artwork on the covers is completely up to the publisher; the authors have very little say on the cover," she says. "Years ago when I started, they had models and would actually paint the covers, but now they only take pictures of the models and build the scenery around it with graphic design."
Grey's 25th book, "The Rogue Steals a Bride," is the final book in the Rogues' Dynasty series, telling of the darkly handsome and intriguing Matson Brentwood, who meets Sophia Hart, the lovely, red-haired beauty who has captured his heart. Look for it in July 2013.
---
Tips from a best-selling author
What are the hot genres today? Paranormal is hot now — vampires, werewolves and shape shifters. I don't care for it, reading it or writing it.
How should an author decide what to write? Write what you love to read. Sometimes in fiction books, people are unhappy. I want a happy ending, so I write romance.
Biggest mistakes? I fired an agent that I shouldn't have fired. There are always things you could have done, more promotion, for example, so you learn as you go.
Do you ever meet someone and decide to use their name in one of your books? Always, (but) never the first and last name together. I love names like Mirabella and Caramarina. In "A Gentleman says I Do," the protagonist is named Catalina because her father was a poet, so he would have given her a poetic name.
Dos and Don'ts from a Best-Selling Author
Do
Think about your story for a long time
Establish a character on the first page
Plunge your reader into conflict right away
Give the hero or heroine the promise of romance early in the book
Remember your characters' personalities; no two people talk alike
Don't
Start the story with a flashback, start the story where the story starts
Write in a lot of happiness; readers get bored with too much happiness
Make emotional scenes long or chatty
Throw logic out the window for the sake of drama
Forget to read — all kinds of books