ATC Builds Workforce for Tomorrow
Training and education that goes beyond the classroom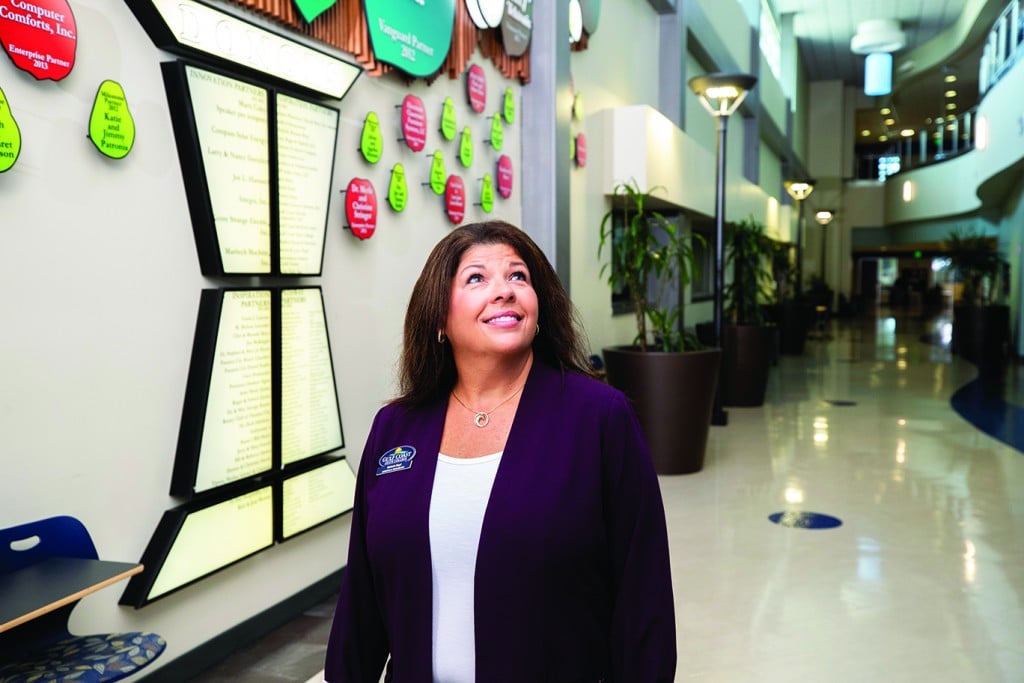 Prof. Melanie Boyd, the chair of the Business and Technology Department at Gulf Coast State College, smiles while touring a lab at the school's Advanced Technology Center and inspecting mechatronics, equipment that is developed through the use of multiple disciplines including mechanical, electrical, computer and robotics engineering.
College students in Northwest Florida have a unique opportunity to become part of a scholastic setting that offers more than just traditional degrees. Gulf Coast State College provides an accredited program, certainly, but its services go far beyond that which can be found at many major universities.
Student housing at Seminole Landing is shared by FSU-PC and GCSC students. The fully furnished waterfront apartments have a resort feel, each equipped with a kitchen, washer and dryer, living room and one to four bedrooms. The communal space has an infinity pool that overlooks North Bay. There is also 24-hour access to the on-site fitness facility, and residents can book time in a private study room. And if students need a break, they are just a walk or a quick ride away from a plethora of coffee shops and other restaurants, or they can find a quiet spot on the beach to read, study or watch the Gulf of Mexico.
Beyond such extraordinary amenities, one of the greatest resources available to GCSC students is the Advanced Technology Center. At a cost of $35 million, the 80,000-square-foot ATC opened in October 20ı3. The facilities have many resources typical of any student center such as computer labs and study rooms. But setting it apart is the ATC's goal to remain market-centric.
"One of the strengths that we have," said Prof. Melanie Boyd, Ed.D., the chair of the business and technology department, "is that we do a great job working with the Economic Development Alliance, the chambers of commerce and local government in providing a regional effort for business development."
Boyd is responsible for coordinating all of the programs at the ATC — ıı associate science degrees and ı4 college credit certificates, as well as associate of arts degrees that align with the ATC.
These programs differ from the traditional university model in the United States in that they focus on developing skills beyond the classroom. To ensure courses are incorporating new technologies and remaining consistent with accredited standards, the ATC has a faculty senate, curriculum review committee and an academic council to approve new courses and course changes, and is constantly working to be certain it is responsive to the needs of Northwest Florida.
"We are training students for jobs today that don't even exist yet," Boyd said.
Her goal is to work with manufacturers and local entrepreneurs to determine what industry needs will be ı0 years from now so that she and the ATC can make "sure that we have the programs in place, the tools in place, we need to educate the workforce that they will need."
Also, students are encouraged to take part in Entrepreneur Institutes, where they can connect directly with local businesses to develop entrepreneurial skills. This hands-on learning approach differs greatly from most mainstream universities and sets GCSC apart from other colleges; however, with the rise of the pandemic, this level of student engagement became a challenge.
Like all businesses, the ATC adhered to CDC mandates and state guidelines. Many courses remained online, but to give students the full GCSC experience, the ATC offered hybrid courses, where students were able to engage in person for labs and other hands-on learning experiences.
In Boyd's words, "We are keeping on carrying on."
Boyd is proud of student success stories, the most notable being Chaos Audio. Landon McCoy, founder and CEO of the company, got his start as an engineering technology student at the ATC. Their product, the Stratus, is a programmable pedal for electric guitarists.
Looking forward, GCSC is ready to move back with a future-forward model to fully engage with students.
"You don't want things to get stale," Boyd said. "The world is changing, so they have to change to keep up."
The ATC relies heavily on partnerships as it pushes students to the next level of success. Beyond local business, they also work with the Navy. Currently, they are developing a cyber competition as part of their cybersecurity department to offer a regional "Hack-a-thon that will give ethical hackers a chance to practice their cyber-penetration skills."
Recently, the ATC has secured grant funds for a project in the unmanned vehicle program called TEMPEST — short for Training, Education, Management and Planning for Emergencies using Scenario-based Training and Technology Solutions. They are working with FEMA to train law-enforcement personnel to effectively use unmanned technology before and after an emergency.
"Whether it's a natural disaster or any kind of an emergency," Boyd said, "first responders have to be able to communicate and deploy unmanned vehicles to aid in rescue and relief operations to meet the needs of the situation."
Also, the grant is helping to develop a training rescue program to use and deploy rescue devices called EMILY (Emergency Integrated Lifesaving Lanyard). The canoe-sized vehicle can be guided out to save a life without risking the safety of a lifeguard. The grant would help to train officers with the Bay County Sheriff's Office and other first responders.
More than a degree, these programs show that the ATC at GCSC provides training and education that goes beyond the classroom, preparing students and the community for the ever-changing environment of real-world problems.