At Leadership Florida, Spencer harnesses expertise and 'goodness'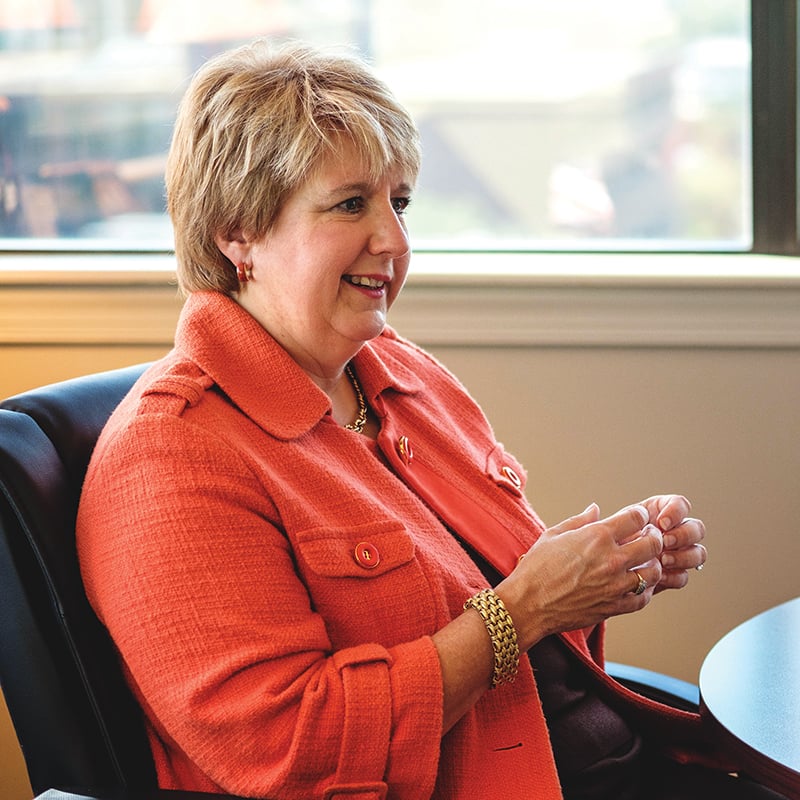 Sunlight is flooding into the corner suite of Leadership Florida's seventh-floor office. The sparkling skyline of Tallahassee has never looked so bright. That seems to be the way the organization's president and CEO, Wendy Spencer, sees Florida itself. At Leadership Florida, the recharging and educational platform for leaders all around the state, Spencer has taken the executive reigns with an indefatigable enthusiasm. She only recently shifted from the national stage in Washington, D.C., where President Barack Obama engaged her as CEO of the Corporation for National and Community Service. Now, Spencer has settled back into the local community she loves — one where, with her sunny optimism and depth of service knowledge, she looks forward to inspiring others.
— Marina Brown
Q&A with WENDY SPENCER
850: Your career has spanned a series of high-profile, high-responsibility positions: a decade with the United Way; director of the Florida Park Service, where you oversaw 158 state parks; three times appointed CEO of the Governor's Commission on Volunteerism (Volunteer Florida); and recently, CEO of the Corporation for National and Community Service (CNCS), where you managed an appropriated $1.1 billion, plus an additional $1.26 billion in matching funds that funded AmeriCorps, VISTA, Senior Corps and the Social Innovation Fund. How did those jobs and experiences impact the way you think of service?
Spencer: In my five years with CNCS, I saw the very best of America. I had the chance to travel to all 50 states — to rural towns, inner cities, retirement homes, child-care centers — and to meet with mayors, civic leaders and the individuals who live across America. And what I believe is that Americans like to be neighborly. When they see problems, they like to solve them… often at the neighborhood level. When there are disasters, people draw together to help one another. Americorps is a wonderful example: I've met young vets suffering from Post-Traumatic Stress Disorder (PTSD), children struggling to read, volunteers mucking out moldy homes, ethnic heritage revitalized — all help provided by volunteers. I think we just have to tell the story well, and people will rise up to serve.
850: What about growing up in Florida and Georgia influenced your choice of career paths and how?
Spencer: I was brought up the "old-fashioned" way, the way you looked out for your neighbor and for your neighbor's children. It was a way of life that was about "relationships," where you found common ground with someone else, a way of dealing with one another that was "friendly." I think business relationships should be conducted the same way. Find the commonality in a problem, and then the bipartisan aspect will come into play.
850: What have been keys to growing your career?
Spencer: At each level of my working life, I learned a great deal. My knowledge in one position became the building blocks for the next step. You acquire skills in one place that can be transferred and built upon. But one thing I always did was to focus on good personnel first. Surrounding yourself with skilled associates helps you do your best job.
850: To what extent do you see "donor fatigue" or "volunteer fatigue"? Are Americans less willing now to step up to help?
Spencer: I don't see that. In fact, Americans are giving more now than ever before. I credit social media with making people aware of the needs. And the economy is better than it has been in years. Also, charities are more creative, making it possible to give even at a $10 level, which builds up. I think leaders should help corporations develop giving as a business model. Young employees often evaluate employers on their social consciousness and sense of community.
850: How do you advise service employees on advancing their careers while maintaining private space?
Spencer: First of all, I never went after any job … it always came to me. My advice is to focus totally on doing a good job in the one you're in. People will notice. Have goals, but don't look too far ahead. As to finding a good work/life equilibrium, I tell my employees to "work hard and play hard." Sometimes I'll tell someone to "go home, unplug, cut it off" and I'll see them come back with more energy after a break. That's what we do, when my husband and I go alone or with one of our four sons and their families to our vacation places. When you're recharged, you're in a position to truly help others. America is filled with goodness — I've been exposed to the best of it — and we need to harness our own energy to help it find direction.