Associates Build Case for Tax-Funded Children's Services Council
In an effort to break down silos in Leon County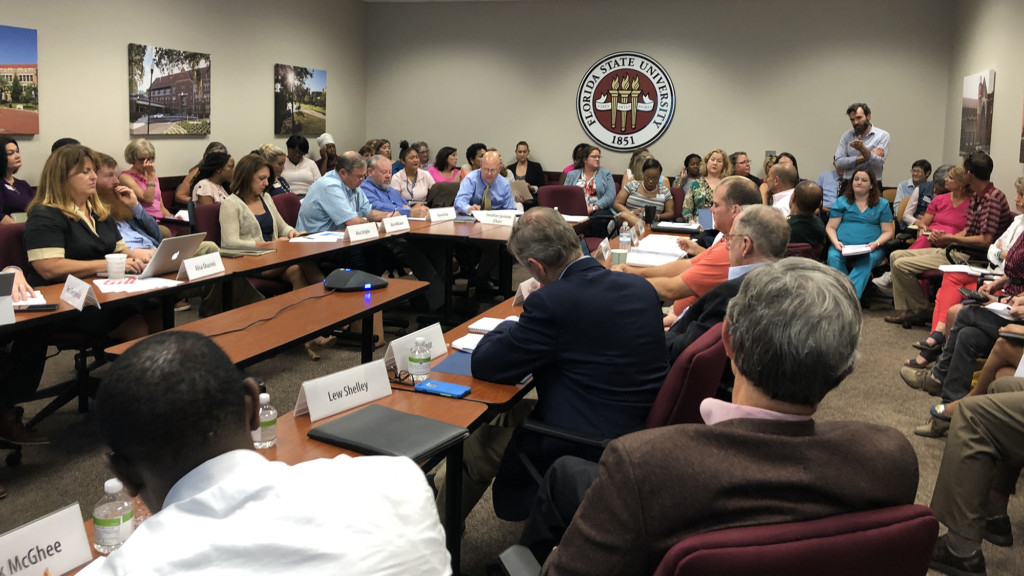 Child advocates know the alarming statistics about Leon County children all too well.  
Consider:
Forty-two percent of Leon County children under 5 live below the poverty line.
One out of every 10 persons arrested is a juvenile, above the state average.
Teen moms are two times more likely to live in poverty before giving birth
to their first child.
Then there are discrepancies in reading skills, health care, quality childcare and mental health services.
"Tallahassee needs to recognize that to succeed as a community, we need to succeed as a whole," said Mark O'Bryant, president and CEO of Tallahassee Memorial HealthCare. "Right now, a lot of the community lives in silos. Siloed communities become more insular. We want to break down those silos."
O'Bryant has a chance to help eliminate those silos as one of the 23 members of the Community Services Council Planning Committee, which has been tasked with looking into the needs of children, mostly their unmet needs, in Leon County.
The committee has been touted for its high-caliber members, who also include Jonathan Sjostrom, chief judge of the Second Judicial Circuit; Sheriff Walt McNeil; Schools Superintendent Rocky Hanna; School Board member Alva Striplin; Tallahassee Mayor John Dailey; Dr. Alma Littles, Florida State University's senior associate dean for Medical Education and Academic Affairs; business leader Kim Williams; former Public Defender Nancy Daniels; State Attorney Jack Campbell; plus members with an expertise in mental health, early education and nonprofit services.
The planning committee is laying the groundwork ahead of a referendum to formally establish a local Children's Services Council, which is an independent special district established by Florida Statutes, Chapter 125.901. Councils fund services for children from birth to age 19.
Leon County commissioners voted unanimously in June 2018 to place creation of a Children's Services Council on the ballot in November 2020. If approved by voters, the council will have the authority to levy a property tax up to 50 cents for every $1,000 of value to fund services. It should cost the average taxpayer less than $50 per year and raise about $8 million per year in revenue.
Twelve of Florida's 67 counties have  established councils, but "they are serving half the children in Florida because they're in such large, urban areas," said Matthew Guse, CEO of the Florida Children's Council.  "These 12 councils are investing about $500 million statewide in children's programs."
Dailey said, "The CSC has proven to be very successful in other communities. I think a council in Leon County would be a huge benefit for our community."
Dailey was on the county commission when there was a move to put the measure on the ballot in 2019.
The commission decided to delay the vote after some opposition, including concerns raised by the Tallahassee Chamber of Commerce.
The chamber's statement at that time: "A Children's Services Council may be a potential solution to long-standing problems, but before a new independent government body should be established, our community deserves a deliberate evaluation of the issues, opportunities and objectives."
The commission then decided on a planning committee to evaluate the issues, make recommendations and compile a report.
Sue Dick, president of the Greater Tallahassee Chamber of Commerce, said the council measure "came up quickly" when it was proposed in 2018. "We weren't pro or against."
"The good news is there is now a committee that's been put together, which is all we were really asking," said Dick.
In fact, a presentation on the Children's Services Council was scheduled for a breakout session at the annual chamber conference in August.
"I expect the chamber will support the recommendations that come out of this group of individuals selected to come up with a plan," Dick said before the conference.
Florida TaxWatch President Dominic Calabro said the council "could be really wonderful. It could be a great tool or a lost opportunity. We want to be sure we're not creating another layer of government bureaucracy.  We want to be in the business of helping kids, not helping institutions that serve children."
Calabro said a well-run council could save taxpayers money in the long run if it ensures providers fulfill their contracts and are held accountable.
"The council could be the tip of the spear to lead and better manage the variety of children's services currently provided in Leon County," said Calabro.
Still, the measure will have to overcome challenges to gain voter support for a new tax.
At a June meeting of the planning council, which includes comments from the public, one critic of the tax said the council could bring "more duplication" and "double dipping." She also said there were agencies without waiting lists.
"It's good to address these issues now,"  Daniels said after the meeting. "I have worked a lot on serving teens in the community, and I can tell you there are vast needs for recreation, mental health services, substance abuse services and job programs."
Sjostrom, chairman of the committee and a nonvoting member, said, "At the end of the day, the community will make a decision whether this is what they want to do or not. What is really important to me is that everybody has had a chance for input and that nobody says you didn't listen to us."
When listening to Sjostrom and other committee members, there's a common thread.
"I would challenge any human being to sit with me in court and see the families I work with and not conclude that there are unmet needs for the children in this community," said Sjostrom. "I see unmet needs every day of my life. I see lots and lots of kids in really difficult circumstances."
Campbell sees the eventual consequences of those circumstances.
"I'm actually at my desk reviewing a warrant for two teens that killed another young man," he said in a phone conversation, referring to the fatal Sharer Road shooting in June. "We're seeing greater levels of violence in younger people. We have some young people who don't expect to see 30, they don't expect to survive and they totally expect to go to prison. We have to start making interventions earlier in that cycle.
"The council takes a bigger problem and a more comprehensive approach than the current system," said Campbell. "If you really want to stop crime, you have to stop these young people from turning into criminals."
Courtney Atkins isn't on the committee, but she sees the gaps in services as executive director of the nonprofit group, Whole Child Leon. She is among advocates who have pushed for the creation of the Children's Services Council even though it may mean her own organization could sunset.
"The CSC would be like Whole Child on steroids," said Atkins. "Do we need to be around if there's a Children's Council? On a very small budget, we've tried to bridge gaps and bring people together and we've started initiatives. We'd love it if the council would take on these initiatives.
"We have a lot of great agencies doing great work that are funded for a year or two at a time," Atkins said. "We're all stretched and understaffed and overworked. It doesn't feel like there's an umbrella organization. Instead of scrambling every year or two, let's get some long-term vision and real accountability."
In her work as director of the FSU Center for Prevention and Early Intervention Policy, Mimi Graham, who's on the planning committee, focuses on babies and toddlers during the first 1,000 days of life. "Ninety percent of a child's brain develops by age 5," she said, so it's a crucial time to reach kids and families.
"There are kids who are hungry, there are mental health needs, we're seeing more kids who are Baker Acted and we need more quality child care for infants and toddlers," said Graham. "We don't have enough infant care, and what we have is expensive."
Focusing on babies and young children has become one of the planning committee's goals as it prepares its final report.
"I think we all recognize that the health of a baby often starts at conception," said O'Bryant, also chairman of the Tallahassee chamber's board of directors.
Over the summer, the committee narrowed its priorities to six primary issues:
Investing in early childhood education programs to ensure that children enter kindergarten ready to succeed.
Investing in summer and afterschool programs designed to help at-risk youth.
Providing health education and support for parents and children to reduce infant and maternal mortality, increase infant health, improve oral health and improve early identification of health problems.
Providing mental health support for parents and children.
Investing in youth development programs to provide occupational opportunities that can build job skills and support families facing poverty.
Reducing the consequences of food insecurity by ensuring that children in Leon County have adequate year-round access to healthy food.
Committee consultant Aliza Ghazvini said that priorities may change before the committee turns in its report, due in January. The report is considered a "template" for a future CSC, but the final decision will be up to the board once it's established, she said.
Many of the current committee members will likely be on that 10-member board since it must include the superintendent of schools; a local school board member; the district of the Department of Children and Families administrator (or designee); one member of the county governing body; and the judge assigned to juvenile cases. The governor will pick the other five members of the board.
The County Commission would decide whether the council has to be reauthorized. Guse said the councils don't provide services themselves but contract with agencies, utilizing evidence-based practices with measurable results.
The roots of the children's council date back to Pinellas County, which established the still-current Independent Juvenile Welfare Board in 1946. In the 1980s, Palm Beach County became the second area to develop a taxing district focused on children. The latest CSC was passed in Alachua County in 2018.
Ten of Florida's 12 councils are considered independent taxing districts, and two in Jacksonville and Manatee County are dependent, said Guse. Jacksonville's council is funded through the county budget. Manatee County's council is a blend of both systems.
"The councils are truly doing amazing things in their communities," said planning committee Vice-Chair Monesia Brown, Walmart's director of public affairs and government relations. "I've worked with them in the past, and I've seen the great things they can do."
St. Lucie County's CSC, for instance, funds a program sending a registered nurse to the home of every baby within a week of returning home, said Sean Boyle, the council's executive director. "They check on the health of the baby and the mother and answer questions. It's literally saved mothers' and babies' lives."
The Children's Trust of Miami-Dade County played a part in reducing the number of teens arrested from 20,000 to 2,000 over 10 years, said president and CEO James Haj.
Both the St. Lucie and Miami-Dade councils were reauthorized in their counties by a vote of more than 85 percent.
"The council has also been a plus for the business community when recruiting employees," said Boyle.
"There's a sense of pride of people living here, and people relocating, that we are a child-friendly community. We've made children a priority."