Ascension Florida's CEO Approaches His Job With Sensibilities
As a speech pathologist, Tom VanOsdol learned the care and compassion he brings to his new role.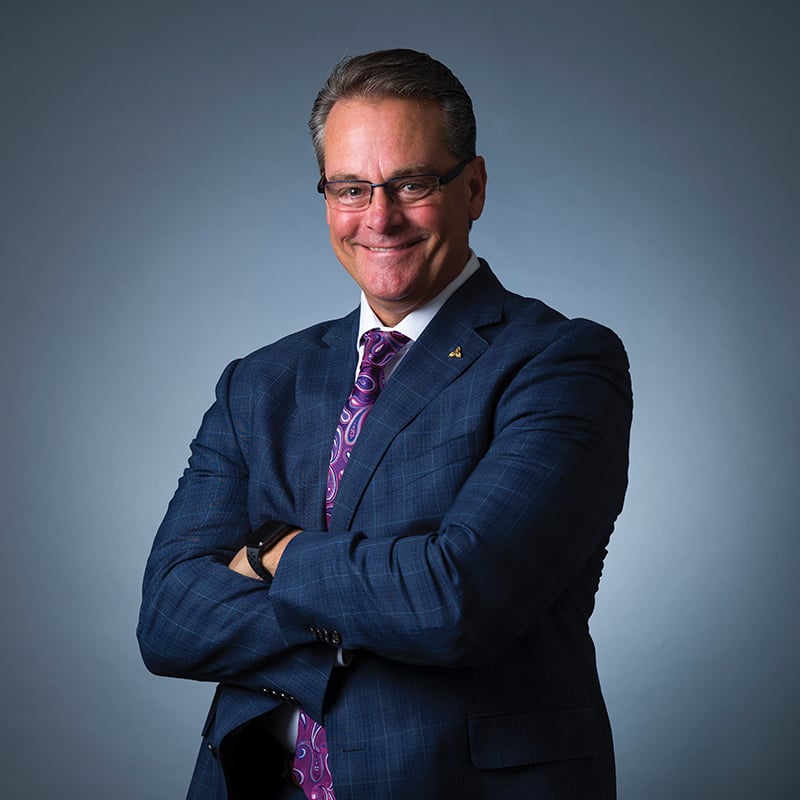 Tom VanOsdol in June was named chief executive officer of Pensacola-based Sacred Heart Health System.
In addition, he serves as CEO of St. Vincent's HealthCare in Jacksonville, where he resides.
The two organizations are part of Ascension, the nation's largest nonprofit health system.
At this writing, Ascension is working to integrate Sacred Heart and St. Vincent's beneath an Ascension Florida umbrella.
VanOsdol and his wife, Kathy, a seminary student, are parents of a son and a daughter.
VanOsdol plays the trumpet and the guitar, and plays golf to a 15 handicap.
Recently, he met for a sit-down with 850 editor Steve Bornhoft.
850:  Ascension prefers the word, "ministry," to "hospital" or "health care center." Why is that?
Tom V: That preference reflects our structure as a ministry of the Catholic Church. And we look at that as something that differentiates us from other health care providers in the way we provide care and reach out specifically to the poor and vulnerable. It goes as deep as the culture we want to cultivate within the ministry. The health of the culture of our organization determines its trajectory and its ability to succeed. Culture for me boils down to what it feels like to work for the ministry.
850: Ascension, then, wants to combine an extraordinary level of compassion with clinical expertise.
TV: We definitely want to lead with clinical excellence. We want our patients to get the safest, most reliable care that they can get anywhere, but also to get it in an environment of compassion and in recognition that God is the healer and we are the ones who simply get the privilege of participating in the work.
850: You arrived in Jacksonville in December 2015 as chief operating officer at St. Vincent's and its CEO in waiting. How have you found Florida?   
TV: I spent about 10 years while growing up in Nashville and, for me, North Florida, in terms of its Southern hospitality, feels a lot like I remember Tennessee. Everyone has been warm and welcoming. Lots of people have moved to Jacksonville from all around the country, so it's not an insular community and that made my transition to Florida as smooth as it could possibly have been.
850: Speak to your personal philosophy as it relates to your job.
TV:  It's all about people and relationships. I got into speech-language pathology (VanOsdol earned a master's degree in the subject from Ball State University and later graduated from Indiana Wesleyan University with a master's in business administration) because I wanted to do something to help other people. I worked one on one with children who had speech and language deficits and with adults who had suffered strokes or traumatic brain injuries or had had their larynx removed. As an administrator, I have the opportunity to influence the care we provide and the relationships we enjoy on a broader scale. I intend that we be respectful, transparent and collaborative in ways that leave our employees feeling like they have the opportunity to flourish and grow. And, as we pursue relationships outside the organization, we want to be a ministry that everyone wants to work with and nobody wants to leave.
850: Do you regard health care as a privilege or a right?
TV: Everyone deserves to receive care of the highest quality possible in a compassionate setting. Health care should be viewed as a fundamental human right.
850: Talk about Ascension's approach to indigent care.
TV: We have six core values, and the first is service to the poor — to people who often go without, people who other organizations may choose not to care for. Just in Jacksonville, we did more than $100 million in charity care in the last year. We have programs including our Mobile Health Outreach Ministry that not just open our doors to the poor and vulnerable, but seek them out in their communities. Indigent care is fundamental to our reason for being.
850: As to brand, how would you have people in Sacred Heart service-area communities, including Pensacola and Miramar Beach and Panama City and Port St. Joe, think about their hospital?
TV: Our aim ultimately is to have them think about both Sacred Heart and Ascension and to make them aware that their community Sacred Heart hospital is part of the largest Catholic nonprofit system in the country. Their local hospital with its intimate, caring look and feel is backed by the resources of one of the strongest organizations in health care. We want to lead with the local brand but connect it with the overall mission.
850: How will delivery of health care change in years ahead?
TV: As pharmacological therapies and medical management advance, there will be more and more cases that can be handled on an outpatient basis, including digitally. Care will evolve to become more convenient and accessible. The relative seriousness and complexity of the health issues faced by patients requiring hospitalization will increase, and our technology and expertise will advance to keep pace with that trend. We definitely see more care being delivered in outpatient settings or the home. As the baby boomers get older and require more care, we believe telemedicine will be an integral part of the health care ecosystem. Supply and demand are not going to match up unless we are able to leverage technology so that you can have a specialist or a primary care physician in one location who can care for patients in a large area including communities where it is very hard to recruit doctors.
850: What challenges do you face in terms of recruiting doctors and nurses?
TV: From the nursing perspective, we have developed residency programs so we are in a position to grow our own. Where we have had challenges in recruitment, it has been in highly specialized areas such as the cardiovascular/thoracic operating room or the cardiac cath lab. By offering residency programs in concert with local higher-education institutions, we put already talented nurses through an intensive program to prepare them for those specialties. That's good for the organization and good for the individuals involved.
850: What about doctors?
TV: As to physicians, we are blessed not to have had any real difficulty, and there are two reasons for that. One is that great physicians want to work with other great physicians, and we offer them that opportunity. The other factor is our mission. We find folks that are coming through programs at Duke or other leading medical schools who want to be able to see a cross-section of patients regardless of their ability to pay. They want to work for a faith-based organization that is committed to serving everyone