Annual Rodeo Turns Small Town into a Boom Town
Ride 'Em Cowboy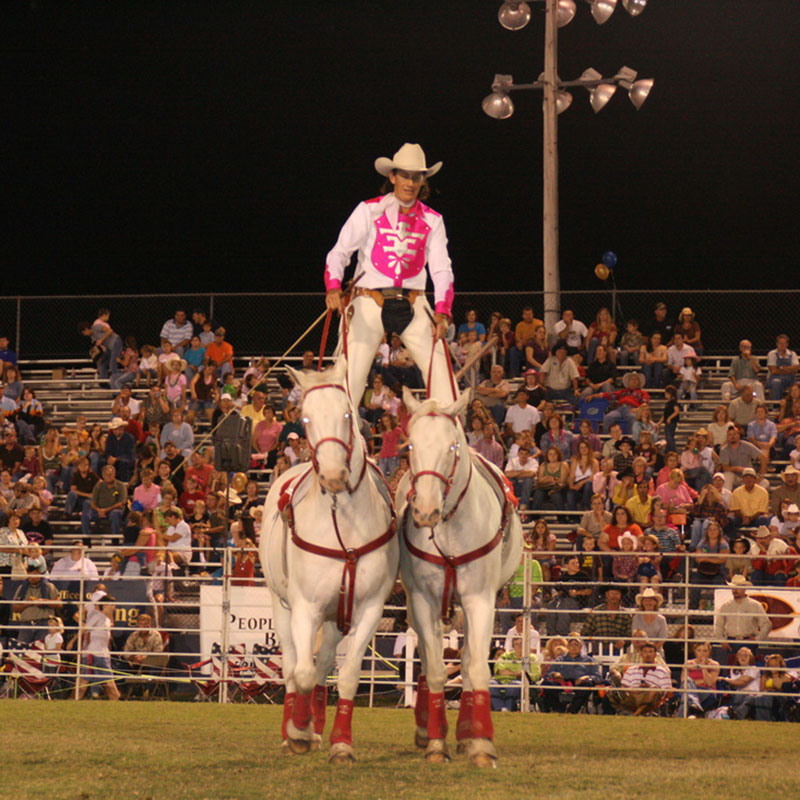 Amble about the small community of Bonifay in Northwest Florida and a Western motif readily suggests itself, owing undoubtedly to its agricultural base and several Western-style shops and farm/feed stores in the central part of town. Or possibly it's an impression born of its reputation as home to the Northwest Florida Championship Rodeo — a premier event that annually draws thousands of visitors and puts the town squarely on the national rodeo map.
Like many rural communities across the Florida Panhandle, Bonifay struggles to maintain economic viability, a situation exacerbated by the Great Recession and 2010 Gulf of Mexico oil spill. Once a year, however, this community of nearly 2,800 residents in Holmes County can count on the rodeo to give it an economic boost. A Kiwanis Club-sponsored affair that celebrates its 69th anniversary this Oct. 3–5, the rodeo by all accounts is going strong, if not growing.
Organizers claim the event draws between 20,000 and 30,000 folks during its three-day run, a population uptick that intensifies pedestrian and vehicular traffic, picks up the town's overall tempo and sets cash registers ringing, or better said, digitally alighting.
Call it the town's once-a-year economic booster shot.
"It's a biggy for this little town," enthuses Julia Bullington, coordinator for both the Holmes County Chamber of Commerce and Tourist Development Council.
Bonifay Mayor Lawrence Cloud concurs.
"It has a significant impact," Cloud says. "It brings in people who never come to Bonifay otherwise and who spend their money here."
Ditto the sentiment, per longtime Bonifay Councilman Roger Brooks, himself a Kiwanian.
"It makes a major impact financially," Brooks says. "People bring their money and spend it on food, fuel and lodgings. Economically, you can't put a dollar value on it, but it's a tremendous impact."
It's not only Bonifay's coffers and its motels, restaurants and retail shops that benefit from the three-day economic bonanza. Organizers say that hospitality and other service-oriented businesses in outlying areas of Holmes County and in adjacent counties also realize a ripple effect from the overflow of visitors. Not to mention the hundreds of horses and other animals that accompany the rodeo and that require feed and upkeep. Or the 300 or so registered vendors who set up temporary stations in the town, plus the countless others who simply take advantage of the occasion for entrepreneurial or fundraising purposes.
"For the churches and like organizations, it's their biggest fundraiser of the year," avers Bill Bullington, immediate past president of the Kiwanis Club.
As it is for the Kiwanis Club, which, according to Bullington, fundraises in the three days what other Kiwanis Clubs take a year to do. Noteworthy also, the club donates much of its rodeo proceeds to the community in the form of college scholarships and contributions to such worthy causes as literacy education, library services and breast cancer awareness and research.
"We give thousands away every year," Bullington says.
What about the rodeo makes it such a big deal? For starters, it's a Professional Rodeo Cowboy Association-sanctioned competition, which gives it national prestige and assures that it attracts topnotch rodeo competitors from the nine states comprising the southeast circuit, as well as points beyond.
"We draw participants from everywhere," says Herb Peel Jr., rodeo chairman since 1975. "We've even had them come from as far as Canada."
He points out that for many contestants, the Bonifay Rodeo is their last chance to qualify for the Southeastern Circuit Finals, itself a pathway to the National Circuit Finals and ultimately the National Rodeo Finals. It doesn't hurt that the rodeo pays out $24,000 in total winning purses to the top performers in such categories as team roping, saddle bronc riding, steer wrestling and barrel racing.
As for the audiences, Peel says, they get their money's worth of clean, family entertainment, complete with pageantry, parades, specialty acts and an array of memorable rodeo performances.
By all accounts, the rodeo draws diehard fans as well as first timers, with the overwhelming majority coming from an area loosely defined by Pensacola on the west, Tallahassee on the east, Panama City on the south and Dothan, Ala., on the north. Most come for the day, but a significant number bring tents, trailers and RVs and stay the three days or longer.
"A lot of people can't afford to take a boat trip, but they can afford to come here camping," says Peel, referring to the 100 campsites that the Kiwanis Club makes available near the rodeo grounds. "For some, this is their vacation week."
It all started humbly enough in 1944, when the late Paul Bowyer, then club secretary/treasurer, suggested the idea of a rodeo as a simple fundraiser. Bowyer's reasoning, according to club lore, was that given the plentitude of cowboys and livestock in the area, a rodeo was bound to be a hit.
And so it was, although that first affair was plain enough, with hay bales and cinder blocks serving for seating, makeshift structures making do for ticket booths and concession stands, and Kiwanis members and their spouses running the show. Even so, the organizers sensed they were on to a good thing and decided to make the rodeo an annual happening.
Bullington, whose father served on the original Kiwanis board that initiated the event, remembers the excitement of the rodeo in those early days.
"The rodeo coming to town was second only to Santa Claus, the anticipation was so great," recalls Bullington, noting that like most boys then he was enamored of playing "cowboys and Indians" and dreamed of being a cowboy.
The 1950s, of course, were the heyday of television Westerns, which did much to popularize the myths of the American West and establish the cowboy as an archetypical American hero, i.e., the quintessential righter of wrongs and rescuer of damsels in distress, not unlike the knights of old.
Fast forward to today's allegedly more sophisticated Age of Irony, as the modern era is often called, and the notion of the iconic cowboy hero seems quaint, if not downright laughable. Yet for all the cynicism, the cowboy endures as a romantic figure in the popular culture, if only as an aspiration and symbol of rugged individualism, self-sufficiency and uncompromising independence. Which again goes to explain the popularity of the Bonifay rodeo. Call rodeo performers one of today's more authentic embodiments of the breed. At the least, these individuals put life and limb on the line, performing feats of horsemanship and physical agility — and yes, with a degree of courage and showmanship — that may astonish. If you doubt it, the Bonifay rodeo will convince you differently.
Don't expect to sit on hay bales and cinder blocks, however. Although still held on the original Memorial Field site, the rodeo today is staged in an enclosed arena that boasts all the modern amenities.
"The club has easily spent half a million or more over the years improving the field," avers Bullington.
What hasn't changed, however, is the spirit of community and volunteerism that imbues the event.
"It's a big deal for a town our size," Bullington says. "And if it wasn't for volunteers, we couldn't do it."
For tickets, directions and other information, call (850) 547-5363 or visit bonifaykiwanisrodeo.com.