Angels Who Open Wallets
Local investors work to keep Tallahassee's economy growing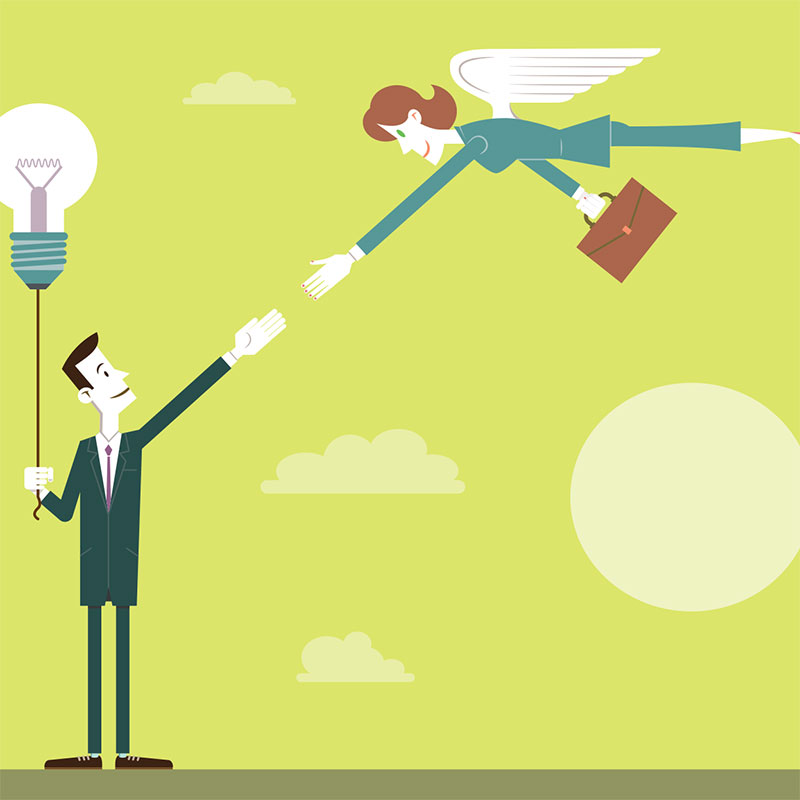 Despite the heavenly sounding name, members of the newly created Florida Angel Nexus of Tallahassee use their checkbooks and connections instead of harps and halos to aid Florida and locally based startup companies in their quest for all-important seed money to fund their growth.
Conceived by a seasoned investor and a professor at the University of Central Florida, the original Florida Angel Nexus launched in January 2013. Since its inception, 17 companies — all based in Florida — have gotten seed funding totaling $3.6 million via a process NEXUS Director Blaire Martin calls "eHarmony meets 'Shark Tank.'"
NEXUS isn't a fund; any money given to a startup comes directly from accredited individual investors. "We're all about linking … We're matchmakers," Martin said. "We identify what the roadblocks are to getting the deal done (and are the) invisible hand that helps with the roadblock and connection."
While NEXUS was getting its start in Orlando, Matt Johnson, Jason Stamm and other investors in Tallahassee were separately looking for a way to easily find and connect with entrepreneurs to fund their startup businesses.
"The problem historically is not that there's a lack of capital in Tallahassee or in North Florida. The problem is that it hasn't been visible to entrepreneurs who are seeking funding," said Johnson. "We wanted to bring angel investing to Tallahassee but didn't know how we were really going to do that. I thought (it would) be great to build on what NEXUS had already started and plug into their existing infrastructure."
The Tallahassee group decided to become the Florida Angel Nexus' first offshoot and held its first bimonthly meeting this past June. By August, members had fully funded $500,000 in seed money for NewSci, a locally based startup technology firm. Since then, they have provided funds to two other startups, one started in Tallahassee and another from St. Petersburg using technology created at Florida State University. With angel investment activity going on in other regions of Florida — including Jacksonville, Tampa/St. Petersburg and the Space Coast — the statewide organization expects other chapters to come aboard in the not-too-distant future.
Here's how the process works:
A founder goes to the NEXUS website and fills out a short form. If the business concept sounds promising, the entrepreneur fills out a more extensive application to complete a full profile of the company. The NEXUS board of directors vets the applications and selects the top applicants to make presentations.
Tallahassee's NEXUS group listens to two presentations during its meetings. "They usually run about 15 minutes followed by 15 minutes of Q&A and open discussion. We like to have one home-grown Tallahassee company and then bring in one from outside Tallahassee — but always in the state of Florida. It's critical for keeping small business and early stage startup companies in the state," Johnson explained. "If they need funding and they can't secure it here, they're going to go outside of the state. So someone from California, or Boston or Texas or Atlanta, they're going to supply the capital, they're going to make the investment, they're going to reap the benefits of any returns and possibly move the company out of Florida."
While entrepreneurs and the state benefit from the funding of angels, Johnson said investors' motives aren't necessarily saintly. "Just like stocks, bonds, cash and real estate, early stage investing is an asset class. You want to get in early, get in often, diversify your portfolio into many different sectors and just trust that if you're doing enough due diligence and you're investing in the right people, something is going to take off, something is going to become big and it's going to return a healthy profit. There are no guarantees, but you play by those rules and it increases your odds of success."
Such investments are inherently risky and a particular type of business tends to attract seed money.
"We're looking for that big, big, home run, grand slam return, and that only comes from highly scalable, hyper-growth companies, usually in technology software and Web-based businesses that can grow and scale very, very rapidly so that someone in their market acquires them," Johnson said. The idea, he explained, is to "invest early in a hyper-growth company that — sooner rather than later — is acquired or IPO'd, providing liquidity for your investment so you're paid back a multiple on your original investment."
---
NewSci
The first company that's seed money was fully funded by NEXUS Tallahassee wants to bring big data and cognitive computing to the education, health care and nonprofit sector with the help of IBM's Watson.
Co-founder and Tallahassee resident David Lawson breaks down what his company, NewSci, will be doing once it's up and running. Organizations in all those sectors already have "all kinds of information," in different — and often not easily accessible — places. "Using Watson and cognitive computing we can all begin to make sense of it," he said. "We're trying to help organizations make insight-driven decisions to be more efficient (and) more effective."
NewSci will use the $500,000 invested in it to build a sales team and to expand its work with IBM Watson cognitive applications.
Lawson is also a partner in Domi Station, Tallahassee's business incubator for entrepreneurs. He said Florida State University, Florida A&M University and Tallahassee Community College make Tallahassee a uniquely suitable home for tech startups like NewSci.
"We feel Tallahassee has the talent pool and can attract the kind of talent for a knowledge company," he said. "We definitely want to build strong relationships with the universities and colleges in town."
— Rosanne Dunkelberger