An Uneven Playing Field
Proponents say Children's Services Council would extend the reach of programs for kids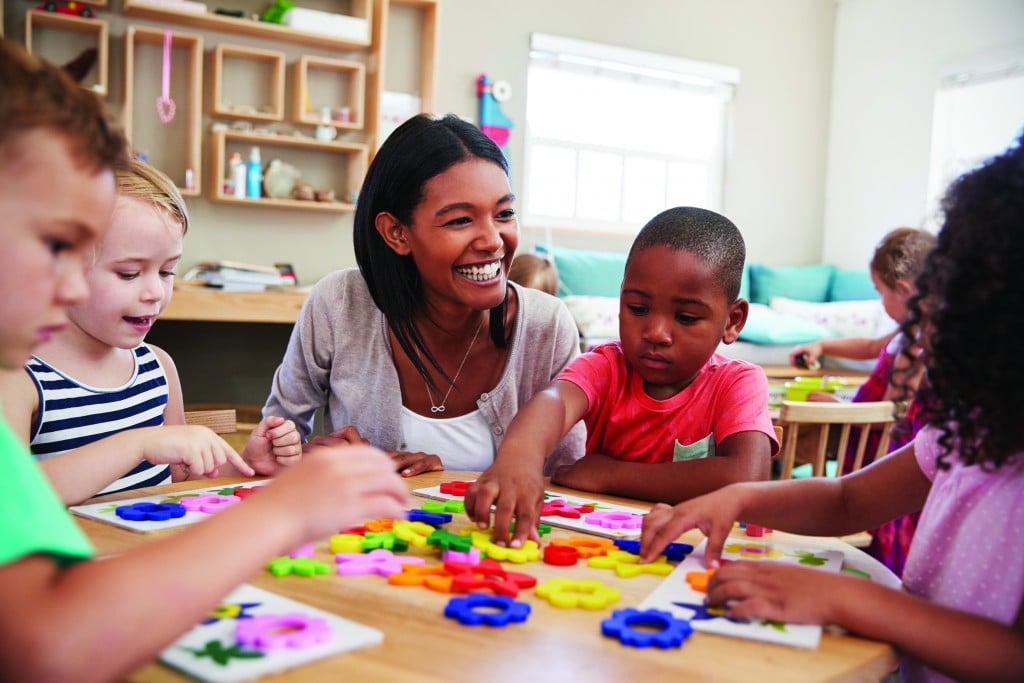 Steve Uhlfelder concedes that it is a lot easier to win voter approval of a half-cent sales tax than a half-mill property tax levy.
Uhlfelder, a Tallahassee attorney, helped lead the effort in support of a sales tax benefitting Leon County Schools. Today, he's promoting passage of a property tax levy that would fund a Children's Services Council and, he said, provide badly needed support for early education facilities and programs.
Leon County commissioners voted unanimously in June 2018 to place the creation of a Children's Services Council (CSC) on this November's general election ballot. If approved by voters, the council would have the authority to levy a property tax of up to 50 cents for every $1,000 of assessed value to fund services for children beginning at birth. It would cost the average property taxpayer less than $50 per year and raise about $8 million per year in revenue.
"This proposal will not solve all our problems, but it will help fill in gaps that existing programs do not meet," Uhlfelder said. "We desperately need more high-quality early education facilities, and they need to be held to high standards."
Uhlfelder said that programs receiving CSC funding would be given a prescribed amount of time to demonstrate that their programs are working in order to qualify for continued funding.
He pointed out that among counties with a CSC, none has ever voted to non-renew the council.
"There is a solid indication that where you do evidence-based programs and providers are required to demonstrate results, people will support those programs," Uhlfelder added.
Lobbyist and consultant Barney Bishop, however, is not satisfied that voters are in a position to know precisely what they will be supporting if they choose to vote for the levy in November.
"The advisory Children's Services Council Planning Committee failed to produce a budget of how the money generated by the tax would be spent," he said. "When you are selling a tax increase, especially in a challenging economic environment, it behooves you to supply a spending plan.
"Local, state and federal governments are already spending $200 million annually to attack the problem of poverty and enhancing kids' lives and improving families' lives so that they can help their children — and we aren't even moving the needle. Why does the committee think that another $8 million is going to make any difference?"
In any event, Bishop questions the need to "create a whole new bureaucracy" to benefit children.
"We have an organization in Tallahassee, Big Bend Community Based Care, that has already provided for oversight, administration, contract renewals, quality assurance and utilization management, and they've been doing it for 12 years. They are the experts for delivery money for substance abuse, mental health and the foster care system."
Finally, Bishop is concerned about accountability.
"Why would we invest unelected individuals with taxing authority?" he asked. "How are we going to hold them accountable? We don't even do a very good job of holding our elected officials accountable."
For land-rich Tallahassee businessman DeVoe Moore, 81, the proposed Leon County CSC smacks of socialism.
For Dr. Mimi Graham, director of the FSU Center for Prevention and Early Intervention Policy, such a council has the potential to help lift at-risk youths out of stubborn generational poverty by preparing them to benefit fully from what schools have to offer.
Moore is far from the average taxpayer.
Government, he said, "has plenty of money and plenty of programs, even on the local level. I came to Tallahassee with $250 in my pocket. Now, I own quite a few properties, and I would take a large hit if this new tax were imposed."
Moore, whose interests include the Tallahassee Automobile Museum, views traditional education as a key to improving lives, but he questions whether a CSC would be effective. He laments what he sees as a diminished work ethic in America.
"I work six days a week, and 'retirement' is not in my vocabulary," Moore said. "I've been in business since 1965. I feel sorry for the next generation of young people coming up. They have never learned how to work. Everything has been given to them. They don't understand that it may be OK to ask for something, but don't expect it. Be prepared to earn it."
Moore is given to quoting his grandfather and father "who told me that nothing is free; somebody has got to pay."
He sees Tallahassee as a city dominated by public-sector government and university employment and one that is doing too little to make itself attractive to prospective businesses.
(According to the Tallahassee-Leon County Office of Economic Development, the private sector accounted for 61 percent of GDP in the county 2001, a figure that grew to 69 percent in 2017.)
In an open letter written in early March, Moore cited Tallahassee's low unemployment rate and noted lists in which the city figured as a top location for career opportunities, getting a fresh start and wage growth. He pointed to Tallahassee's status as "One of the South's Best Cities," as selected by Southern Living magazine.
"If all of that is true," Moore said, "why are we considering a new tax?"
Graham is prepared to answer that question. She is acutely aware of truths that Moore may find inconvenient, including the fact that 42 percent of Leon County children under age 5 live below the poverty line.
Graham was a member of a Children's Services Council Planning Committee noted by Bishop, a group empaneled to assess the needs of children in Leon County and to gauge the potential benefits of a CSC.
The committee, after meeting for a year, established six priorities in the summer of 2019:
Investing in early childhood education programs to ensure that children enter kindergarten ready to succeed.

Investing in summer and afterschool programs designed to help at-risk youth.

Providing health education and support for parents and children to reduce infant and maternal mortality, increase infant health, improve oral health and improve early identification of health problems.

Providing mental health support for parents and children.

Investing in youth development programs to provide occupational opportunities that can build job skills and support families facing poverty.

Reducing the consequences of food insecurity by ensuring that children in Leon County have adequate year-round access to healthy food.
A CSC, Graham believes, can be an integral part of meeting those objectives.
"I have had the pleasure of working with CSCs around the state and have been jealous of them for my entire career," she said.
With the exception of Orlando, big cities in Florida (accounting for more than half of the state's population) have a CSC. Alachua County, in 2016, was the last county to create one.
In 2014, five councils statewide were up for renewal.
"In each case, more than 75 percent of voters favored reauthorization," Graham pointed out. "They have proven their accountability and their value."
While there are a lot of services in Leon County, Graham said, they are not sufficiently reaching the children they were designed to serve. She is confident that a CSC would make it possible to expand and enhance existing programs and add new ones as may be necessary.
She noted that only 40 percent of eligible children are enrolled in school-readiness programs. Pre-k programs that operate for three hours a day present what can be insurmountable logistical problems for well-intentioned parents. For those children who do succeed in attending a three-hour program, "It can be like giving kids one pill of penicillin instead of an adequate amount."
According to Graham, "Early Head Start and Head Start serve only 3 percent of the eligible poor kids in our community."
For Graham, then, it is not surprising that more than half of Leon County's children do not show up for school ready for kindergarten and that, as third-graders, more than half of students are not reading at grade level.
"If we do a better job early, we can have better outcomes later," Graham stressed. "Eighty percent of the brain is developed by age 3, and 90 percent by age 5."
Graham believes that progress toward school readiness should begin at conception.
"At the FSU Center for Prevention and Early Intervention Policy, we focus on the first ı,000 days of life, beginning with conception," Graham said. "I have spoken in Cape Town, South Africa, and other places in the world where they also focus on the first thousand days. We have scientists globally and world economists who say, absolutely, that the prenatal-to-age-3 period is the best time to invest in children."
As a guardian ad litem, Graham is helping to look after the needs of two small children. She became involved with an infant who was dropped off at the home of a single mother. A short time later, she also began helping out with that woman's eighth child, when it was born.
The newborn and her mother had cocaine in their systems. The mother had no shoes, no car seat.
Graham said a CSC in Leon County might provide a program, like one that exists in Sarasota, which would enroll mothers in drug treatment programs and provide them with birth control before they leave the hospital.
"We see many innovative, wonderful programs around the state, and we really don't have the funding for them in Tallahassee," Graham said. "If you don't make the necessary front-end investment, costs invariably are incurred down the line."